With The Dead

With The Dead circa 2017.
Background information
Origin
Coventry, England / Brooklyn, New York, USA
Genres
Doom Metal
Years active
2014 - Present
Labels
Rise Above Records
Associated acts
Electric Wizard, Ramesses, Cathedral, Serpentine Path, Unearthly Trance, Dead Witches, Napalm Death, Septic Tank, Bolt Thrower
Website
Facebook
Current members
Lee Dorrian
Tim Bagshaw
Leo Smee
Darren Verni
Past members
Mark Greening
Alex Thomas
Band Logo
With The Dead
are a four piece
doom
band from
England
formed on 31st October
2014
. The band started out as a collaboration between well known doom musicians
Mark Greening
and
Tim Bagshaw
(both ex-
Electric Wizard
and
Ramesses
) as well as
Lee Dorrian
(
Cathedral
).
[1]
In January
2016
, the lineup changed, with Greening replaced on drums by
Alex Thomas
(ex-Bolt Thrower) and
Leo Smee
(ex-
Cathedral
) being added on bass.
[2]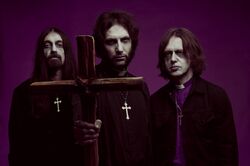 With the Dead began sometime after Mark Greening had been fired from Electric Wizard in 2014. Mark Greening presented to Lee Dorrian recordings with interest in forming a new band and releasing it on Rise Above Records, at one point Greening himself even intended to be the vocalist for this project.[3] Initially the intent was to make an EP but Dorrian declined in favor of it being an album. At some point during the sessions Tim Bagshaw had visited the United Kingdom to help with the recordings and Lee Dorrian was approached to join as vocalist to which he accepted. The recording sessions for the album would follow in March of 2015.[4]
Tim Bagshaw stated in an interview that the project was formed from "knowing each other for many years" and describing the initial forming with the following:
"
"It was actually just by chance. I've been really busy over the last few years with Serpentine Path, releasing 2 albums and working on the new material."
"
 

— Tim Bagshaw, Echoes and Dust

[5]
Lee Dorrian has expressed interest in doing a follow-up record and some live shows in the future along with some personal satisfaction with the band. In an interview with The Sludgelord he went on to state the following:
"
"This was the easiest record I've ever done to be honest. I did all the vocals in about two hours; we just kept the first takes. In Cathedral I'd spend weeks and weeks and weeks on just one line so that it just looked right on paper. I had no social life, I'd torture myself. It was so liberating to get away from that and sort of do something off the wall."

"There's no big masterplan for this band. It's a major relief to have the music finished and out there but with everything else we're just taking things as they come. Hopefully we'll do some shows next year and another record. I don't want this to be another studio project that doesn't do anything. Personally I think this record is too good to just leave it and there's more stuff that we can do. I'd like to think that this isn't a one off.

Obviously in a live scenario Tim's gonna be playing guitar so we'll have to find a bassist, maybe a second guitarist. So there's a lot to think about but we're not ruling anything out."

"
 

— Lee Dorrian, The Sludgelord

[6]
With the Dead's self-titled debut was released nearly a year after their formation on October 16, 2015 via Rise Above Records.
On January 23, 2016, Mark Greening announced via Facebook that he was no longer in "With The Dead", with the following statement:
"
""All

I am writing this to inform you that unfortunately I will not be performing in With The Dead with Lee and Tim at the upcoming shows that have been booked, including Roadburn 2016. I should explain that the above isn't news to me. I have been excluded from dealings with the band and its label, Rise Above Records , since October 2015 and despite several letters and attempts to address the issues as well as a personal apology on my part over the previous months, I did not receive any response until late last week. It is massively disappointing as I want to be there to perform the tracks that we have written and recorded together as With The Dead, and whilst I have not left the band, it is clear that I am to be excluded from its activities for the foreseeable future. With regards to the dispute, I'll start by saying 'shit happens', it has been an extremely stressful couple of years; ending Ramesses, rejoining one of my earliest bands Electric Wizard, giving up my role in the then newly formed 11 Paranoias and starting work on With The Dead. It may or may not have been my fault for blowing my lid or just being difficult to work with, who knows, hell I am a 38 year old musician with an expertise in doom and extreme music, I have been making music for longer than I care to recall and what you see is what you get. Unfortunately, last week I received a letter from the corporate law firm instructed to represent Lee, Tim and Rise Above Records and whilst I have been expressly informed that I cannot share the correspondence, it has been made abundantly clear that my exclusion is to continue. It is disappointing as those involved are adults and professional musicians but most importantly, they were my friends, so I thought that we would reach a resolution and that it would blow over. Whilst I had held out hope, I don't have the funds or patience to argue with an ensemble of lawyers about playing drums. Ultimately, I am there to bash the kit and make the music that I also grew up listening to, it doesn't ever seem to pay too well, despite having contributed to some records that I am extremely proud of, but you know what, I will not let this get me down and I will continue making music that I hope to share with you. Apologies to anyone who has quizzed me about With The Dead in recent months. On a more positive note, I hope to see you soon."

"
 

— Mark Greening, Personal Facebook post

[7]
On January 25, 2016, the official With The Dead Facebook page made the following statement in response:
"
"UPDATE FROM THE CRYPT: Just to confirm - due to personal and political reasons, With The Dead will no longer be working with Mark Greening.

As far as we're concerned, it is not worth wasting any more time on the matter. The band will continue, with UK dates and a new line-up to be announced very shortly."

"
 

— With The Dead Official Statement, Facebook

[8]
On 28th January, the band uploaded changed the information and cover photo displayed on their Facebook account, confirming that Alex Thomas (ex-Bolt Thrower) would replace Greening on drums, with Leo Smee (ex-Cathedral) also joining the band on bass.[2]
In November of 2016, the band announced a second album was in the works, set for release in 2017. On 30 March 2017 the band released a new track entitled Vessel of Solitude for the 2017 May issue of the Decibel Magazine's Flexi Series though the song will not be on the forthcoming album.[9] On 13 July 2017 the band would announce a tracklist and album cover for their second studio album: Love from With The Dead. The album is set to be released on 22 September 2017.[10] The band has since announced a small handful of live performances in the UK, Finland and The United States in the summer of 2018. On 9 July 2018 it would be announced in an update from the crypt that Darren Verni (Unearthly Trance, Serpentine Path) would be taking over on the drums for the band's 2018 live performances.[11]
In August 2018, one of the members had suffered some health-related issues, forcing the band to cancel their appearance at Bloodstock Open Air. On 14 August 2018 it would be announced that due to unforseen circumstances that Bagshaw would not be playing with them at Psycho Las Vegas, rather Leo Smee handling guitar and bass duties with a special guest performing at the end of the set.
Live Performances
Edit
On February 1, 2016, With The Dead announced two shows in the UK. On 10th April they performed at The Deaf Institute in Manchester in what was first public performance (With the lineup of Dorrian, Bagshaw, Smee and Thomas). On 11th April the band will also performed at O2 Institute in Birmingham.[12]
The first confirmed live performances for With The Dead were at The 2016 edition of Roadburn Festival on Friday, April 15, 2016. This performance was selected by Curator Lee Dorrian.[13]
Another performance was announced at Hellfest in Clisson, France on Sunday, June 19, 2016.[14]
On March 2, 2016, With The Dead announced an appearance at Tuska Open Air.[15]
List of Live Performances
Edit
10 April 2016 - The Deaf Institute, Manchester, England
11 April 2016 - O2 Academy, Birmingham, England
15 April 2016 - 013, Tilburg, Netherlands (Roadburn Festival)
18 June 2016 - Val De Moine, Clisson, France (Hellfest)
23 June 2016 - Refshaleøen, Copenhagen, Denmark (Copenhell)
2 July 2016 - Suvilahti, Helsinki, Finland (Tuska Open Air)
10 September 2016 - Parque de Merendas de Valada, Cartaxo, Portugal (Reverence Festival Valada)
9 October 2016 - Saitama Super Arena, Saitama, Japan (Loud Park)
13 July 2018 - Nosturi, Helsinki, Finland
11 August 2018 - Catton Park (Sophie Lancaster Stage, Walton-on-Trent, Derbyshire, England (Bloodstock Festival; With The Dead dropped off)
18 August 2018 - Hard Rock Hotel Casino, Las Vegas, Nevada (Psycho Las Vegas
Discography
Edit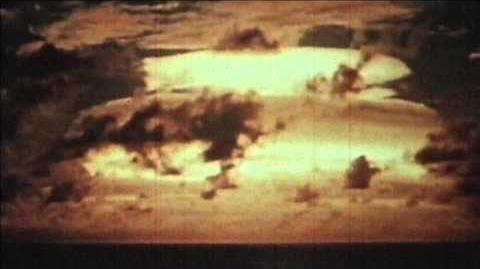 Studio Albums
Edit
Vessel of Solitude (2017, Decibel Magazine)
Current Members
Edit
Past Members
Edit
External Links
Edit
References
Edit
Community content is available under
CC-BY-SA
unless otherwise noted.