Witchcraft is the eponymous debut album by the Swedish hard rock band Witchcraft, released initially in the Spring of 2004 via Rise Above Records. At the time of release the band attained significant praise for the band's similarities to Pentagram and their genuine retro sound, with further critical praise in the years since.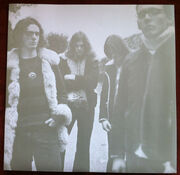 Prior to Witchcraft's self-titled debut being recorded and released, Witchcraft had formed in 2000 initially as a tribute band to Pentagram, originally intending to record a cover for a tribute compilation and perform a single show. However the band had begun writing original material and would release a single in 2002 entitled No Angel Or Demon. Lee Dorrian of Rise Above Records heard it sometime after it's release and signed the band on the spot.
The band would record and self-producer their debut album in a basement with Jens Henriksson as producer, recording eleven songs while "No Angel Or Demon" was taken from the original 7" with Ola Henriksson on bass.[1] Mats Arnesén, whom recorded bass on the album, would leave the band immediately after it's release, with Ola returning to the band. "Please Don't Forget Me" and "Yes I Do" are both covers of Pentagram, specifically the 1970s era. "Yes I Do" specifically appears on vinyl editions (excluding the Picture Disc edition) and the Japanese edition released via Leaf Hound Records in 2008. "Please Don't Forget Me" is credited to Bobby Liebling on the sleeve and is often mis-accredited to Liebling's pre-Pentagram outfit Stone Bunny.
"Schyssta Lögner" would be one of the few songs sung by the band in their native Swedish. The album's final track, "Her Sisters They Were Weak", would have it's final verse back-masked (And mirrored in the album's liner notes) though the band would sing the final verse as normal when it would be performed live.[2] The cover image is a slightly altered version of a print called Merlin, a pen-and-ink drawing by Aubrey Beardsley for an 1893-94 edition of Sir Thomas Malory's Le Morte d'Arthur.[3]
Witchcraft was originally released on 6 April 2004 via Rise Above Records on CD and Vinyl, the latter containing a bonus track and somewhat of a collector's item.[4] The Music Cartel would handle the initial CD release for North America but distribution would be shifted to Candlelight Records USA (and later Metal Blade in 2012) once Rise Above began working with that label, as The Music Cartel would fold by the end of 2004. A picture disc edition of the album would be released in 2005, albeit without the bonus track.[5] In 2012 Witchcraft would see a vinyl re-issue with "Yes I Do" on a bonus 7" though further re-issues would revert to putting the bonus track back on a single LP.
Witchcraft would gain significant critical praise at the time of it's release, praising the band's vintage sound and comparisons to Pentagram.[6][7][8] Terrorizer would also name the Self-Titled as the best debut album of 2004.[9] In the years since it's release Witchcraft would receive further praise from numerous publications from the likes of Sputnik Music,[10] Pop Matters,[11] The Obelisk,[12] Sea of Tranquility[13] and Doodlehound[14] to name a few.
All songs written by Witchcraft except where noted.
Track 12 is exclusive to the vinyl and Japan editions.
1. Witchcraft (6:00)
2. The Snake (2:48)
3. Please Don't Forget Me (2:13) (Bobby Liebling)
4. Lady Winter (2:58)
5. What I Am (3:45)
6. Schyssta Lögner (1:57)
7. No Angel or Demon (3:28)
8. I Want You to Know (3:16)
9. It's So Easy (3:53)
10. You Bury Your Head (4:40)
11. Her Sisters They Were Weak (6:00)
12. Yes I Do (2:34) (Bobby Liebling)
Community content is available under
CC-BY-SA
unless otherwise noted.