Winter (Demo)

The Hour of Doom.
Extended play by Winter
Released
June 1989
Recorded
May - June, 1989 in New York
Genre
Death/Doom
Length
18:30
Producer
Greg Marchak, Winter
Winter chronology
Debut Release
(N/A)
Winter (Demo)
(1989)
Into Darkness
(1990)
Winter (Also commonly known as Hour of Doom) is the first demo by the New York death/doom band Winter, released in June 1990. This demo would have a xeroxed inlay and would be recorded on regular commercial tapes though a version was printed on professionally duplicated tapes, with 300 overall copies in all.
This demo would be re-released with an additional track by Nuclear Blast Records as Eternal Frost. Notably the demo itself has been bootlegged in the late 2010s.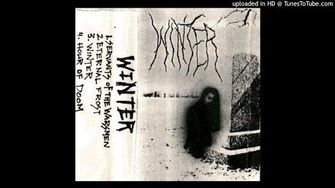 Tracklist
Edit
1. Servants Of The Warsmen (4:09)
2. Eternal Frost (5:41)
3. Winter (3:07)
4. Hour of Doom (5:27)
Personnel
Edit
John Alman - Bass, Vocals
Stephen Flam - Guitars
Scott Lewis - Drums
Greg Marchak - Engineering
External Links
Edit
References
Edit
Community content is available under
CC-BY-SA
unless otherwise noted.