Weedeater

Weedeater live in
Lexington, KY 2012.
Background information
Origin
Wilmington, North Carolina, United States
Genres
Stoner Metal, Sludge Metal
Years active
1996 - Present
Labels
Southern Lord Records, Season of Mist, Berserker, Crucial Blast
Associated acts
Buzzov*en, Bongzilla, Sourvein,Hail!Hornet, Zoroaster
Website
Weed Metal
Current members
"Dixie" Dave Collins
Dave "Shep" Shepherd
Ramzi Ateyeh
Weedeater are a sludge metal band from Wilmington, North Carolina. Formed in 1996, Weedeater have since released five full-length albums and have performed on multiple tours and festivals around the world. The band is known for their tongue-in-cheek humor, Dixie's raspy vocals and lyrics based in life experiences, humor and marijuana.
The band formed in 1996 and was initially planned to be a side-project of Dave "Dixie" Collins, the band's vocalist and bassist who was occupied with his primary project Buzzov*en. However sometime after forming Weedeater, Buzzov*en disbanded the same year so Collins decided to make the new band his primary project, recruiting members Dave "Shep" Shepherd on guitar and Keith "Keko" Kirkum on drums. The name originates from a time when Dixie's dog ate an entire bag of his weed along with the band's fond interests in edibles.[1] The band's earliest known live performance was in 1996 with fellow North Carolina sludge band Sourvein.[2]
Working with producer Billy Anderson, the band released their debut album titled ... And Justice for Y'all on 3 April 2001. The band would record again with Anderson and released their second album Sixteen Tons on 19 March 2002, just under a year after their debut. Both albums where released via their first record label Berserker Records with sporadic tour dates following including appearances at festivals like Stoner Hands of Doom and Emissions from the Monolith. By release of their second album the band began to tour more frequently.
Sometime after the release of "Sixteen Tons" the band left Berserker Records and joined Southern Lord Records, signing with the label on 18 April 2007.[3] Recording in Chicago at Electrical Audio with producer Steve Albini, God Luck and Good Speed would see release on 31 July 2007 to positive reviews and later cited among their finest works. The album itself brought the band to a bigger audience, leading to tours with Black Cobra, Today Is The Day, Sunn O))), Down and Melvins to name a few.
The band intended to record their fourth album at Electrical Audio in Chicago with producer Steve Albini in early January 2010. On 9 January Dave "Dixie" Collins accidentally shot himself in the foot whilst he was cleaning his favourite shotgun and was reported that he is to be bedridden for the next few weeks during his recovery. This ultimately lead to the band postponing their recording session with Steve Albini until after their tour in March and April. Dave Collins recalled the incident in an interview with The Quietus:
"
"The pain isn't as bad as you would think it would be to be honest with you, not at the moment it happens. After that though? Yeah, it's pretty fucking bad. But, I had it sitting directly on my toe so it [the buck shot] never had time to spread – which was lucky for me, otherwise it would have blown all of my toes off, instead of just one."

"If you have a gun in your hand, don't be doing anything else like doing the dishes or changing a baby.... or doing a bong hit! I would say that you should focus on exactly what you're doing any time that you have any sort of fire arm in your hands, that's how my accident happened. I just got stupid – I wasn't drunk or anything, it was just carelessness. I got off work and had two drinks, which is nothing, and went to my house and met a friend of mine – we were going to go out for his birthday and have some drinks. So I've got the shotgun resting on my toe as I'm attempting to spray down the outside, just to keep it from corroding, and he goes to hand me a bong and I just accidently pulled the trigger. My gun's never usually loaded, but I'd loaded it on New Year's Eve to shoot one shot in the air at midnight and afterwards had just passed out and left the other shell in; nine days later I blew my toe of with it trying to do two things at once."

"
 

— "Dixie" Dave Collins, The Quietus

[4]
Despite the setback caused by the accident the band announced that their next album will be titled Jason... The Dragon' and was set for a release later that year, they also announced that their March/April tour will now be called the "Nine Toe" tour after Collins lost one of his big toes.The band headlined again in September the same year after it was reported that Keko had torn his meniscus after returning from their previous headlining tour and also that Dave Shepherd had also broken his hand while supporting Black Cobra in Europe in July. As a nod to this their September tour in 2010 was jokingly called "3rd Time's a Charm".[5]
Jason... The Dragon was finally released on 15 March 2011 after all the setbacks caused by the bands injuries throughout 2010. Dave recalled the setbacks leading to the album in an interview with ...
"
"We were prepared to do this on several different occasions. We were supposed to record, and, you know, Murphy's Law falls into everything I've ever done in my entire life. I wasn't really surprised that it happened the way that it did. We took time off on purpose to just get our shit back together. All of us are very busy people, but at the same time, we were ready to record this record a long time ago. That's before Keko had the injury with his knee, and I blew my toe off with a shotgun and Shep broke his hand. We're pretty much gluttons for punishment, and we get through this shit all the time. I wasn't very happy with the fact that we weren't able to record it when we were originally supposed to, but at the same time I wasn't surprised."
"
 

— "Dixie" Dave Collins, The Obelisk

[6]
The band went on tour in the US to support the release of the album however had to cancel the last few shows due to Dave Shepherd breaking his hand which disallowed him to play guitar. [7]
During a 2012 North American tour with Saint Vitus and Sourvein on October 6, Keith "Keko" Kirkum left the band, leaving the band with various drummers to fill in the remainder of the tour.[8]
T-Boogie and Season of Mist
[
edit
|
edit source
]
In early 2013, Weedeater began a tour of the west coast early that year with Travis "T-Boogie" Owen announced as the live drummer for these dates. Eventually the band was forced to make a statement on Keko's departure with an announcement of a permanent drummer (Which ended up being T-Boogie.) in the near future:
"
"Despite our attempts to keep this all cordial and in the 'family', many harsh words have reached the public ear. We appreciate those who have been supportive during the difficult time of our lineup adjustment and we apologize to those who feel somehow cheated. We (Dixie and Shep) will not air our dirty laundry on Facebook or any other social media to gain either sympathy or interest regarding this matter. In fact we hate this fucking shit and use it begrudgingly as a necessary evil. But if we didn't, none of you would know where we are playing shows, or who to bitch at when the lineup changes. Anyway enough complaining about Fakebook and Twatter et al. The simple truth is: BEING IN A BAND IS LIKE BEING IN A RELATIONSHIP. Sometimes all parties involved need a break and sometimes they just don't work out, despite all efforts made. Whether it be the actions of one or the whole, sometimes it is necessary to part ways. This was not a management decision; this was a necessary one. The exact reasons shall remain confidential to protect the privacy of all involved, but as painful as it as been, it is simply not possible for us to function with the original line-up for the upcoming tour, or the writing and recording of our new album. So, rather than scrap years of hard work, stop doing what we love and disappoint ourselves and our fans, we thought it would be better to continue onward. For those of you intrigued, on the short run for MDF, Travis Owen will be on the drums, a friend of the band and a seasoned drummer. You might know him from his band WHORES (who rule) from Atlanta, or his other various endeavors. Come check it out! We will announce a permanent drummer soon for the July and August dates (to be posted shortly) and the new recording.

(We regret the disappointment of those who feel like they deserve all the juicy details, but we simply won't do it.)"

"
 

— Official Statement, Weedeater's Facebook

[9]
In November 2013 it was announced by record label Season of Mist had officially listed Weedeater as part of their roster. Along with the announcement of the band joining, re-issues of the band's first four albums on all formats would follow in the next two years alongside a new album. A split single with Pins of Light would follow in 2014 via Scion A/V, T-Boogie's first recording with the band. Eventually in 2015, the band's fifth album Goliathan was released, following by frequent if not relentless touring. Travis Owen stepped down from the drums in 2017 due to health issues and Carlos Denogean (Beard of Antlers, Salvación, ASG) has stepped in as the band's current live drummer.
In 2018, Weedeater would do a special US tour performing God Luck and Good Speed in it's entirety, including special appearances at Roadburn Festival and DesertFest London. However tragedy would befall the band that August. Roughly a week after their appearance at Psycho Las Vegas, Carlos Denogean would pass away on 24 August 2018, aged 30.[10] The band would announce his death on 25 August with no details on the cause but only to ask to grieve with his family and friends.[11] Weedeater would announce a December tour along with 2019 dates with Corrosion of Conformity and Crowbar, later announcing Ramzi Ateyeh (Buzzov*en, Sourvein) as the band's new drummer.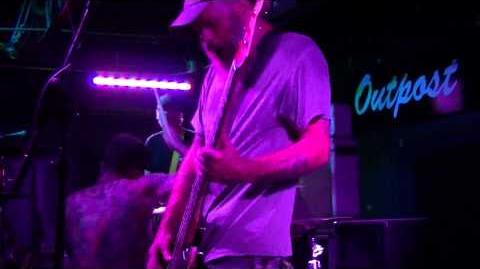 2002 - Fall 2002 North American Tour
With Totimoshi[12]
2004 - Slow Decay Tour
With Jumbo's Wilcrane[16]
2007 - May 2007 Tour
With Skeletonwitch[23]
2008 - November 2008 Tour
With Today Is The Day[30]
2008 - 2008 NC Residency [31]
2009 - Fall 2009 European Tour (Canceled)[36]
2010 - February 2010 Tour (Canceled) [37]
2010 - Fall 2010 Tour [41]
2013 - West Coast 2013 Tour [53]
2014 - Fall 2014 North American Tour
With Full of Hell, Lazer/Wulf[63]
2015 - November 2015 Tour
With Full of Hell, Lazer/Wulf[72]
2016 - 2016 March/April North American Tour
With Author & Punisher, Today Is The Day, Lord Dying[73][74]
2016 - 2016 May North American Tour
With Author & Punisher, Today Is The Day, Lord Dying[75][76]
2018 - December North American Mini-Tour[95]
2019 - 2019 Winter North American Shows[98]
2019 - Fall 2019 North American Tour[107]
2019 - Fall 2019 Russian Tour[108]
Community content is available under
CC-BY-SA
unless otherwise noted.