Victor Griffin's In-Graved

Cover for the original version.
Re-branded cover is below.
Studio album by Victor Griffin
Released
March 22 2013
Recorded
2012 at Lakeside Studios in Knoxville, Tennessee
Genre
Doom Metal
Length
40:44
Label
Svart Records
Producer
Travis Wyrick, Victor Griffin
Victor Griffin chronology
Victor Griffin's In-Graved
(2013)
Alternative Cover
Victor Griffin's In-Graved is a solo album by Victor Griffin under the "In-Graved" moniker. It would be released in 2013 via Svart Records, later re-branded in 2016 as a Place of Skulls album under the title In-Graved. Along with featuring a wid collaboration of guests spanning throughout Griffin's career it features two songs from the Late For An Early Grave solo album and a cover of Jethro Tull's "Teacher".
In 2012 Victor Griffin would take time away from both Pentagram and Place of Skulls but would still write material to record a new album despite having no name or members for this new project. Griffin would invite Pete Campbell (The Mighty Nimbus, Sixty Watt Shaman, etc.) to record drums. Working with longtime producer Travis Wyrick Griffin and Campbell would record eight songs in a week to which Griffin would then invite a wide arrangement of friends and fellow musicians to fill out the remainder of the recording.[1]
Several bassists would be involved including Ron Holzner (Trouble, Debris Inc., The Skull, etc.), Guy Pinhas (The Obsessed, Acid King, Goatsnake, Beaver, etc.) Greg Turley (Pentagram), Martin Swaney (Death Row, Pentagram), Mike Puleo (Orodruin), Dan Lively (HypNoGoG) and Jeff Olson (Trouble, The Skull, etc.) among others. Details on the album would be announced in early 2013 including it's release dates (22 March for Europe via Svart Records, 26 March in North America via Veritas Records.) and a tour of Europe to support the album, featuring the lineup of Griffin, Campbell, Olson and Lively.[2] This lineup would make appearances at the likes of Roadburn Festival, DesertFest Berlin, Doom Shall Rise and Desertfest London among other marquee performances.[3] The band also appeared at Days of The Doomed in Wisconsin among a handful of US dates with Dan Lively on bass.
The album would be released on Digipak CD, Vinyl (500 Black, 400 Green, 100 White, 100 Brown) and Digital (2013 under the In-Graved moniker and 2016 re-branded as a Place of Skulls album.). "Late For An Early Grave" and "Never Surrender" were originally written in the late 80s/early 90s and early recordings of those songs appear on Late For An Early Grave.
Victor Griffin's In-Graved saw positive reception upon release from several critics, including The Obelisk,[4] Metal Temple (8/10),[5] Metal Kaoz (8/10),[6] Louder Sound (4 Stars),[7] Your Last Rites,[8] The Sludgelord[9] and Angry Metal Guy[10] just to name a few.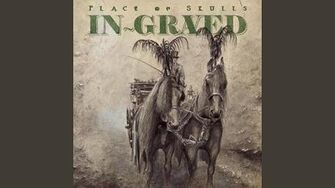 All songs written by Victor Griffin except where noted.
1. Digital Critic (4:29) (Griffin, Campbell, Puleo)
2. What If... (5:05)
3. Late For An Early Grave (4:38)
4. Fading Flower (6:14)
5. Thorn In The Flesh (5:28) (Griffin, Campbell, Puleo)
6. Teacher (4:01) (Ian Anderson, Jethro Tull)
7. Love Song For The Dead (6:47) (Griffin, Campbell)
8. Never Surrender (4:02)
Victor Griffin - Guitar, Vocals, Producer
Pete Campbell - Drums, Percussion
Anne Griffin - Bass (1)
Ron Holzner - Bass (2, 4)
Martin Swaney - Bass (3, 6)
Guy Pinhas - Bass (5)
Dan Lively - Bass (7)
Greg Turley - Bass (8)
Jeff "Oly" Olson - Keyboards (1, 5 - 8)
Mike Puleo - Keyboards (2 - 4)
Travis Wyrick - Engineer, Mixing, Mastering, Producer
Mike Dearing - Additional Engineering
Richard Schouten - Cover Art, Layout
Community content is available under
CC-BY-SA
unless otherwise noted.