Unsound


Background information
Also known as
Scabies Babies, Dig
Origin
Palm Springs, California
Genres
Punk Rock
Years active
1987 - 1994, 2009 - Present
Labels
Hemi Music, Roid Records
Associated acts
Mondo Generator, De-Con, Yawning Man, Vista Chino, Sultans, Adolescents, Furious IV
Website
Unsound at Lo Sound Desert's Website
Unsound is a punk rock band originating from Palm Desert, California. Active between 1987 and 1994 this quartet has been described as "Pure, raw garage punk by players fully committed to creating chaos with music" and known for "wild performances and unrelenting progressions". Though the band relished in obscurity and had a short run they were highly influential to the desert rock scene and considered pioneers of the "Lo Desert Sound", leaving influence on the likes of Kyuss, Mondo Generator, Fatso Jetson and Queens of the Stone Age among others.
In their initial run the band put out four physical releases in all while largely playing in underground and DIY venues in the Palm Desert scene. While only performing on special occasions upon reuniting Unsound have remained active in some capacity, performing as recent as 2019.
After going by other names such as Scabies Babies & Dig, Unsound would start in 1987 and quickly gained a reputation in the Palm Desert scene for their chaotic pace and Ian Taylor's spastic stage presence. By 1990 the band self-released a nine-song album. Two years later the band released a 7" entitled No Choice which was notably engineered by Scott Reeder. The band would perform anywhere from nude colonies to DIY venues to desert generator parties, the latter the band gained a reputation for. In a statement for Coachella Valley Weekly Brian Maloney would speak about the band's reputation in their early days:
"
"Back in the day we were even a bigger band here in the desert than Kyuss was. Unsound owned the desert for a long time. It was Dead Issue and then us. Dead Issue is doing a special reunion just for this show and I highly recommend people taking this opportunity to see this band play."
"
 

— Brian Maloney, Coachella Valley Weekly

[1]
Original drummer Tony Di Prima left after the first album with Jeff Bowman taking over the drum role. After self-releasing a second album's worth of material, a 7″ EP called Melt was recorded at Epitaph Studios "West Each" in LA. The band's activity largely ceased around 1994 but the band would reunite for a special live performance in 2010 though had also reunited for one-off shows prior to that. Tragedy would befall the group as founding bassist Britt Killen would pass away due to heart failure on 22 October 2011, aged 44. A benefit show for his family would be held at The Date Shed in Indio with Billy Cordell taking over on bass for Unsound. Since then the band has rarely played, only opting to perform shows deemed important or special.[2] Unsound would perform two more known reunion shows: 3 May 2014 at Schmidy's Tavern in Palm Desert (With Throw Rag)[3] and 23 November 2019 at The Hood Bar and Pizza in Palm Desert (With Fatso Jetson, All Souls).[4]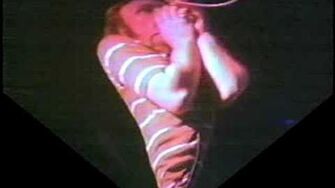 Discography
Edit
Ian Taylor - Vocals (1987 - 1994, 2010 - ?)
Brian Maloney - Guitar (1987 - 1994, 2010 - ?)
Britt Killen - Bass (1987 - 1994, 2010) (Died 2011)
Tony Di Prima - Drums (1987 - 1990)
Jeff Bowman - Drums (1990 - 1994, 2010 - ?)
Billy Cordell - Bass (2012 - ?)
External Links
Edit
References
Edit
Community content is available under
CC-BY-SA
unless otherwise noted.