The Pendulum


Extended play by Candlemass
Released
March 27 2020
Recorded
2018 at Deep Well Studio and Hagaton Studio
Genre
Doom Metal, Epic Doom Metal
Length
19:59
Producer
Marcus Jidell, Leif Edling
Candlemass chronology
The Door To Doom
(2019)
The Pendulum
(2020)
TBA
(TBA)
The Pendulum is a forthcoming EP by the epic doom metal band Candlemass, set for a 25 March 2020 release via Napalm Records. It comprises of the title track which was written for The Door To Doom but ultimately not finished in time, along with five demos of songs intended for the 2019 album.
Background
Edit
On 31 January 2020 Candlemass would announce The Pendulum along with a lyric video for the title track, which was the last song written for The Door To Doom but wasn't finished in time, along with demos for five other songs. Leif Edling also elaborated that The Door To Doom was intended to be a double album but was cut down to a single album instead during the recording process.[1] On 13 February 2020 the band would release a lyric video for "Porcelain Skull", which was originally written for Avatarium and appears on their 2019 album The Fire I Long For. Besides "Snakes of Goliath" the remaining track are rough guitar and bass demos hinting at new tracks. The press release for this EP also implies a new album is in the works.
Reviews on this EP are mostly positive, pointing out the fact it's a hold over to the next album, common praises to Längquist's vocals. Stand-out praise would come from the likes of Blabbermouth (9/10)[2] and Cryptic Rock (4/5)[3] which the most notably critical review would come from Super Metal World (5.9/10)[4] Doodlehound,[5] Your Last Rites,[6] Treble Zine,[7] Sonic Perspective[8] and The Sleeping Shaman[9] would all speak positively of the release but note it's appeal strictly for diehard fans, with the former noting the promotion of the EP and a humorous error in the press kit.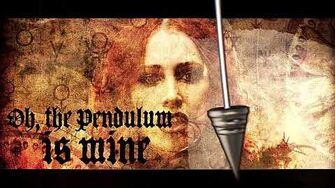 Tracklist
Edit
1. The Pendulum (4:59)
2. Snakes of Goliath (5:16)
3. Sub Zero (1:16)
4. Aftershock (1:35)
5. Porcelain Skull (5:29)
6. The Cold Room (1:24)
Personnel
Edit
Leif Edling - Bass
Johan Längquist - Vocals
Jan Lindh - Drums
Mats Björkman - Rhythm Guitar
Lars Johansson - Lead Guitar
Marcus Jidell - Producer
Niklas Flyckt - Mixing
Svante Forsbäck - Mastering
External Links
Edit
References
Edit
Template:Candlemass
Community content is available under
CC-BY-SA
unless otherwise noted.