The Action Is Go


Studio album by Fu Manchu
Released
October 7 1997
Recorded
1997 at Grandmaster Recorders & Sound City Studios in Hollywood, California & Van Nuys, California
Genre
Stoner Rock, Punk Rock
Length
55:43
Label
Mammoth Records
Producer
Jay Noel Yuenger
Fu Manchu chronology
Godzilla
(1997)
The Action Is Go
(1997)
Jailbreak
(1998)
The Action Is Go is the fourth studio album by the California stoner rock group Fu Manchu. Released circa 7 October 1997 it is the first studio album to featuring lead guitarist Bob Balch and drummer Brant Bjork. They would replace Eddie Glass and Ruben Romano, whom both formed Nebula with Mark Abshire. The album also features a cover of "Nothing Done" originally performed by SSD. The album cover features famous skateboarder Tony Alva (of Z-Boys) skating in the "Dogbowl", the photo taken in 1977 by Glen E. Friedman.
Considered to be among their finest works and a seminal album in the late 1990s era of stoner rock, The Action Is Go was fairly praised at the time of release[1] but has since been highly praised in the years since it's release.
Following a fall tour in further support of In Search Of... Fu Manchu would begin work on their fourth studio album in early 1997, this time working with Bradley Cook at Grandmaster Recorders, Ltd. Hollywood, CA, and Sound City, Van Nuys, CA, except for "Unknown World" which was recorded by Ulrich Wild at Music Grinder, Los Angeles, CA. Notably the producer for the album would be one Jay Noel Yuenger (White Zombie). In an interview with Lollipop Magazine, Brad Davis would speak about working with Yuenger:
"
"It wasn't like he was going to change anything. We knew he was going to produce the album and we all decided what kind of role each of us was going to play ahead of time. We did the pre-production which turned out to be really good. He advised us on arrangement, where to put this part, make this longer, this shorter, maybe another part here. He pointed out things we wouldn't've seen. In the studio, he has a lot more experience with more complicated things. Usually, we just go in there and record live, which is cool. We wanted to make each song sound different and he added a lot to that, sitting down and really listening to everything closely."
"
 

— Brad Davis, Lollipop Magazine

[2]
In an archived article from Fu Manchu's official page, both J. Yuenger and Scott Hill would speak about the recording process for The Action Is Go:
"
"[Yuenger] I know these guys never had a chance to do a full-blown kind of recording, with all the high-quality stuff. They'd always been rushed, and they never had a chance to experiment.

[Hill] We never really got crazy with effects, We never had the time. J. had us do things in the studio we never would have thought of. Usually when we lay down a track, all four of us play at once. We've never done overdubbing or any layering of guitars. When we told this to J. he looked at us and said'You guys keep the tracks you do live? Those are going to be gone!'"

"
 

— Jay Yuenger and Scott Hill, Fu Manchu Official via Wayback Machine

[3]
The Action Is Go was originally released via Mammoth Records on 7 October 1997 on Vinyl and CD. European, Australian and Japanese editions would get two bonus tracks in "Swami's Last Command" (Which appeared in the 1998 film Chicago Cab) and "Module Overload" (Which was was first released on the Godzilla EP and was re-recorded with a new vocal line and a different middle part. The original version appears again on (Godzilla's) Eatin' Dust.). "Evil Eye" (Which also had a music video) notably also appeared in the iconic 2000 video game Tony Hawk's Pro Skater 2. Fu Manchu would tour the United States and Canada through October and November in support of The Action Is Go, along with their first headlining tours of Europe and Australia.
At the time of release it saw fairly positive reviews[4][5] with the most notable praise coming from Entertainment Weekly, awarding the album an "A-".[6] Retroactively has been widely praised by several publications such as The Obelisk,[7] Sputnik Music[8] and Super Corrupter[9] among others.
The Action Is Go would be re-issued on vinyl and CD on Fu Manchu's label At The Dojo Records initially in 2012 along with the band performing the entire album live for it's fifteenth anniversary.[10][11] The Action Is Go would be re-issued again in 2015 and 2019 in several varieties.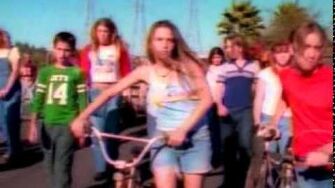 All songs written by Fu Manchu except where noted.
Tracks 15 and 16 appear on the European version.
1. Evil Eye (3:30)
2. Urethane (3:36)
3. The Action Is Go (3:06)
4. Burning Road (5:47)
5. Guardrail (2:57)
6. Anodizer (4:26)
7. Trackside Hoax (4:54)
8. Unknown World (2:49)
9. Laserbl'ast! (3:47)
10. Hogwash (3:41)
11. Grendel, Snowman (4:09)
12. Strolling Astronomer (3:43)
13. Saturn III (7:55)
14. Nothing Done (1:15) (Al Barile)
15. Swami's Last Command (3:15)
16. Module Overload (4:19)
Scott Hill - Guitar, Vocals
Bob Balch - Lead Guitar
Brad Davis - Bass, Theremin
Brant Bjork - Drums
Jay Noel Yuenger - Producer, Organ, Minimoog, Electro-Harmonix Space Drum
Bradley Cook - Engineer
Billy Bowers - Assistant Engineer
Ryan Boesch - Assistant Engineer
Joe Barresi - Mixing
Eric Greedy - Mixing Assistant
Dave Collins - Mastering
Lisa Johnson - Studio Photography
Alex Obleas - Fu Manchu Photography
Glen E. Friedman - Cover Photography
Lane Wurster - Art Direction
Chris Eselgroth - Graphics, Design
Community content is available under
CC-BY-SA
unless otherwise noted.