Templars of Doom

Poster for The Second Crusade.
Background information
Genre(s)
Doom Metal
Location
Indianapolis, Indiana, USA
Venue(s)
Birdy's (2004 - 2005); Melody Inn (2009)
Years active
2004 - 2005; 2009
Promoter(s)
Jason McCash
Associated Events
Born Too Late (Festival)
Website
Archived Webpage
Templars of Doom was a festival held in Indianapolis on three separate occasions in Indianapolis to host traditional doom metal bands in a similar vein to Born Too Late (Festival) and Stoner Hands of Doom.
Background
Edit
The festival was created by Jason McCash in 2004, inspired to do so when Born Too Late (Festival) opted not to do a second edition. Similar to that festival it was intended to showcase traditional doom metal bands along with a few other bands in different metal genres (For example, speed metal band Midnight).
2004 - Templars of Doom: The First Crusade
Edit
The first edition of Templars of Doom was held on June 18th and 19th, 2004 at Birdy's in Indianapolis (Originally intended to be a one-day festival at Rehearsal Studios). A multitude of bands were confirmed leading up but ultimately dropping out included The Hidden Hand, While Heaven Wept, Warhorse, Novembers Doom,Morgion, Abdullah and Mantis.[1][2][3]
Barry Stern (Trouble) was on drums for the Debris Inc. performance.[4]
2005 - Templars of Doom: The Second Crusade
Edit
In November 2004, the next edition of Templars of Doom was announced with it's inagural lineup, mainly The Gates of Slumber and Reverend Bizarre (With this show marking their first ever appearance in the United States) appearing to coincide with a tour together that same year.[5]Las Cruces would also appear in their first show since 2000.[6]
The festival was held on July 8th and 9th, 2005 at Birdy's in Indianapolis, Indiana. Iron Man were intended to play this edition of the festival but were forced to cancel due to vocalist complications. Penance were also intended to play but ultimately dropped off.[7]
2009 - Templars of Doom: The Third Crusade
Edit
The third edition of Templars of Doom was originally intended to be hold on October 13th and 14th, 2006. However, due to complications the festival was canceled.[8]
Three years later, McCash would bring back the festival for three days at The Melody Inn in Indianapolis with a Sunday after-party at the Murphy building.[9] Born Too Late Festival (The festival that inspired Templars of Doom) would also return for a second showcase that same year.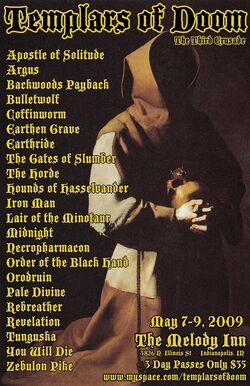 External Links
Edit
References
Edit
Community content is available under
CC-BY-SA
unless otherwise noted.