Super Heavy Goat Ass


Background information
Origin
Austin, Texas, USA
Genres
Stoner Metal, Southern Metal
Years active
1999 - 2010
Labels
Arclight
Associated acts
Duel, Sixty Watt Shaman, Dixie Witch, Honky, Fur King, Keletiel, A Thousand Knives of Fire, Amber Lucille, Southern Gun Culture
Super Heavy Goat Ass (Also abbreviated as superheavygoatass or SuperHeavyGoatAss) was a stoner/southern metal group from Austin, Texas. Throughout their ten-year run this quartet (Initially a trio) concocted a sound that was a mix of ZZ Top stomp-swagger and Sabbath sludge. The band released two years in their tenure.
Super Heavy Goat Ass formed initially as a trio in July 1999 with Russell Abbott, Tim Hurt and Brent Boepple as the founding members. The band drew initial influences from the MC5 and Blue Cheer. The band largely played shows around the Austin, Texas area, eventually adding Derek Halfmann as a second guitarist. This lineup would release a demo that same year. Signing to Arclight, the band would release a split with fellow Austin southern band Southern Gun Culture in 2003. From there the band played more shows around the Texas area.
Eventually on 25 April 2005, Super Heavy Goat Ass would release their debut album 60,000 Years. The band would tour the US that next fall.[1] The band would also perform at the likes of SXSW and Emissions from the Monolith in 2007 and the Small Stone Records Showcase in 2008.[2] A second album entitled Nemesis was released on 23 September 2008. The band would remain active in the Austin music scene before disbanding in 2010.
Discography
Edit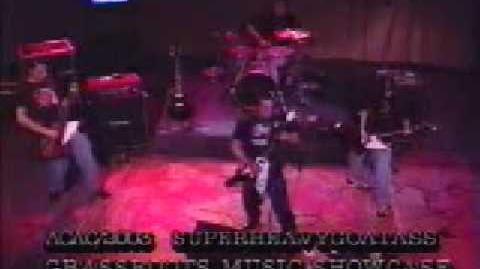 SuperHeavyGoatAss (Demo) (2002, Self-Released)
Super Heavy Goat Ass / Southern Gun Culture (Split with Southern Gun Culture) (2003, Arclight)
60,000 Years (Album) (25 April 2005, Arclight)
Nemesis (Album) (23 September 2008, Arclight)
Russell Abbott - Guitar, Vocals (1999 - 2010)
Tim Hurt - Drums (1999 - 2002, 2003 - 2006)
Curt Christension - Bass (1999)
Brent Boepple - Bass (1999 - 2009)
Trent Parker - Drums, Vocals (2002 - 2003)
Derek Halfmann - Guitar (2002 - 2010)
Kenny Wagner - Drums (2006 - 2010; died 2016)
Taj Estrada - Bass (2009 - 2010)
External Links
Edit
References
Edit
Community content is available under
CC-BY-SA
unless otherwise noted.