Steak are a stoner rock/fuzz rock quartet based out of London, England. Forming in 2010 this band describe themselves as a "shit kickin band from London, UK". Quickly building a name and a buzz not long after forming with their meaty sound and comic book aesthetic in their artwork, the band would sign with Napalm Records for their debut album "Slab City" in 2014. Three years later the band would work with Ripple Music for "No God To Save".
To date Steak have released two albums and have toured with several contemporaries in the stoner rock scene, be it Europe, the United States or their native England.
Steak would be founded circa 2010. Early on Steak performed largely in England and as part of several showcases associated with Desertscene[1] before releasing a debut EP in Disastronaught circa 5 May 2012, roughly two years after forming. Following an appearance at the inaugural Desertfest London The band would do a tour of England in support, sharing the stage with the likes of General, Dopefight, Widows and Desert Storm among others.[2] The next year Steak would sign with Napalm Records and release Corned Beef Colossus on 24 May 2013, attaining praise from the likes of Metal Hammer, Stoner Hive and Dan Grigg among others. Steak would perform outside of England for the first time that year as work began on a debut album.[3]
Steak would tour Europe in 2014 (Including a handful of dates supporting Monster Magnet) building up towards the release of their debut album. Following the tour the quartet would fly out to Southern California that March, spending two weeks at Thunder Underground in Palm Springs, California. Produced by Harper Hug and Arthur Seay with a guest spot from John Garcia and artwork by Eduardo Ferigato,[4] Slab City would be released via Napalm Records circa 5 May 2014 to critical acclaim the likes of The Obelisk,[5] The Sludgelord[6] Metal Temple[7] and Ghost Cult Magazine[8] to name a few.
To support Slab City Steak would appear at the inaugural Desertfest Belgium before embarking on an extensive European tour alongside Komatsu and John Garcia. Further support of the album over the next two years would come in a France tour circa 2015, along with appearances at Keep it Low, Reverence Festival Valada and the inaugural Desertfest Athens. Steak would then begin work on a second album, now signed to Ripple Music. Steak would announce their second album in April 2017 and ultimately release No God To Save on 19 May 2017.[9] No God To Save would attain praise from several critics such as Echoes and Dust,[10] Louder Sound,[11] Riff Relevant,[12] Outlaws of The Sun[13] and Heavy Planet[14] to name a few.
In support of No God To Save Steak would make appearances at Desertfest London and Stoned From The Underground before touring with Greenleaf and The Atomic Bitchwax. In 2018 as part of a cross promotion with Desertscene and Ripple Music, Steak would perform in the United States for the first time at SXSW, followed by an appearance at Freak Valley Festival. In 2019 Steak would tour with Lo-Pan and Elephant Tree along with appearing at the inaugural Desertfest New York.
Discography
Edit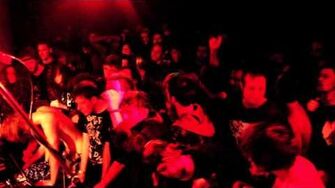 Studio Albums
Edit
Other Releases
Edit
List of Known Tours
Edit
External Links
Edit
References
Edit
Community content is available under
CC-BY-SA
unless otherwise noted.