Spine of God

Spine of God's original cover,
Studio album by Monster Magnet
Released
December 6 1991
Recorded
Summer 1991 at Subterranean Sound in Long Branch, NJ
Genre
Stoner Rock, Psychedelic Rock, Space Rock, Fuzz Rock
Length
49:48
Producer
Dave Wyndorf, John McBain
Monster Magnet chronology
Monster Magnet
(1990)
Spine of God
(1991)
Tab
(1991)
Alternative Cover
Spine of God is the debut studio album by the New Jersey rock band Monster Magnet, released circa 6 December 1991 in Europe and later on 28 February 1992 in the United States. Though not a commercial success it did attain critical acclaim at the time of release, followed by near universal praise by retroactive critics.
The album's sound deviates into space rock, psychedelic rock and heavy stoner rock with influences drawn from the likes of Grand Funk Railroad (Whom they also covered on this album, performing "Sin's A Good Man's Brother"), Hawkwind, The Stooges, Funkadelic and much more. Spine of God has been cited as an early stoner rock album and a heavy influence on the genre as a whole.
Background
Edit
A few months after recording the EP Tab at Subterranean Sound, Monster Magnet would begin work on their debut album that summer. According to John McBain the band recorded with only sixteen tracks and claimed they only did that to "play it safe". It would also be Cronin's first Monster Magnet where he would be contributed and credited to the role of "lights", preferring the behind-the-scenes role.[1] Wyndorf had cited Jimi Hendrix and Blue Cheer as an influence on the album and frequently cited it as a "headphones" record.[2] The band listed the recording studio in the liner notes as "Spahn Ranch Studio", leading some people to believe that the band actually recorded there. Wyndorf humorously told the story behind that in an interview with Guitar World.[3] According to John McBain they referred to it as such because it fit the theme of the album.[4]
Spine of God would be released in Europe first on 6 December 1991 via Glitterhouse Records and later on 28 February 1992 via Primo Scree Records in the United States. Notably a French LP version would feature entirely different art and a misspelled song title in "Pill Shoved". Monster Magnet would tour Europe for the first time in support of the record. The members of Soundgarden had heard the album and absolutely loved it, bringing them on for a tour of North America afterwards. Monster Magnet has spoke positively of touring with Soundgarden. However at the end of this tour McBain would quit the band, citing a disinterest in touring and thus Spine of God would be the only Monster Magnet full-length he would play on. A music video for "Medicine" was made that got moderate airplay on MTV.[5] Notably the famous rap-rock group Beastie Boys lifted the riff from "Medicine" for their song "Sabotage", admitting they were all fans of the group.
The first re-issue of Spine of God would come in 1992 via Caroline Records. In the Spring of 2006 while the band was signed to Steamhammer and SPV both "Spine of God" and "Tab" would see re-issues with a full re-master, new artwork, bonus tracks and liner notes. The Bonus track here is a demo version of "Ozium" featuring Tim Cronin on drums. On 1 September 2017 Napalm Records would re-issue Spine of God and Tab again, the same version as the 2006 re-issues.[6]
In regards to critical reception Spine of God was praised early on, notably by Spin whom referred to is as "A Total KO" while comparing it favorable to the work of grunge rock icons of the day such as Soundgarden, Tad, and Mudhoney. Spine of God was listed as #9 on their "Ten Best Albums Of The Year You Didn't Hear" for 1991. With subsequent re-issues the album has attained universal praise from the likes of Blabbermouth (9.5/10),[7] Sputnik Music (4.5/5),[8] Metal Temple (9/10),[9] Metal Observer (9/10),[10] Doodlehound (10/10 / "Highest Possible Recommendation")[11] and New Noise Magazine (3.5/5).[12] Other notable review sites that praised the album would include The Obelisk,[13] Metal Nexus[14] and Unsung.[15]
Monster Magnet would tour Europe in the fall of 2012 performing the entirety of "Spine of God" along with rare early cuts, followed by a short USA tour.[16] "Spine of God" would also be inducted into the Decibel Magazine Hall of Fame in January 2018.[17][18]
Tracklist
Edit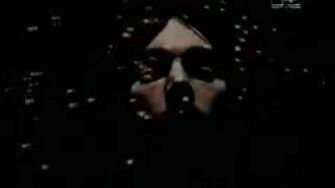 NOTE: Track 10 only appears on the re-issue. All songs written by Dave Wyndorf except where noted.
1. Pill Shovel (John McBain, Dave Wyndorf) (4:00)
2. Medicine (3:21)
3. Nod Scene (McBain, Wyndorf) (6:46)
4. Black Mastermind (McBain, Wyndorf) (8:13)
5. Zodiac Lung (4:44)
6. Spine of God (8:02)
7. Snake Dance (3:10)
8. Sin's a Good Man's Brother (Mark Farner) (3:31)
9. Ozium (8:01)
10. Ozium (Demo) (8:38)
Personnel
Edit
Dave Wyndorf - Guitar, Vocals, Producer
John McBain - Guitar, Backing Vocals, Producer
Joe Calandra - Bass
Jon Kleiman - Drums
Tim Cronin - Dope, Lights, Center of The Universe, Drums (Bonus Track)
Stacy "Springdale" Phelon - Engineer
Rob Leecock - Bullgod Design
Samantha Muccini - Photography
Reed Linkletter Jr. - Art Direction
Alexander Von Weiding - Reissue Artwork
External Links
Edit
References
Edit
Community content is available under
CC-BY-SA
unless otherwise noted.