Southgate House

The current venue known as The Southgate House Revival.
Background information
Founded
Southgate House (1980s); Thompson House (2012); Southgate House Revival (2012)
Capacity
720 (Original Southgate/Thompson); 600 (Southgate Revival)
Location
Newport, Kentucky, USA
The Southgate House is the name of two separate venues in Newport, Kentucky (Though very close to Cincinnati, Ohio though both buildings are directly located in Kentucky.). The original Southgate House would later become the Thompson House while the Southgate name would move to a new building under the name Southgate House Revival. Both venues boast multiple stages and have hosted a plethora of bands in the stoner and doom scenes among a multitude of music of any genre.
Background
Edit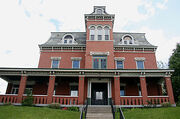 Before either building would host bands, they both served unique purposes in Newport. The building that hosts the Southgate House Revival was previously a church built in the late 1800s while the original Southgate House building was built in 1814 and would be the birthplace of John T. Thompson, inventor of the Tommy Gun[1][2].
The Southgate House would start hosting bands in the late 80s by Ross Raleigh up until 2011 when the ownership was forced to move to a new building.[3] New owners would take over the old building and christen it the Thompson House after the original owner's name.[4] The owners would relocate to a church and reopen as The Southgate House Revival in 2012 after some building delays.[5]
Performers
Edit
NOTE: There are three separate lists for each incarnation of the Southgate House/Thompson House. Also, this only lists select bands and performances. The majority of these sets can be sourced at setlist.fm.
Notable Performers at the Original Southgate House
Edit
Notable Performers at the Thompson House
Edit
Notable Performers at the Southgate House Revival
Edit
External Links
Edit
References
Edit
Community content is available under
CC-BY-SA
unless otherwise noted.