Sourvein

Sourvein live at Roadburn Festival, 2014
Background information
Also known as
Sour Vein
Origin

Cape Fear

, North Carolina, USA
Genres
Doom Metal, Sludge Metal
Years active
1993 - Present
Labels
Southern Lord Records, Candlelight, Game Two, Metal Blade
Associated acts
Buzzov*en, Weedeater, Electric Wizard, 13, Saint Vitus, Blood of the Sun, Hail!Hornet, Eyehategod, Corrosion of Conformity,

Dystopia

, Hank Williams III, Brickbat, Amebix
Website
Facebook
Current members

T-Roy Medlin
Sourvein are a sludge metal band from the USA. Originally residing in Carolina Beach,North Carolina the band has made home in other states such as Louisiana, NYC and California. A staple of the North Carolina sludge scene, this band is known for their groovy yet abrasive tunes and lyrical themes on depression, life and all things aquatic. The band is also known for a keen interest in early film actresses such as Theda Bara and Sharon Tate.
Vocalist T-Roy is the sole original member and mastermind of Sourvein since 1993, stating he's managed to keep the band touring actively since 1994. Besides T-Roy the lineup is constantly changing with a host of various friends and guests in regards to touring, making for a branching and sometimes confusing history of musicians who have had involvement with the band, studio or live. Since their inception, Sourvein have released four studio albums and a host of other releases over a career spanning nearly thirty years.
History
[
]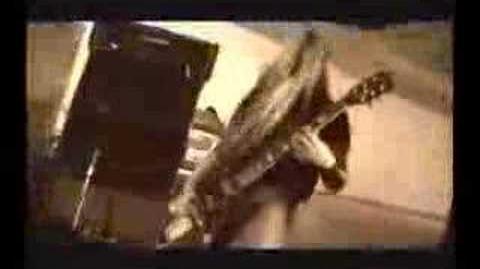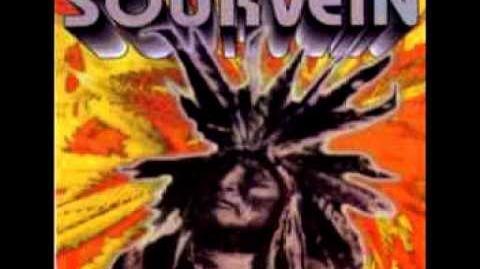 Early Years and Self-Titled (1993 - 2000)
[
]
Sourvein began sometime in 1993 according to the band with T.Roy and Josh known to be founding members. The band's earliest known shows date back to a 1992 and a 1994 tour and 1996, sharing the likes with mainly hardcore and punk bands such as Antiseen,[1] Anal Cunt, the Candy Snatchers and By The Grace of God[2] to name a few. Eventually in 1996 the band would release a split 7" with Buzzov*en.
At some point in 1998 Crapo would switch to bass and former 13 guitarist Liz Buckingham would join the group along with drummer Slim Spencer, leading up to four recorded songs showing up on the five-band sludge split He's No Good to Me Dead - 74 Minutes of Extreme Pain. At some point the band also relocated to New Orleans. In 1999 they would release their self-titled album (Also known as Salvation) on Game Two Records.
Will To Mangle (2001 - 2002)
[
]
At some point in 2001 the band would get fill ins at that point in Miguel Velez and Henry Vasquez for Stoner Hands of Doom and recording sessions. In the meantime the band would work together a follow-up album. The band was slated to work with Man's Ruin Records in 2001 but the label folded before any album could be made. Then the band signed to Southern Lord Records and recorded their second album Will To Mangle with Billy Anderson as producer in San Francisco. Will To Mangle would see release on 21 October 2002. The band toured in support of the record in October and moved to Los Angeles after the tour to work with new musicians and old friends. Touring the west coast and playing SXSW with a new line up in March 2003 and remained until Buckingham moved to England in July 2003, changing the lineup with a returning Josh Crapo on guitar for Halloween shows in New Orleans in October 2003.
Touring, EPs and Splits (2004 - 2009)
[
]
Sourvein would follow through into the next few years with a host of sporadic releases and touring whenever allowed. The first release after Will To Mangle was a split with Rabies Caste featuring an unreleased recording from that album's sessions in the form of a cover of Pentagram's "Forever My Queen". Not long after the band would release an EP in the form of Emerald Vulture through This Dark Reign. The band would go into 2006 with a tour of North American and two tours of Europe alongside Ramesses and Church of Misery while releasing two splits with the latter band (One on Dada Drumming and one on Calculon Records). Josh relocated to Austin after Hurricane Katrina flooded his New Orleans apartment and studio in 2005 and left the band in 2006, following a successful tour of the UK with Ramesses, to focus on his family.
After sporadic touring in 2007 the band would announce the release of two EPs to round out an EP trilogy, one on This Dark Reign entitled Ghetto Angel and Imperial Bastard, released on Candlelight Records USA whom they signed to at the time with plenty of touring in support of the records with plans at the time of a new full-length in the works. A split with Blood Island Raiders was also released in 2009 via Calculon.
Black Fangs (2010 - 2014)
[
]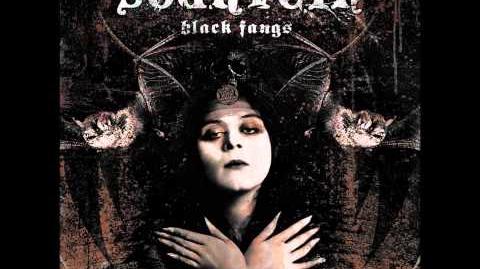 Eventually in 2010 it would be announced that the band would start work on their first album in nearly ten years.[3] A tour in Europe would be canceled due to the 2010 eruptions of Eyjafjallajökull in the Netherlands. But the band would resurface on the road with quick returns to Europe to round out 2010 and finishing their third album.
Going into 2011 the band's touring cycle became more aggressive with two US tours and European shows leading into the band's third album Black Fangs, released on 21 June 2011 via Candlelight Records to positive reviews. While the initial tour in support of the album featured the lineup of T-Roy and founding bassist Josh (JC) would rejoin the band for the West Coast leg of the tour in October that year.[4] The band would follow through with a split with Japanese death/doom band Coffins and join with Weedeater and Saint Vitus for the Lillie:F-65 North American Tour.
Sourvein would be back on the road with a split with Graves at Sea and a tour of Europe with that same band in 2014, leading into festival appearances at Doom Over Leipzig and Roadburn Festival. The appearance at the latter festival was unique in that it was a curated set of the band playing all of the songs from their three EP releases (Emerald Vulture, Ghetto Angel and Imperial Bastard).
Aquatic Occult and Upcoming Fifth Album (2015 - Present)
[
]
On 10 November 2014, Sourvein signed to Metal Blade Records.[5]On 8 January 2015 Sourvein would announce that they would sign to Metal Blade Records for their fourth studio album entitled Aquatic Occult along with beginning to record the album in the studio.[6] In between recording Sourvein would perform at Psycho Festival along with a tour of Europe that year. The first revealed track leading up to release was "Ocypuss" with Lamb of God's Randy Blythe as a guest, released on 10 February 2016.[7]
On 7 April 2016 Sourvein would release their fourth studio album Aquatic Occult. Produced by Mike Dean of Corrosion of Conformity fame the album would also feature a host of guests including Randy Blythe (Lamb of God), Reed Mullin (Corrosion of Conformity), Stig Miller (Amebix), Dean Berry (Iron Monkey) and Lou Gorra (Solarized, Halfway To Gone) among others. A music video for "Avian Dawn" was released on 2 April 2016. In regards to latest shows the band announced appearances at Electric Funeral Fest and Skull Fest in Pittsburgh along with starting work on a fifth studio album.
Members
[
]
Current Lineup
[
]
T-Roy Medlin

- Guitar, Bass, Vocals (1993 - Present)
Lou G - Bass (? - Present)
Jeffe - Guitar (? - Present)

Ramzi Atayeh

- Drums (2007, ? - Present)
Past Members & Live-Only Musicians
[
]
Josh Crapo

- Bass, Guitar (1993 - 2001, 2003 - 2006, 2012)

Slim Spencer

- Drums (1993 - 2001)
Liz Buckingham - Guitar (1998 - 2003)

Miguel Veliz

- Bass (2001 - 2002)
Henry Vasquez - Drums (2001 - 2002)
Will Sprauge - Guitar (2005)
Bret Showalter - Live Bass (2005)
Dan Luper - Bass (2005)
Vince Burke - Drums (2005)

Alastair Riddell

aka Reverend Al - Live Bass (2006)
Dave Collins - Bass (2007)

J. Clyde Paradis

aka Cool Clyde - Drums (2007, 2012) (Died 2016)
Mike Floyd aka Sleepy - Guitar (2007 - 2011)
Mike Boone aka Boone Doom - Bass (2008, 2012 - 2013) (Died 2013)
King James - Guitar (2009 - ?)
Jeffrie Moen aka Kong - Drums (2009 - 2010)
Ashley Williamson - Drums (2010 - 2011)
Ahmasi O'Daniel - Bass (2010 - 2011)

Dave Sherman

- Bass (2011)
Todd Kiessling aka Todd Dystopia - Bass (2012)
Joel Martin - Guitar (2013 - ?)
Dwayne Jones aka Hotlanta Cojones - Drums (2013)
Casey Yarbrough aka OJ Yogi - Guitar (Unknown Time Period)
Charlie Mack - Bass (Unknown Time Period)
Scott Renner - Bass (Unknown Time Period)
Discography
[
]
Albums
[
]
Sourvein

(2000, Game Two)

Will To Mangle

(2002, Southern Lord Records)

Black Fangs

(2011, Candlelight Records USA)

Aquatic Occult

(2016, Metal Blade Records)
TBA (TBA, Metal Blade Records)
EPs
[
]
Emerald Vulture

(2005, This Dark Reign)

Ghetto Angel

(2008, This Dark Reign)

Imperial Bastard

(2008, Candlelight Records USA)
Splits
[
]
Another Day in the Lost Lives of...

(With Buzzov*en) (1996, Mudflap)

Sourvein / Rabies Caste

(With Rabies Caste) (2005, Dada Drumming)
Church of Misery / Sourvein (With Church of Misery; Two Released) (2006, Dada Drumming; Calculon Records)

Black Cloud Revelations / The Phobia

(With

Blood Island Raiders

) (2009, Calculon Records)

Dingy Haunt / Axes of Vengeance

(With Coffins) (2012, Forcefield)

Sourvein / Graves at Sea

(With Graves at Sea) (2014)
Selected Compilations
[
]
He's No Good to Me Dead - 74 Minutes of Extreme Pain

(1999, Game Two)

For The Sick - A Tribute to Eyehategod

(2007, Emetic Records)
List of Known Tours
[
]
NOTE: All tours here are known and this section is a work in progress.
30 Days of Roadkill (With Anal Cunt, The Candy Snatchers, Eyehategod) (1994)
Sourvein/Brothers of Conquest (With Brothers of Conquest) (2002)[8]
October 2006 Tour (With Swarm Of The Lotus, and American Heritage) (2006)[11]
No Sleep Til' Halloween European Tour 2006 (With Church of Misery) (2006)
2007 Mardi Gras Tour (2007)[12]
December 2007 European Tour (2007)
Winter US Tour '08 (With

Zoroaster

)[13]
July 2008 Tour (With Javelina, Monstrosity) (2008)[14]
August 2008 North American Tour (2008)
October 2008 North American Tour (With

Zoroaster

) (2008)
2009 UK Tour (With Blood Island Raiders) (2009)
May 2009 North American Tour (2009)
2010 May European Tour (With Weedeater,

Saviours

, Black Cobra) (2010)[17]
Black Fangs North American Tour (2011)[20]
Black Fangs West Coast Tour (2011)
2012 North American Tour (2012)[21]
2012 European Tour (With Widows) (2012)
Lillie: F-65 North American Tour (With Saint Vitus, Weedeater) (2012)
Sourvein 20th Year Anniversary Tour (2013)
Sourvein / Graves At Sea Tour (With Graves at Sea) (2014)[22]
2015 European Tour (2015)
2016 North American Tour (2016)
2017 Southwest North American Tour (2017)[23]
25th Anniversary European Tour (2018; Delayed)
2019 North American Tour (With 16) (2019)
2020 European Tour (Canceled) (2020)
Links
[
]
References
[
]