Skunk Rider


Background information
Origin
Seattle, Washington, USA
Genres
Stoner Rock, Stoner Metal, 70s Rock, Psychedelic Rock,Seattle rock, Blues, doomy blues
Years active
2012 - present
Associated acts
This Definite Sky, Definite Beast, Stalebirth, Forrest Friends
Website
Official Facebook
Band Logo
Skunk Rider are a stoner rock/psychedelic band from Seattle, Washington, USA.
History
[
]
Skunk Rider began in the back alley near a teriyaki restaurant in the U-District of Seattle, WA in October of 2012. Skunk Rider epitomizes badass rock in a down and dirty, back alley kind of way. Born in the narrow confines of a tiny studio crammed between a head shop and a teriyaki restaurant, Skunk Rider spent a lot of time in the alley--getting in touch with the roots of what the Seattle music scene needs to be all about. The band hearkens to the the smokey days of the 70s, when the air was full of smoke and killer riffage. Skunk Rider's dedication to the herb and a general rock and roll good time is revealed in such songs as Medical Savior, Drug Cannon, and Kansas City Gloryhole.

The music is a psychedelic mix of sludge-inspired blues and straight up stoner rock. Each member on Skunk Rider brings a different view and vastly different experience with music to the table, the result of which is pure face-melting groovy awesomeness. Skunk Rider is equally comfortable rocking random people passing in the alley as they are promoting the skunky life on stage.
Skunk Rider has been honored with playing the first day of the West Seattle Rock Party from the first incarnation of the the show.
Discography
[
]
Smoke Serpent (2015)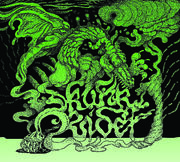 Members
[
]
Jim Dicus - Bass, Vocals
Bill Deatly-Peluso - Drums
Chad Allen - Guitar, Vocals
Reviews
[
]
External Links
[
]
References
[
]