Shiver is the second of two albums by the California rock band known as The Sabians. It would be recorded in March 2003 and released in July 2003 via The Music Cartel, featuring nine songs and a hidden track.[1][2] A music video for "Sixteen-Forty" was planned but it's unknown if it was released. The band would tour to support the album but not long after would disband when Justin Marler re-located to Austin, Texas. Sometime after Chris Hakius would re-connect with Al Cisneros to form Om.
Shiver managed to attain fairly positive reviews.[3][4][5][6]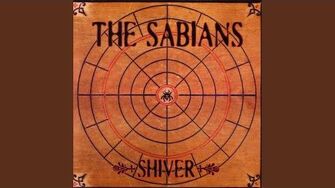 All songs written by Justin Marler and The Sabians.
1. Sixteen-Forty (3:42)
2. One By One (4:32)
3. Cold Black River (5:12)
4. Numb (4:00)
5. Cannibal Machine (4:42)
6. Sweet Misery (4:00)
7. Spider and Flies (4:00)
8. Bullet (4:35) 3443
9. Broken Circle (3:54)
10. Untitled Hidden Track (4:00)
Justin Marler - Guitar, Vocals
Chris Hakius - Drums, Percussion
Rachel Fisher - Bass
Patrick Huerta - Lead Guitar
Masaki Liu - Engineer, Producer
Community content is available under
CC-BY-SA
unless otherwise noted.