Shallow


Background information
Origin
Stoke-on-Trent, England
Genres
Stoner Rock
Years active
1994 - 2002
Labels
Undergroove, Rise Above Records
Associated acts
Integrity
Website
Shallow Myspace
Shallow was a stoner rock band based out of Stoke-on-Trent, England. Active from 1994 to roughly 2002. Initially the band ran as a trio with members of Integrity before Danny Unnet joined in 1996, making them a quartet. The band sporadically gigged at the time and put out a couple demos, notably a live EP known as Live At Heimi Hendersons in 1998. Not long after they would sign to Rise Above Records, whom would release their only album 16 Sunsets In 24 Hours on 10 July 2000.
The band notably managed to play with the likes of Extreme Noise Terror, Nogshits, Hangnail, Orange Goblin, Unida, Nebuls, Spirit Caravan, Iron Monkey and Electric Wizard to name a few. Their ethos was "No trends, no scene - just whatever comes out of our heads".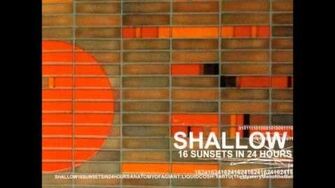 Discography
Edit
Live At Heimi Hendersons (Live EP) (1998, Undergroove Recordings)
16 Sunsets In 24 Hours (Studio Album) (2000, Rise Above Records)
Danny Unnet - Guitar, Vocals
Tony Inskip - Guitar, Vocals
Phil Brough - Bass
Rod Ryse - Drums
External Links
Edit
References
Edit
Community content is available under
CC-BY-SA
unless otherwise noted.