Saved By Magic is the fifth solo album (First under his band moniker Brant Bjork & The Bros) by Brant Bjork. Released in August 2005 under his Duna imprint, Saved By Magic is a double album featuring his full band and songs that incorporate funk, soul, jazz grooves and psychedelic among desert rock.
Brant Bjork would form a touring outfit in The Bros back in 2003 with Michael Peffer, Mike Pygmie and Dylan Roche. However by 2004, Pygmie would be replaced by Cortez in time to record this double-album at Rancho de la Luna.
At the end of At the end of "Avenida de la Revolución" different music (Cream's "SWLABR") can be heard playing on the background, transitioning into the band's cover of "Sunshine of Your Love". Also after the 5-minute Arcade Eyes there is a couple minutes of silence before a hidden bonus track, a cover of "2000 Man" by The Rolling Stones.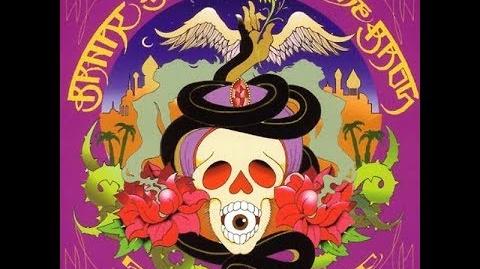 All songs written by Brant Bjork & The Bros except where noted.
1. Magic Vs. Technology (2:03)
2. Get Into It (5:47)
3. Kiss Away (5:34)
4. '73 (3:50)
5. Lil' Bro (3:15)
6. Moda (5:19)
7. Dr. Aura (3:08)
8. Gonna Make The Pony Trot (3:40)
9. Sweet Maria's Dreams (4:48)
10. Inside of You (3:24)
11. Freak Levels (6:17)
12. Let The Truth Be Known (2:23)
13. Dylan's Fantasy (2:31)
14. Messengers (4:50)
15. Paradise on Earth (5:30)
16. Cool Abdul (4:50)
17. Avenida de la Revolución (4:41)
18. Sunshine of Your Love (6:33) (Clapton, Bruce, Brown)
19. Arcade Eyes (10:09) (Brant Bjork & The Bros./Jagger, Richards)
Brant Bjork - Guitar, Vocals, Mixing
Dylan Roche - Bass
Scott "Cortez" Silverman - Guitar
Michael Peffer - Drums, Percussion
Mario Lalli - Additional Guitars on "Sweet Maria's Dreams" & "Avenida de la Revolución"
The Older Kids - Production
Tony Mason - Engineer, Mixing
Brian Gardner - Mastering
Adamstab - Album Illustration, Colorizing
Chris Henry - Colorizing
Cale Bunker - Art Direction,, Layout
SweetnLow - Art Direction, Layout
Denise DiVitto - Management, Booking
Community content is available under
CC-BY-SA
unless otherwise noted.