Rotting Kingdom (EP)


Extended play by Rotting Kingdom
Released
November 14 2017
Genre
Death/Doom
Length
24:11
Label
Morbid Records (Cassette)
Godz Ov War Productions (CD)
Boris Records (Vinyl)
Producer
Jason Groves, Rotting Kingdom
Rotting Kingdom chronology
'Debut Release'
(N/A)
Rotting Kingdom (EP)
(2017)
'TBA'
(TBA)
Rotting Kingdom is the eponymous debut EP by the Lexington, Kentucky death/doom band of the same name.
Background
Edit
Rotting Kingdom was in development as a band for many years among members of the Lexington metal scene and upon formation, the EP itself took roughly a year to write according to members of the group in an interview with Decibel. The band eventually had three songs composed, with "Demons in Stained Glass" taking the longest to write and coming out differently than intended. The group recorded the trio of songs in one day at Sneak Attack Studios in Lexington.[1]
A single-song teaser of "Adrift in a Sea of Souls" was released on 14 August 2017, with the band's debut live performance following that October (4 October at The Green Lantern with FaithXTractor and Necrot). Rotting Kingdom saw it's official release on cassette via Morbid Records on 14 November 2017.[2] A CD version saw release via UK label Godz ov War Productions on 15 January 2018 and lastly a vinyl edition saw release via Boris Records on 20 February 2018.
Rotting Kingdom has been heavily praised by various metal critics. MetalUtopia, giving the record an 8/10, describes it as "a record that can match up with the best of a band like Paradise Lost, with nice touches of Pallbearer and some Black thrown in to keep the mix fresh and exciting."[3] The Moldy Crypt would praise the EP as a "surprise to close 2017" with an opening statement of "The whole release is thickly layered in a melodic blackened death overtone, perfectly balancing the scale between mournful and absolutely pummeling. Each riff is complimented by bittersweet melodies and paired with a whirlwind of vacuous tunnel-throated vocals."[4] Other reviewers gave it generally positive reviews, such as Dutch Metal Maniac (10/10)[5], Eternity Magazine (6/6)[6], Ragherrie (80/100)[7], GBHBL (9/10)[8] and Voices From The Dark Side ("a brilliant debut for a new band which encompasses all of the classic aspects of Doom / Death Metal!")[9]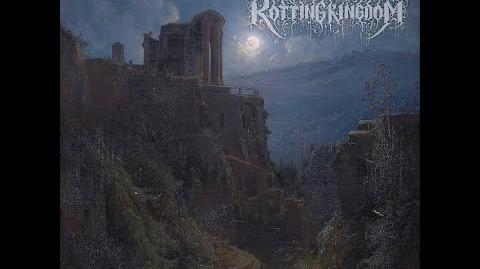 Tracklist
Edit
1. Adrift in a Sea of Souls (8:04)
2. Castle of Decay (6:17)
3. Demons in Stained Glass (9:50)
Personnel
Edit
Anton Escobar - Vocals
Clay Rice - Guitars
Kyle Keener - Guitars
Chuck McIntyre - Bass
Brandon Glancy - Drums
Jason Groves - Engineer
Matt Simpson - Photography
Joseph Magnus Stack - Artwork
External Links
Edit
References
Edit
Community content is available under
CC-BY-SA
unless otherwise noted.