Powertrip is the fourth studio album by Monster Magnet.
Following a wave of growing commercial notoriety and a shift to more of a hard rock sound, Powertrip would prove to be the band's breakthrough release, largely due to the hit single Space Lord. Along with "Space Lord" the album had other hit singles such as "Powertrip", "Temple of Your Dreams" and "See You in Hell". The album itself would peak at #97 on the Billboard 200 and #1 on the Heatseekers Charts, ultimately being certified Gold by the RIAA on 25 January 1999. Powertrip was originally released on 2 June 1998 in Europe and 16 June 1998 in the United States.[1]
Background
Edit
Following an extensive touring cycle in support of their previous album Dopes To Infinity, Wyndorf would begin work on a follow-up album once he would be pressured by A&M Records to write. Wyndorf assumed they would be eventually dropped by the label and joked with the representative about writing about "tits and money". In an interview with Louder Sound, Wyndorf recalls where he'd write the album in a hotel room roughly ten miles away from Las Vegas, writing twenty-one songs in twenty-one days:
"
"There was a desperation. I thought we were gonna get dumped and I was spooked. It was one of the people at the band's label, A&M, who inadvertently planted the seed for what would come next. This guy said, "Maybe the last record would've done better if the songs were shorter and it was less varied." I was, like, "What the fuck, you're out of your mind, you should be able to sell anything. Should I just write songs about tits and money?" So that's what I did.

I was, like, "You know what I need? A trip to Vegas so I can write the record. When was I ever gonna get a chance to do anything like that again? It my chance to live out my [gonzo author] Hunter S Thompson fantasies. If you're gonna do something, do it right. I wasn't getting high and I wasn't gambling. I would just walk around watching people, 'cos Vegas is people-watching heaven. Then I'd go back to the hotel around four o'clock in the morning and write until about eight or nine then pass out and repeat."

"I'd been thinking about people I saw, enjoying themselves doing nothing. I'm yelling at these people: 'Who's gonna teach you how to dance? Who's gonna show you how to fly?' Like, 'There's more to life than what you're doing. I'm desperate over here and you're walking around fucking sticking coins in slot machines. Those words just came out - "I'm never gonna work another day in my life." Hey, I really don't wanna work either. I want to be on vacation too. That was totally aspirational for me. Do you know how much fun it is to scream, 'I'm never gonna work another day in my life' really loud? It feels good!"

"
 

— Dave Wyndorf, Louder Sound

[2]
Along with drawing themes of desperation and reinvention Wyndorf was also drawing influences from The Cult along with the brash, larger-than-life ethos of modern hip-hop, citing the following: "The hip hop guys were the only ones who were acting like the rock bands I knew from when I was a kid.". Wyndorf would record the album with Matt Hyde at North Vine Studios in Los Angeles, a studio that Wyndorf would describe as resembling "the place where they filmed Sanford & Son".[3] The band would use ProTools for the first time and modern equipment along with the vintage studio and atmosphere. The band's look also morphed to a degree, opting for more leather clothing as the band also shot two music videos in 1997, notably spoofing hip-hop videos ("Powertrip" would spoof "The Rain (Supa Dupa Fly)" by Missy Elliott while "Space Lord" spoofed "Feel So Good" by Ma$e.).
The title track to Powertrip would be released as a single in January 1999 and would score the band their first Top 40 UK Hit.[4] The single and video for "Space Lord" would drop some time later and reach #3 on the Mainstream Rock Tracks chart and #3 on the Billboard 200, along with a unique distinction in being the very first video to be televised on the popular MTV program "Total Request Live" on 14 September 1998. It appeared on the countdown on five occasions, peaking at #7.
Powertrip was originally released on 2 June 1998 in Europe and 16 June 1998 in the United States, peaking at #97 on the Billboard 200 and #1 on the Billboard Heatseekers Charts.[5] The album also charted in several other countries, peaking at #65 on the UK Albums Chart, #31 on the Belgian Albums Chart, #23 on the Swedish Albums Chart and #21 on the Germany Albums Chart. A single was also made for "Temple of Your Dreams" while a third music video would be made for "See You In Hell". Proving to be the band's breakthrough and a success, certified Gold by the RIAA on 25 January 1999.[6]
Powertrip attained positive reception at the time of release from the likes of Robert Christgau, Chronicles of Chaos (9/10),[7] The Chicago Sun Times (3.5 Stars), Entertainment Weekly (A-) and Drowned in Sound (8/10) among others. Retroactively the album has attained a higher level of praise from several modern critics such as Sputnik Music,[8] Doodlehound,[9] Indy Metal Vault[10] and Angry Metal Guy[11] just to name a few. Monster Magnet would announce A Celebration of Powertrip in 2019, performing the majority of the album live in the Spring of 2020 through Europe and North America in the Winter of 2021.[12]
Retroactively songs from Powertrip would also appear in several TV shows, movies and video games. A cover of the MC5's "Kick Out The Jams" would be on the soundtrack to Varsity Blues. Album b-side "Big God" would appear in the 2000 film The Crow: Salvation. "See You In Hell" would feature in the 1998 horror film Bride of Chucky. "Crop Circle" appeared in the 1998 film Urban Legend. "Powertrip" would appear in the 1998 Kurt Russell film Soldier, the 2007 video game MotorStorm and appear as the theme song for No Way Out, a 2007 pay-per-view produced by WWE. Lastly "Space Lord" appeared in the 2006 comedy Talladega Nights: The Ballad of Ricky Bobby, The 2006 video game American Chopper, a commercial for the Swedish chain store JC and the 2017 video game Raiders of The Broken Planet, which was later renamed to Spacelords.
On it's original release in 1998 on CD, double LP and Cassette. A 2CD tour edition would be released featuring a bonus disc in Viva Las Vegas, a six-song CD recorded by the SFX Radio Network on 23 January 1999 in Las Vegas, NV at the joint inside the Hard Rock Hotel & Casino. A picture disc edition also exists omitting two tracks. The Japanese edition also would feature three bonus tracks, which all appeared on compilations and b-sides to the album singles. On 12 February 2016 Powertrip would be re-issued on 2CD and 2LP via Spinefarm with a bonus disc featuring b-sides, remixes and the Viva Las Vegas set.
Tracklist
Edit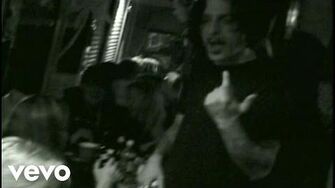 All songs written by Dave Wyndorf except where noted.
Tracks 14 - 16 only appear on the Japanese edition.
1. Crop Circle (5:32)
2. Powertrip (3:31)
3. Space Lord (5:55)
4. Temple of Your Dreams (4:35)
5. Bummer (7:35)
6. Baby Götterdämerung (3:09)
7. 19 Witches (4:02)
8. 3rd Eye Landslide (5:10)
9. See You In Hell (4:05)
10. Tractor (3:26)
11. Atomic Clock (5:06)
12. Goliath and the Vampires (4:13)
13. Your Lies Become You (4:18)
14. Big God (5:58)
15. Kick Out The Jams (2:35) (MC5)
16. The Game (4:54)
Personnel
Edit
Dave Wyndorf - Guitar, Vocals, Art Direction, Producer
Ed Mundell - Guitar
Phil Caivano - Guitar, Additional Guitar Support
Joe Calandra - Bass
Jon Kleiman - Drums
Tim Cronin - Autovisuals, Misinformation, Herald of Galactus
Scott Garrett - Additional Drums
John Flannery - Additional Guitar
Matt Hyde - Engineer, Producer, Additional Guitar, Mixing (6, 13)
Cameron Webb - Assistant Engineer (Larrabee West Studios)
Jesse Fishman - Assistant Engineer (North Vine Studios)
Steve Mixdorf - Assistant Engineer (NRG Recording Services)
Paul Silveira - Assistant Engineer (The Armoury Studios)
Bjorn Thorsud - Digital Editing
Don C. Tyler - Digital Editing
Ron Boustead - Digital Editing
John Travis - Mixing (9, 12)
Randy Staub - Mixing (1 - 5, 7, 8, 10, 11)
Stephen Marcussen - Mastering
John Eder - Photography
Larimie Garcia - Design, Art Direction
Sandy Brummels - Art Direction
Gersh - Drum Tech
Eric Pierson - Guitar Tech
External Links
Edit
References
Edit
Community content is available under
CC-BY-SA
unless otherwise noted.