Poseidótica are an instrumental band based out of Buenos Aires, Argentina. Forming in 2001, this quartet would draw from themes of progressive rock, psychedelic rock, space rock and stoner rock to create a sound with themes of the aquatic,[1] space and beyond. The band would draw a wide arrangement of influences such as Pink Floyd, Kyuss, Los Natas, Yawning Man, Ten East and much more. While entirely instrumental the band has performed live in collaborations with various singers and other musicians in the Argentinian underground scene.
To date the band has released four studio albums (Two of which with longtime Los Natas drummer Walter Broide) amid a host of other releases, most of which via their own label Aquatalan Records.
History
[
]
Formation and Intramundo (2001 - 2006)
[
]
Poseidótica would form sometime in 2001 and little is known of the band's early history, beyond shows sharing the stage with the likes of Sick Porky,[2] Buffalo, Taura, Dragonauta[3] and Los Natas[4] among others. The original lineup would release a four-song demo in 2003.
Work would begin on a debut album but the band's original drummer would leave, with the band recruiting Los Natas drummer Walter Broide for the recording sessions. The band would record from January to March 2005 with Pablo Catania at Ambassador Studies in Buenos Aires, with Gonzalo Villagra mastering the album that April. Poseidótica's debut album Intramundo would see release on 7 June 2005. Broide however would only perform one show with the band around the time of release, concentrating on Los Natas. The band would attain another drummer in Federico Bramanti.
La Distancia and Cronicas Del Futuro (2007 - 2011)
[
]
Poseidótica would begin playing sporadic shows through 2006 and 2007, performing with the likes of Music is My Girlfriend, The Tormentos, Mr. & Mrs. Rock and The Baseball Furies among an appearance at Pepsi Music festival supporting the likes of Megedeth, Marilyn Manson and Iggy and The Stooges.[5][6] Work would begin on a second studio album, recording at Del Cielito Studios, mastering at Puro Mastering and produced by Juan Stewart. La Distancia would see release on 18 April 2008 via Aquatalan Records, followed by a special presentation show that September (With Dragonauta as support).[7] The band would attain a new drummer in Hernán Bertrand around the same time of this show.
Following several marquee shows the band would begin work on a third album, recording at Estudio El Attic between May and September 2010 with producer Patricio Claypole. However right after finishing recording for this third album, Bertrand would leave the band to re-locate to France.[8] Walter Broide would ultimately re-join the band late that year. Cronicas Del Futuro would see release on 11 July 2011 to positive reception among the likes of The Sludgelord[9] and The Obelisk[10] to name a few. The band would follow with an appearance at South American Sludge Fest.
El Dilema Del Origen (2012 - Present)
[
]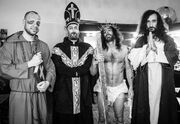 With Briode joining full-time after the dissolution of Los Natas, Poseidótica would perform regular shows in the Argentina area with fellow Argentinian bands and touring bands. Work would begin on a new studio album in 2013, recording on 14 and 15 December. The band would record at Estudio El Attic with engineer Patricio Claypole and producer Gonzalo Villagra. El Dilema Del Origen would see release on 16 May 2015 to positive reviews and ultimately Broide's first album with the band in a decade.
Poseidótica would tour South American sporadically to support the album and perform several shows to support their new album. A live album in Pascuas Profanas would see release on 27 April 2018, followed by various singles and collaborative releases.
On 22 February 2021 the band would announce two 20th anniversary shows for March 2021, along with a new guitarist in Eugenio De Luca, replacing founding guitarist Hernán Miceli.
Discography
[
]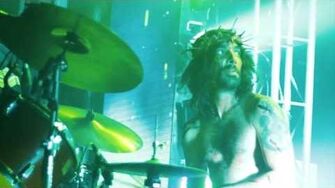 Studio Albums
[
]
Other Releases
[
]
Demo 2003 (Demo) (2003, Self-Released)

Motoclub Bar 2011

(Live DVD) (2011, Self-Released)

En Viaje Hacia Una Nueva Dimensión

(Live DVD) (2011, Aquatalan Records)

Pascuas Profanas

(Live Album) (2018, Aquatalan Records)

Rebelión Zombie

(Collaborative Live Album with Carca) (2019, Aquatalan Records)

Reconstruccion - La Era del Instante

(7" Single) (2019, Aquatalan Records)
Poseidotica habla con Boom Boom Kid (Collaborative Single with Boom Boom Kid) (2019, Aquatalan Records)
Chica Rutera (Digital Single feat. Marina Fages) (2020, Toys of the Masses [US])
Aire (Digital Single) (2020, Self-Released)
Repercusión (Digital Single) (2020, Toys of the Masses [US])
Members
[
]
Current Members
[
]
Santiago Rúa - Guitar (2001 - Present)
Martin Rodriguez - Bass (2001 - Present)
Walter Broide - Drums (2005, 2010 - Present)
Eugenio De Luca - Guitar (2021 - Present)
Former Members
[
]
Hernán Miceli - Guitar (2001 - 2020)
Ignacio Belej - Drums (2001 - 2005)
Federico Bramanti - Drums (2005 - 2008)
Hernán Bertrand - Drums (2008 - 2011)
External Links
[
]
References
[
]
V

·

T

·

E

Poseidótica
Current Members
Hernán Miceli • Santiago Rúa • Martin Rodriguez • Walter Broide
Past Members
Ignacio Belej • Federico Bramanti • Hernán Bertrand
Studio Albums
Intramundo • La Distancia • Cronicas Del Futuro •

El Dilema Del Origen

Selected Other Releases

Motoclub Bar 2011

•

Pascuas Profanas

•

Rebelión Zombie

•

Reconstruccion - La Era del Instante

•

Poseidotica habla con Boom Boom Kid

•

Chica Rutera

•

Aire

Associated Bands and Artists
Los Natas • Audion •

El Festival de los Viajes

• Aquatalan Records