Nomadic Pursuits


Studio album by Yawning Man
Released
June 22 2010
Recorded
2009 - 2010 at Donner & Blitzen Studios in Los Angeles, California, USA
Genre
Desert Rock, Psychedelic Rock, Instrumental Rock
Length
43:02
Label
Cobraside Distribution
Producer
Yawning Man
Yawning Man chronology
The Birth of Sol
(2009)
Nomadic Pursuits
(2010)
Yawning Man & Fatso Jetson
(2013)
Nomadic Pursuits is the second studio album by Yawning Man, released on 22 June 2010. With a five-year gap between the first album and this one, the band had time to further expand on their freeform desert sound.
Following a series of tours in support for the band's first record Rock Formations, Yawning Man would self-record and produce their second album. Original bassist Mario Lalli would be back in the fold as well. Nomadic Pursuits would be released on CD and on LP with different artwork and in four different colors (Black, Blue Marble, Red and Sage Green Marble).
Nomadic Pursuits at the time saw positive reception from critics and was even awarded #9 on The Obelisk's Top 20 albums of 2010.[1]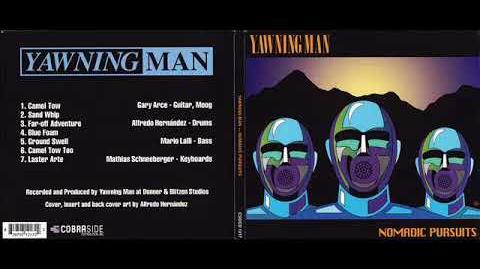 1. Camel Tow (5:02)
2. Sand Whip (6:54)
3. Far-Off Adventure (8:28)
4. Blue Foam (6:42)
5. Ground Swell (6:16)
6. Camel Tow Too (5:00)
7. Laster Arte (4:28)
Gary Arce - Guitar, Moog, Recording, Producer
Mario Lalli - Guitar, Recording, Producer
Alfredo Hernández - Drums, Artwork (CD), Recording, Producer
Mathias Schneeberger - Keyboards
Evelyn Patrick - Artwork (LP)
Peter Black - Mastering
Community content is available under
CC-BY-SA
unless otherwise noted.