New! Improved!

An early pressing of New! Improved!
Studio album by Blue Cheer
Released
April 1969
Recorded
Early 1969 at Amigo Studios in Hollywood, California
Genre
Psychedelic Rock, Blues Rock, Acid Rock, Rock and Roll
Length
31:25
Label
Phillips
Producer
Milan Melvin
Blue Cheer chronology
OutsideInside
(1968)
New! Improved!
(1969)
Blue Cheer
(1969)
New! Improved! is the third studio album by Blue Cheer, released in the Spring of 1969 via Phillips Records. Serving as a transitional record with two different lineups on each side, New! Improved! showcases the band's drift into progressive psych with short-lived guitarist Randy Holden and a commercial hard rock sound ala Steppenwolf or Iron Butterfly with the new quartet lineup, a far departure of the rawer hard rock of the first two albums.
This album would be the last studio recording to feature Paul Whaley until the 1980s and Peterson drifting away from writing songs, only two of the nine tracks credited to him.
By the time OutsideInside was released in the fall of 1968 founding guitarist Leigh Stephens had departed from the group for what was alleged to be loss of hearing and creative differences though Stephens himself has stated it was due to disinterest in drugs. He was replaced by Randy Holden, formerly of Los Angeles garage rock band The Other Half. Holden performed with the band for about half a year before recording three songs with the band. After quitting unexpectedly due to conflicts with management and disinterest in drugs[1], the band would change completely. Blue Cheer's lineup at that point consisted of Dickie Peterson (bass), Tom Weisser (guitar), and Mitch Mitchell (drums), before Whaley returned and Bruce Stephens joined the band. Later, Ralph Burns Kellogg also joined the band on keyboards.
New! Improved! peaked at 84 on the Billboard 200 at the time of release and has been praised by critics, side two in particular. "Fruit & Iceburgs" would be re-recorded for Randy Holden's solo album Population II.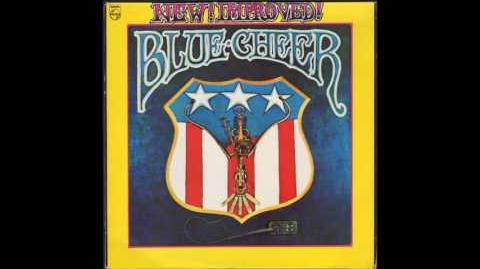 NOTE: Tracks 10 and 11 are CD bonus tracks on the 1994 Repertoire Records reissue.
1. When It All Gets Old (Ralph Burns Kellogg) (3:01)
2. West Coast Child of Sunshine (Bruce Stephens) (2:41)
3. I Want My Baby Back (Stephens) (3:19)
4. Aces 'n' Eights (Kellogg, Stephens, Dickie Peterson) (2:47)
5. As Long As I Live (Peterson, Stephens) (2:20)
6. It Takes a Lot to Laugh, It Takes a Train to Cry (Bob Dylan) (3:16)
7. Peace of Mind (Randy Holden) (7:22)
8. Fruit & Iceburgs (Holden) (6:05)
9. Honey Butter Lover (Holden) (1:16)
10. All Night Long (Kellogg) (2:06)
11. Fortunes (Peterson) (2:20)
Dickie Peterson - Bass, 12-String Guitar, Vibraslap, Vocals
Paul Whaley - Drums
Bruce Stephens - Guitar, Tortoise Shell, Sandblocks, Vocals (Tracks 1 - 6)
Ralph Burns Kellogg - Piano, Organ (Tracks 1 - 6)
Gene Estes - Percussion (Tracks 1 - 6)
Randy Holden - Guitar, Vocals (Tracks 7 - 9)
Greg Irons - Artwork
Hank Cicalo - Mixing, Engineer
Lloyd Johnson - Photography
Milan Melvin - Producer
Community content is available under
CC-BY-SA
unless otherwise noted.