Nailed is the debut album by the Knoxville, Tennessee doom metal band Place of Skulls. Originally intended to be released on Man's Ruin Records before the label would fold in the spring of 2001. Guy Pinhas (The Obsessed, Goatsnake), friend of the band, then appealed to Greg Anderson for assistance, and got the band signed to Southern Lord to distribute the album. Nailed would be released by Southern Lord Records on 18 September 2001. Recording would be handled at Lakeside Studios in Knoxville by Travis Wyrick while mixing and mastering would be handled by Wyrick and Griffin at Soundcurrent Mastering in Knoxville. Bassist Lee Abney would depart from the band soon after the album's release.
Notably this album would feature a cover of "Please Don't Let Me Be Misunderstood", originally performed by Nina Simone and later The Animals and Pentagram. Notably "Feeling of Dread" was performed by Victor Griffin's old band Death Row while "..." is actually the second half of "Sinister", performed by Death Row and Pentagram, later appearing on Pentagram's debut album.
"Nailed" has seen positive reception from various publications, at the time and retroactively. At the time of release Nailed would see positive reception from the likes of Exclaim!,[1] Lollipop Magazine,[2] while Contaminated Tones would retroactively praise the album in 2017, observing the more personal nature of the band.[3]
"Nailed" was only released on CD in 2001 though the song "The Fall" was released as a Southern Lord single, with a live rendition of the Pentagram song "Evil Seed" as a b-side, limited to 1000 copies (800 black, 200 clear). The live rendition of "Evil Seed" originates from Place of Skulls Live!.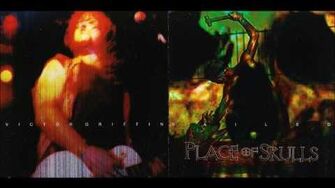 Tracklist
Edit
All songs written by Victor Griffin except where noted.
1. The Fall (4:38)
2. Never Die (4:29)
3. Dead (5:18)
4. Don't Let Me Be Misunderstood (Bennie Benjamin, Gloria Caldwell, Sol Marcus) (4:40)
5. Feeling of Dread (2:31)
6. "..." (2:20)
7. Love She Gave (Lee Abney, Tim Tomaselli, Victor Griffin) (5:12)
8. Return (Victor Griffin, Annie Griffin) (4:34)
9. Song of Solomon (5:23)
Personnel
Edit
Victor Griffin - Guitar, Vocals, Producer, Mixing
Tim Tomaselli - Drums
Lee Abney - Bass
Seva - Keyboards (9), Mastering
Travis Wyrick - Engineer, Mixing, Producer
Stephen O'Malley - Layout
External Links
Edit
References
Edit
Community content is available under
CC-BY-SA
unless otherwise noted.