Monster Magnet is the eponymous debut EP by the New Jersey band of the same name. Recorded in 1989 after a series of demos had been self-released on cassette through that year it would be their debut studio release. The German label Glitterhouse Records would put it out while that same year two singles featuring four of the same songs saw release via different labels: Lizard Johnny (1990, Circuit Records) and Murder (1990, Primo Scree).
This would be the first Monster Magnet release that featured the band as a quartet and the only release to feature drummer Tom Diello. All of the songs except "Freak Shop USA" had appeared on their demos prior to this release. "Snake Dance" and "Nod Scene" would later be re-recorded for their debut album Spine of God which was released the next year. "Tractor" would later be re-recorded eight years later for the band's 1998 breakthrough Powertrip.
According to John McBain both singles came out after the release of the EP. In an interview via Freak Shop USA, John states the following: [The EP was recorded] Middle of June 1990 in Red Bank at the recording studio/loft of Chris McKenna, a friend and one time drummer for Existential Moped. He was great to work with. His Tom Sholtz loving assistant walked out during the first day. He couldn't stomach our music and quit after we recorded the basic tracks. A fitting beginning for Magnet, don't you think?".[1]
Tracklist
Edit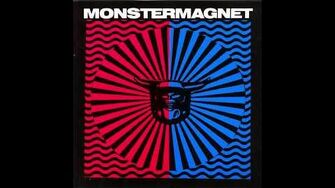 NOTE: Track 6 is only on the CD version.
1. Snake Dance (3:21) (Wyndorf)
2. Tractor (3:25) (Wyndorf)
3. Nod Scene (From The Resin Scrapers) (7:15) (McBain, Wyndorf)
4. Freak Shop USA (4:37) (McBain, Wyndorf)
5. Lizard Johnny (5:25) (McBain, Wyndorf, Cronin)
6. Murder (3:37) (Wyndorf)
Personnel
Edit
External Links
Edit
References
Edit
Community content is available under
CC-BY-SA
unless otherwise noted.