Monolithic Baby!


Studio album by Monster Magnet
Released
February 16 2004
Recorded
September- November 2003 at The Chop Shop in Los Angeles, California
Genre
Stoner Rock, Hard Rock
Length
54:23
Label
SPV/Steamhammer (Europe)
Sanctuary (United States)
Producer
Dave Wyndorf, Scott Humphrey
Monster Magnet chronology
God Says No
(2001)
Monolithic Baby!
(2004)
4-Way Diablo
(2007)
Monolithic Baby!
is the sixth studio album by
Monster Magnet
, released via SPV/Steamhammer on 16 February 2004 and in the United States on 25 May 2004. Continuing on the sound established by prior successful albums while working in their psychedelic sound established in the early 90s. It's notably the first studio album to feature bassist Jim Baglino and the only album to feature drummer Michael Wildwood (Chrome Locust, D Generation) who filled in for the recording sessions. Bob Pantella (Raging Slab, Halfway To Gone, A Thousand Knives of Fire) would join in November 2003 after the recording sessions for the album but is "introduced" in the credits.
[1]
Background
Edit
Work would begin on Monolithic Baby! in August 2003 when Jim Baglino had joined the band. Michael Wildwood would briefly join the group and fill in on the drum role.[2] Initially the album was to be called Radiation Day and the band was originally working with Joe Barresi.[3]. However by September recording would take place at The Chop Shop in Los Angeles that September, working with co-producer Scott Humphrey.[4] The album featured a total of three covers: "There's No Way Out of Here" which was originally recorded by Unicorn on their 1976 album Too Many Crooks, "The Right Stuff" which was originally by Robert Calvert from his 1974 concept album Captain Lockheed and The Starfighters and "Venus in Furs" by The Velvet Underground from their 1967 album The Velvet Underground & Nico.
Upon it's release Monolithic Baby! was originally pressed on CD and 2LP, the latter somewhat of a rarity as it hasn't been re-pressed in any capacity. The North American CD featured two bonus tracks in a re-recorded version of "King of Mars" from Dopes To Infinity and the Velvet Underground cover "Venus in Furs". A 2CD version featured a bonus DVD with music videos for "Unbroken (Hotel Baby)" and "The Right Stuff" along with an interview and two live songs in London. Lastly a third music video was made for the album, mainly for the title track "Monolithic". Though it only charted on the Mainstream Rock Tracks ("Unbroken (Hotel Baby)" peaked at #31) in the US, Monolithic Baby! did chart worldwide, peaking in other countries such as Sweden (#7), Germany (#13), Finland (#19), Norway (#26), Belgium (#37), Austria (#46) and France (#140).[5]
Monolithic Baby has been mostly praised by critics at the time of release such as KNAC (Four Stars),[6] Metal Reviews (95/100; Album of The Month),[7] Chronicles of Chaos (9/10),[8] Sea of Tranquility (Four Stars),[9] Rock Hard (9/10),[10] My Plain View (7/10)[11] and Daily Vault ("A" Rating).[12]
Tracklist
Edit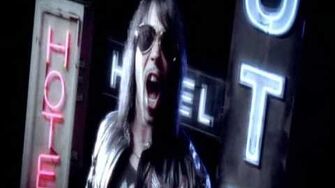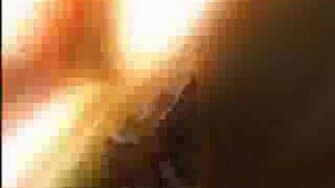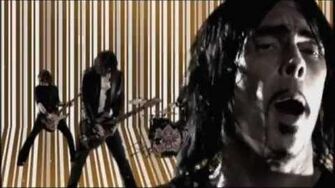 All songs written by Dave Wyndorf except where noted.
Tracks 13 and 14 are US Bonus Tracks.
1. Slut Machine (3:28)
2. Supercruel (3:40)
3. On The Verge (5:54)
4. Unbroken (Hotel Baby) (3:42)
5. Radiation Day (4:56)
6. Monolithic (4:39)
7. The Right Stuff (4:32) (Robert Calvert)
8. There's No Way Out of Here (4:10) (Ken Baker)
9. Master of Light (4:45)
10. Too Bad (3:33)
11. Ultimate Everything (7:26)
12. CNN War Theme (3:35)
13. King of Mars 2004 (4:27)
14. Venus In Furs (4:51) (Lou Reed)
Personnel
Edit
Dave Wyndorf - Guitar, Keyboards, Vocals, Mixing, Producer, Design
Phil Caivano - Rhythm Guitar, Lead Guitar, Assistant Producer
Ed Mundell - Rhythm Guitar, Lead Guitar
Jim Baglino - Bass
Josh Freese - Drums (9)
Michael Wildwood - Drums (1 - 8, 10 - 14)
Tim Cronin - Eye Of Agamotto And The Sum Of All Fears
Chris Baseford - Engineer
Scott Humphrey - Mixing, Producer
Matt Hyde - Mixing (7, 12)
Tom Baker - Mastering
Susanne Kammer - Design
John Eder - Photography, Album Cover
Dan Druff - Technician
External Links
Edit
References
Edit
Community content is available under
CC-BY-SA
unless otherwise noted.