Messiah Marcolin

Messiah in the 1980s.
Background information
Birth Name
Bror Jan Alfredo Marcolin
Alias
Eddie Marcolin
Messiah Marcolin
Born
10 December 1967, Ronneby, Sweden
Occupation
Vocalist, Actor
Genres
Doom Metal, Epic Doom Metal, Heavy Metal
Instrument(s)
Vocals, Drums
Years active
1981 - Present
Labels
Active, Music For Nations, Metal Blade, Nuclear Blast, Escapi
Associated acts
Candlemass, Mercy, Memento Mori, Stillborn, Colossus
Website
Messiah Marcolin Facebook
Messiah Marcolin
(born
Bror Jan Alfredo Marcolin
and once known as
Eddie Marcolin
) is a Swedish vocalist.
Along with work in heavy metal bands such as Mercy and Memento Mori, Messiah is best known for his two tenures with the Swedish epic doom metal band Candlemass, singing on four studio albums in what would be the most of any singer with the band. He gained notoriety for his high operatic voice, dressing in monk's robes and his "Doom Dance" in which he stomps around the stage in a chaotic and menacing rhythm.
Active in music since the early 1980s Messiah's vocals can be heard on nine different albums between the bands he had played with along with lending his voice as a guest to numerous bands.
Biography
Edit
Early Bands and Mercy (1981 - 1986)
Edit
Messiah's early career dates back to the early 1980s as a drummer for Sounds and Rough Lizzards. He would join the heavy metal band Mercy in 1983, based out of Sölvesborg, Blekinge, Sweden. After recording an EP, Mercy were looking for a singer to record with and Messiah was asked to join just two weeks before recording.
He sang on two Mercy albums: The eponymous Mercy in 1984, and Witchburner a year later. The albums were influenced by Black Sabbath while the falsetto shrieks were influenced by Mercyful Fate singer King Diamond. At one point Messiah would serve as vocalist and drummer but would ultimately leave the band in 1986.
Candlemass (1986 - 1991, 2002 - 2006)
Edit
For more details on Candlemass feel free to visit their Riffipedia page.
Following leaving Mercy, Messiah Marcolin would join the Swedish epic doom metal band Candlemass in 1986, after the band were unable to convince Johan Längquist to perform with the band full-time. The band got Marcolin's name from Tom Hallbäck, a refrigerator salesman from Helsingborg and the drummer for thrash bands God BC and Hysteriah GBC. Messiah would famously audition for the band by calling Leif Edling late at night and singing "Solitude" in a capella while his mother held the phone. He joined the band upon re-locating to Stockholm.
Upon joining Candlemass would perform live for the first time in Jönköping, Sweden on 9 May 1987, nearly three years after the band had formed.[1] The band would record an album together between July and September 1987, ultimately releasing Nightfall on 9 November 1987. Gaining positive reception (And retroactive notoriety for the band's iconic "Bewitched" music video.) the band would tour Europe for the first time late that year supporting King Diamond.
Gaining momentum and more of a following the band would follow up with Ancient Dreams on 23 November 1988, supporting the album by touring Europe and then touring North America for the first time. A third album with this classic lineup in Tales of Creation would follow on 25 September 1989, with the band touring frequently through Europe and North America through 1991. Messiah would however depart from the band after touring that year due to conflicts between himself and members of the band. Thomas Vikström would take his place.
With the band's first four albums re-mastered and re-issued in the early 2000s, Candlemass' classic lineup would reunite in line for several marquee shows and festival appearances such as Sweden Rock Festival and Wacken just to name a few. Along with reunion live albums in Doomed for Live – Reunion 2002, Documents of Doom - Live at Fryshuset 1990 and The Curse of Candlemass: Live in Stockholm 2003 the band had written new material with intents to compose a new album. Despite a short break-up the band re-formed when they all re-convened at Mappe Bjorkman's wedding.[2] Signing to Nuclear Blast, work would begin on another new album which would result in the eponymous Candlemass (Also known as "The White Album") on 3 May 2005. Along with attaining critical praise the album would win a Swedish Grammis.
Candlemass would tour Europe in 2005 to support their self-titled album, following by the band's first North American shows in nearly fifteen years and the band's first South American tour. Candlemass was also beginning work on their next album, originally with Marcolin to sing. Following the South American tour however, on 28 April 2006 it would be announced that Messiah would no longer be part of Candlemass, citing a falling out between himself and bandleader Leif Edling.[3][4] Solitude Aeturnus vocalist Robert Lowe would replace Marcolin, introduced at the band's 20th anniversary show on 31 March 2007, which also featured former singers Thomas Vikström and Johan Längquist among other guests. Marcolin and Björn Flodkvist were the only two former vocalists not present for the 20th anniversary show.
Messiah Marcolin would participate in the Peaceville compilation Behind the Wall of Doom, which featured a disc featuring his ten favorite Candlemass songs along with new interviews and unreleased tracks.[5]
Memento Mori, Colossus and Requiem (1992 - 1997, 2003)
Edit
Following Messiah's first departure from Candlemass he would collaborate with Mike Wead (King Diamond, Mercyful Fate) to form Memento Mori. The band's style, while based in doom metal, also attained elements of epic doom metal and power metal. Messiah would sing on two records for the band in 1993's Memento Mori and 1994's Life, Death and Other Morbid Tales. He would however leave the band in 1995 due to conflicts over songwriting credits.[6] Messiah would return for 1997's Songs for the Apocalypse, Vol. 4 but Memento Mori would disband not long after the album's release.
In 1994 Messiah would collaborate on the Venom tribute album In The Name of Satan, singing "Countess Bathory". Credited as "ex-Candlemass" he would work in collaboration with Abaddon (Venom, Oberon, Abaddon, Venom Inc., etc.), Drew Gallon (ForGodsSake) and John Connelly (Anthrax, Nuclear Assault).[7]
Messiah would join the gothic/doom metal band Stillborn in 1994. The band however would not record anything with Marcolin and opt to change their name to Colossus, whom would release a demo and contributed a cover of "Sad But True" to a Metallica tribute album titled Metal Militia: A Tribute to Metallica II in 1996. However the project would go stagnant with Marcolin returning to Memento Mori and Stillborn re-forming with their classic lineup in 2015.
In 2003 Messiah co-founded Requiem and released a three-song demo, although the band dissolved due to Candlemass' reunion and musical differences within the band.[8]
Recent Appearances (2007 - Present)
Edit
Prior to departing Candlemass, Messiah had also contributed guest vocals to a few bands, namely the melodic death metal band Satariel on their 2002 album Phobos and Deimos and German thrash legends Destruction on their 2005 album Inventor of Evil. Messiah also expressed interest in re-forming Requiem and even proposing a solo album though no new material has come. Messiah however would lend his voice as a guest to Viking Metal band Amon Amarth for the song "Hel" on their 2013 album Deceiver of The Gods.
Messiah would notably join Therion for several dates of a Fall 2007 European tour.[9] Messiah would join the band on frequent performances whether to sing Therion songs including the entirety of the "Theli" album or a cover of "Black Funeral" by Mercyful Fate.
Messiah would also participate in a tribute to Ronnie James Dio on the Sweden Rock Cruise on 7 October 2010, singing the Black Sabbath songs "Children of The Sea" and "Sign of The Southern Cross" along with set closer "Stars" which was originally performed by Hear n' Aid.[10]
Messiah has appeared as a guest onstage for several bands in the years following Candlemass, including Oz, Portrait and Procession among others. The following known guest appearances have happened over the years:
Personal Life
Edit
Born Bror Jan Alfredo Marcolin from an Italian father from Venice and a Swedish mother, he was commonly known as 'Eddie' since his time in Mercy before changing his first legal name from Bror to Messiah in 1986.
Marcolin also starred in the 1991 Swedish television mini-series "V som i viking", playing the role of a metalhead.
Rough Lizzards - Drums (Unknown Time Period)
Sounds - Drums (1981 - 1983)
Mercy - Vocals (1983 - 1986); Drums (1984 - 1985)
Candlemass - Vocals (1986 - 1991, 2001 - 2006)
Memento Mori - Vocals (1992 - 1995, 1997)
Stillborn - Vocals (1994 - 1996)
Colossus - Vocals (1996)
Requiem - Vocals (2003)
Therion - Live Vocals (2007)
Discography
Edit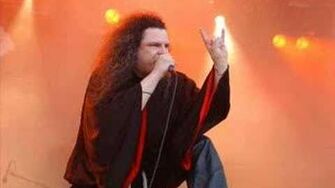 With Candlemass (Selected Discography)
Edit
Other Band Releases
Edit
Mercy - Mercy (Studio Album) (1984, Fingerprint)
Mercy - Witchburner (Studio Album) (1985, Fingerprint)
Memento Mori - Memento Mori (Studio Album) (1993, Black Mark Production)
Memento Mori - Life, Death and Other Morbid Tales (Studio Album) (1994, Black Mark Production)
Colossus - Colossus of Sweden (Demo) (1996, Self-Released)
Colossus - Rehearsal Demo (Demo) (1996, Self-Released)
Memento Mori - Songs for the Apocalypse Vol. IV (Studio Album) (1997, Black Mark Production)
Mercy - Underground (Compilation; Vocals on 11 - 13) (2003, TPL)
Mercy - Black Death (7" Single; Recorded 1986) (2003, Stormbringer)
Guest Appearances
Edit
In The Name of Satan - Tribute To Venom (Tribute Album; Vocals on "Countess Bathory") (1994, GUN)
Kaamos - Kaamos (Engineer) (2002, Candlelight Records)
Satariel - Phobos and Deimos (Studio Album; Vocals on 2, 6, 7, 10) (2002, Hammerheart)
Destruction - Inventor of Evil (Studio Album; Additional Vocals on 3, 9) (2005, AFM Records)
Amon Amarth - Deceiver of The Gods (Studio Album; Vocals on 8) (2013, Metal Blade Records)
Therion - Adulruna Rediviva and Beyond (Live DVD; Vocals on Disc 1) (2014, Nuclear Blast)
Therion - Blood of The Dragon (Compilation; Vocals on 1-7) (2018, Stygian Crypt)
Therion - Cover Songs 1993 - 2007 (Compilation; Vocals on 10) (2020, Self-Released)
External Links
Edit
References
Edit
Template:Candlemass
Community content is available under
CC-BY-SA
unless otherwise noted.