Megatone


Studio album by Boris
Released
April 26 2002
Recorded
2000 - 2001 at Sound Squuare and Bedroom in Fukuoka and Itabashi, Japan
Genre
Dark Ambient, Ambient, Japanoise, Avant-Garde, Drone
Length
61:26
Producer
Enju Tanahashi, Boris, Merzbow
Boris chronology
Flood
(1999)
Megatone
(2002)
Heavy Rocks
(2002)
Megatone is the first collaborative effort between Japanese experimental rockers Boris and Japanoise legend Merzbow, listed as Boris with Merzbow. Recorded from 2000 to 2001 it was released on 26 April 2002, the same day as Heavy Rocks. The album's sound can be described as dark ambient and japanoise with occasional harsh noise, guitar loops and experimentation. It's also notable as a release devoid of any drumming as Atsuo performs as a "feedback conductor", serving as a later trend for other Boris with Merzbow releases such as Sun Baked Snow Cave.
At some point in the 1990s the members of Boris had established a friendship with Merzbow and opted to eventually compose music together. The quartet would do a host of recording between 2000 and 2001, Boris recording at Sound Square while Merzbow recorded at Bedroom. Eventually Megatone would be mixed and mastered at Bedroom on 9 November 2001.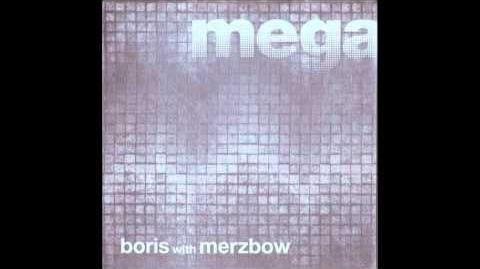 1. "It Continues Waiting for a Headronefish" (23:26)
2. "Encounter with the Inside of the Wave Motion of Great Waterfuzz" (20:04)
3. "…And Texas Spaceship" (17:56)
Masami Akita aka Merzbow - Powerbook, Producer
Atsuo - Feedback Conductor, Producer
Takeshi - Guitar, E-Bow, Producer
Wata - Guitar, Space Echo, E-Bow, Producer
Enju Takahashi - Executive Producer
Fangs Anal Satan - Design
Community content is available under
CC-BY-SA
unless otherwise noted.