Mammoth Volume


Background information
Origin
Lysekil, Sweden
Genres
Stoner Rock, Hard Rock
Years active
1997 - 2008
2020 - Present
Labels
The Music Cartel
Website
Bandcamp
Mammoth Volume was a stoner rock/hard rock band active between 1997 - 2008. The band was notable for being one of many bands signed to The Music Cartel in the late 90s era of stoner rock.
Mammoth Volume was born in the winter of 1996, called into life by the main song writing team of Nicklas and Daniel. Nicklas engaged his older brother Jorgen to take over vocal duties and with the final addition of bass player Kalle, the band was born. The band is from the town of Lysekil, Sweden. The band's 70s-styled retro-rock, mixed with experimental sounds draws on influences like Black Sabbath, Deep Purple and Rainbow as well as bands like Mike Oldfield, Yes, King Crimson and The Mahavishnu Orchestra.
Forming in 1996 the band would record a host of demos before eventually signing to American label The Music Cartel. From there the band would see release of a trilogy of albums: 1999's Mammoth Volume, 2000's Noara Dance and 2001's A Single Book of Songs By, the last of which being awarded "album of the year" by Stonerrock.com. A compilation of early recordings would see release in 2002 entitled The Early Years as the band toured Europe. Later a double DVD-R of live performances would be self-released by the band of many of the dates from said tour.
From the remainder of the band's tenure the band began to self-release a lot of their material at that point while still playing gigs in Sweden. The band's final releases would come in 2005's Return of the Mammoth Volume and 2008's L.B.F.H.B.D., both of which for free download from their website. Mammoth Volume would disband in 2008.
On 28 July 2020 it would be announced that Mammoth Volume would be reuniting and uploading a handful of archival releases on their newly formed Bandcamp page.[1]
Mammoth volume will release a fullength spring 2021.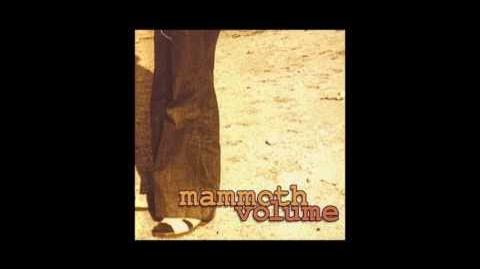 Discography
Edit
Studio Albums
Edit
Misc. Releases
Edit
Free Sampler (Sampler) (1999, The Music Cartel)
The Early Years (Compilation) (2002, The Music Cartel)
A Single Bunch Of Gigs Tour 2002: A Mammoth Volume Tour Diary (Double DVD) (2002, Independent)
Live in the Studio 2003 (Live Album) (2003, Independent)
Return of the Mammoth Volume (MP3 Album) (2005, Independent)
L.B.F.H.B.D. (MP3 Album) (2008, Independent)
Kalle Berlin - Bass
Nicklas Andersson - Drums
Daniel Gustafsson - Guitar
Jörgen Andersson - Vocals
External Links
Edit
References
Edit
Community content is available under
CC-BY-SA
unless otherwise noted.