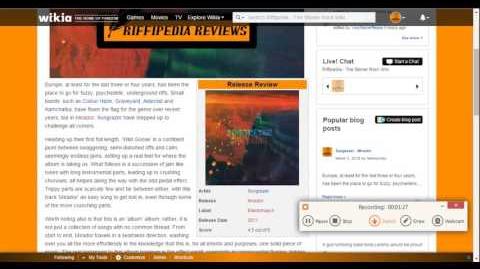 Welcome to Riffipedia - The Stoner Rock Wiki, a place to find and add information about stoner rock and related underground music; A scene that includes the likes of stoner rock, stoner metal, sludge metal, doom metal, desert rock, heavy rock, psychedelic rock, post-metal and post-rock among other oddities in the underground music world.
Riffipedia is all about helping to expand the greatest music scene in the world, unearthing lost knowledge, building up the underground and making sure every fan has a chance of finding out about any aspect of it. Riffipedia - The Stoner Rock Wiki is the Wikipedia of the stoner rock scene... and more. A site where anybody can add information or their bands, artistic endeavors and what have you. The whole success of Riffipedia relies on the involvement of the people of this scene. A community of people all bonded by our love of anything downtuned, psychedelic, fuzzy and heavy. 
So sign up and get involved today to help make Riffipedia - The Stoner Rock Wiki the Holy Mountain of the stoner rock community.
If you want to get involved in Riffipedia, click on the buttons below. (Unfortunately, Fandom - the parent company whose framework Riffipedia uses - does not allow edits via mobile)
If you need help with anything on the site, click one of the buttons below.
Check out pages on specific subjects by clicking the buttons below.
Other Sites of the Stoner Scene
Riffipedia is not aligned with any of the following sites, but is more than happy to promote and share their existence to those interested. Visit the following for news and reviews.
Happy Seventh Anniversary!
Also, I'm taking a break! No new pages or contributions on my end til' at least March!
If you're wanting to add your band, feel free to make a FANDOM account and add it! You don't need my permission! My secret to doing it is copy a band page in Source Mode and build the page in Source Mode!
So this week I've shared some images of the Stubs being finished, a few finished discographies. To go back to that Stub Template when I first …
To add a photo, click the camera icon below.