Lost Breed


Background information
Also known as
Vengeance Brothers (1995 - 2004)
Origin
Van Nuys, California
Genres
Doom Metal, Doom Rock
Years active
1986 - 1995
2015 - Present
Labels
Hellhound Records
Associated acts
The Obsessed, Spirit Caravan, The Hidden Hand, Shrinebuilder, Premonition 13, Place of Skulls, Saint Vitus, Blind Legion, Legion, The Vengeance Brothers, Cardiac Noose, Blackjack Blades, Aleister, Prophecy, Legacy, Black Juju, Ike's Wasted World, WeaponsVan
Website
Lost Breed on Facebook
Lost Breed is a doom metal band originating from Van Nuys, California. Active in their original run between 1986 and 1995, Lost Breed drew from a doom/hard rock sound inspired by The Obsessed but also drew in elements of progressive, thrash and much more, also drawing from the likes of Black Sabbath and Motorhead among others. Lost Breed released two albums via Hellhound Records in their original run and an unreleased third album roughly twenty-five years after it's original recording in 1989. However the band gained notoriety for a recorded demo that featured Wino in 1989.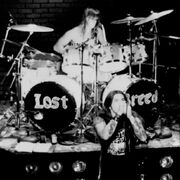 Prior to the formation of Lost Breed, several of the band's members (Johnny Rapp, Vince Augustine, Eric Beastlein and Gary Tocco) all lived in Albany, New York and performed in heavy metal bands through the early eighties, namely Blind Legion and Legion. In late 1986 Rapp, Augustine and Beastlein would re-locate to Van Nuys, with the intent to re-locate Blind Legion in hopes of getting more recognition. However when the other members quit in 1987 the band opted to form Lost Breed with founding singer Ice. However by the next year Ice would leave before recording or doing a single gig with the band. Vinco would briefly take over as vocalist in 1988. Notably Rapp would return to New York with Jamie Silver taking over on drums. Finally in 1989 the band managed to recruit Wino (Saint Vitus, The Obsessed) on guitar and vocals. Notably Weinrich was in the band for about nine months, performing with the band at The Troubadour when available and eventually recording a series of demos with the band. This demo would be released in 1989 as Wino Daze, attaining a cult-like status among doom fans. Retroactively Wino would state he was happy to have worked with Lost Breed but was unable to fully commit for long due to his commitments with Saint Vitus and The Obsessed.[1] In an interview with Cosmic Lava, Eric Beaselein would explain how he met Wino and their time together in Lost Breed:
"
"[On past singers] Like good psychedelic war lords our singers disappear in smoke never to be seen again. I think that Gary Tocco and Wino were great, they were the best two. Wino was a big inspiration in myself singing. He got me started, the last Lost Breed gig he came back and played with us. And I sang one song, that was the first time I sang live. Wino encouraged me to be the vocals for the Breed.

[On meeting Wino] I met Wino in about '88. He came to see us play at this park in LA. And I guess he was impressed enough, so we hooked up. We had some good times Man he was a great guy. A lot of heart and soul in that dude and he has a musical history that speaks for itself; Saint Vitus, The Obsessed, Probot. He's a kick ass guitar player and a great singer and I'd love to work with him again with Helltown Records here in NY.

We played about, I don't know, 7 or 8 shows with Wino. He was in the band for about 9 months. We played most of our gigs, I think all of them at the Troubadour in Hollywood, it was a great time for music in LA any thing could of happened. You felt like the world was yours, tomorrow you could be the next big thing. Anything was possible, it was happening all around you. It was fun."

"
 

— Eric "Ike" Beastlein, Cosmic Lava

[2]
Despite having a decent local following no label was interested in the band at the time. When Wino departed from the group a new vocalist would join in Gary Tocco, who had also been part of the Albany, New York heavy metal scene with the members of Lost Breed. Tocco would record two songs with the band, released as a 7" in late 1989. An entire album's worth of material would be recorded with Tocco but shelved, along with two songs by short-lived singer Chris Roseberry.
In 1992 the band would recruit guitarist and vocalist Pat Lydon, followed by the band being signed to German label Hellhound Records. Recording at S.P.L. Studio in Van Nuys, Lost Breed would release two studio albums in the 1990s: 1993's The Evil In You And Me and 1995's Save Yourself. The band intended to tour Europe but Hellhound folded before any tour could be booked. Finally in 1995 Lydon would leave the group and the band would play a final show, notably with Wino joining as a guest. The remaining members of the group would re-name the band as The Vengeance Brothers and perform under this name between 1995 and 2004. Eventually Beastlein would re-locate to New York, working with new bands after The Vengeance Brothers disbanded.
Notably around the 1990s Marshall Levy and bootleg label Doom Records would press the "Wino Daze" demo, further solidifying it's cult-like status. In the 2010s several labels would begin to reissue Lost Breed material. First, Shadow Kingdom would re-issue both studio albums on 15 October 2013 with full re-masters and exposing the band to a new audience.[3] That same year UK-based label At War With False Noise would reissue Wino Daze on vinyl. 2014 would see Blood & Iron Records release Bow Down on 11 July 2014, a collection of Vengeance Brothers recordings credited to Lost Breed.[4] The next year Blood & Iron Records would release World of Power circa October 2015, the lost album with Gary Tocco on vocals and including liner notes on the band's history along with unreleased photos.[5]
In 2015 Lost Breed had essentially re-formed when Pat Lydon had released new recordings in the form of music videos, featuring the same recording lineup from the Hellhound era. Several of these studio recordings also featured Wino on lead guitar and vocals.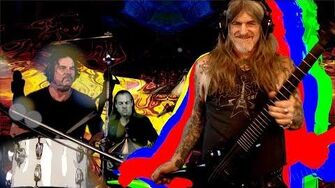 Discography
Edit
Studio Albums
Edit
Other Releases
Edit
Current Lineup
Edit
Eric "Ike" Beastlein - Guitar (1987 - 1995, 2015 - Present)
Vince Augustine - Bass (1987 - 1995, 2015 - Present)
Jamie Silver - Drums (1988 - 1995, 2015 - Present)
Wino - Vocals (1989, 1995); Guitar, Vocals (2015 - Present)
Pat Lydon - Guitar, Vocals (1992 - 1995); Guitar, Bass, Vocals (2015 - Present)
Past Members
Edit
Johnny Rapp - Drums (1987 - 1988)
Kirk Lawrence Scott aka Ice - Vocals (1987)
Vinco - Vocals (1988)
Gary Tocco - Vocals (1989 - 1990)
Chris Roseberry - Vocals (1991)
External Links
Edit
References
Edit
Community content is available under
CC-BY-SA
unless otherwise noted.