Lord Vicar


Background information
Origin
Turku, Finland
Genres
Doom Metal, Traditional Doom Metal
Years active
2007 - Present
Labels
I Hate, The Church Within Records
Associated acts
Reverend Bizarre, End of Level Boss, Centurions Ghost, Orne, Terra Firma, Count Raven, Saint Vitus, Goatess, Revelation, While Heaven Wept, Spiritus Mortis, Earthbound Machine, Iron Hammer, The Consultancy
Website
Lord Vicar Facebook
Lord Vicar are a doom metal band from Turku, Finland, with other members living in various parts of Europe.
Formed by one Kimi Kärki (aka Peter Vicar) in 2007 following the dissolution of Reverend Bizarre, Lord Vicar became Kärki's continuation into doom metal and thus his main musical endeavor. Recruiting the likes of Gareth Millsted (End of Level Boss, Centurions Ghost) and Christian Linderson (Count Raven, Goatess, Saint Vitus) among other established doom musicians, Lord Vicar became a notable doom act and a torchbearer for traditional doom into a new generation. With all four members living in separate parts of the world, each member arranges their own songs and builds together when time allows the band to record or perform live.
Since their formation Lord Vicar has managed to release four studio albums among a host of EP and split releases, along with numerous tours and marquee shows all over the world.
Born of a Jackal: Fear No Pain and Signs of Osiris (2007 - 2014)
[
edit
|
edit source
]
Following the release of Reverend Bizarre's third studio album III: So Long Suckers in June 2007, the Finnish doom trio would disband. Having some material left over and a further interest in doom metal, Kimi Kärki would form a new band based on his stage name Peter Vicar, christening this new project as Lord Vicar.[1] According to an interview via A Blog in The Northern Sky, Kärki had begun planning the project as far as 2006 once he knew Reverend Bizarre was nearing their end. Kärki would recruit entirely new musicians for this project, including Jim Hunter (October 31, Revelation), Gareth Millsted (The Path Is Clear, Centurions Ghost, End of Level Boss) and Christian Linderson (Terra Firma, Saint Vitus, Goatess). In the same interview with A Blog in The Northern Sky, Kärki would explain how he found his future bandmates:
"
"I started planning this band already in 2006, after I knew for certain that my old band Reverend Bizarre was going to end. So in a way I looked into the future at the same time as we were doing the last recordings of RB. Chritus was indeed the first one I had in mind, I had seen him live with Terra Firma, when they supported Cathedral and Orange Goblin in Helsinki, back in the late 1990s. He was definitely one of the coolest frontmen I had ever witnessed, and I certainly loved his vocal style.

The biggest problem was indeed to find him, as he had pretty much vanished from the scene, but with the help of Rendfield, the ex-drummer of Count Raven, I was able to reach him by phone. I then went to Sweden to meet him, and he agreed to be part of this adventure. We drank from the horn and sacrificed a bit to the one-eyed deity as well. Needless to say my joy was overwhelming, especially as Chritus turned out to be one of the nicest people I have ever met.

After finding Chritus I then went public with my request for a drummer, and Gareth replied almost instantly. We had toured together when he played with Centurions Ghost, and I knew that he was both an excellent drummer and a great person as well, so that problem was solved. By the way he has relocated to Basel now, and actually works at least temporarily in Kuwait, so we have quite a challenge to keep things running properly at the moment, when it comes to gigs.

Finding a bass player was more a problem at first, and in the first 7" we did we had a guest bass player - certainly only for the logistical reasons, being separated by the Atlantic - namely one Jim Hunter, known for his bass magic for While Heaven Wept, Revelation (nowadays that lineup is called Yet So Far), Twisted Tower Dire, October 31 and so on. After that Jussi Myllykoski suggested that he could be up to the task. He had been around in many of our and also other bands' tours, doing the driving, so he was already familiar with what was ahead. We gave the songs a go and his stripped down, extremely heavy playing style fitted like a glove to what I had in mind. And so we had a full lineup, which has quite a massive musical chemistry together.

Because we live far and apart from each other, we mostly link rehearsals with gigs or recordings. We do not jam to get material, each song is pretty much arranged by the one responsible for it, before we rehearse."

"
 

— Kimi Kärki, A Blog in The Northern Sky

[2]
In an interview with Doom-Mantia, Kärki would also explain the influences he would draw from in this new project:
"
"Weird Tales authors such as H. P. Lovecraft, Clark Aston Smith and Robert E. Howard have always been important because of their mixture of beauty and cruelty, of poetic and pulp elements. Some old occult books because of the detailed aesthetical order they provide. I like the idea that something can be both 'high' and 'low' culture, depending on the angle – please note that I don't believe such divisions are fruitful, they suffocate ideas like any cultural fences, so I try to mix all kinds of elements that resonate within me in my work as well. I think there is interesting stuff happening everywhere, including some forgotten bar in the desert with house band playing Country & Western, or some dude writing rap in Romania. And when I say interesting I don't mean that I need to like all that stuff… But I think the richness of the cultures is inspiring in itself. I know there are many metalheads who don't think like this, but that's their problem. Saying that, I do like many songs which are purely about beer and sex. But I am not sure if I'm able to write a song like 'No Stayer'… should give it a try, haha!

Musically the old school bands such as Pentagram, Saint Vitus, Withfinder General, The Obsessed and Trouble are obvious influences, with the solid foundation offered by Black Sabbath. But there is a larger picture of influences which is nearly endless, from movies, dreams, books, a large variety of music, from folk to classical, from progressive to electronic. Any songwriter works as a filter, observing the world and coming up with something they feel is meaningful somehow.

[On the subject of members studying the occult] I guess Gareth is into studying some forms of the occult, the history of Freemasonry, etc. I have collected occult books for about 15 years. My interest is purely scholarly, even if I find some of the spiritual and ceremonial qualities of the rituals possibly helpful, especially when it comes to the idea of silence and focus. I like the idea of studying something which is 'useless' for the modern technical society and the dominant discourses, but is at the same time somehow present there without people realising. I also fancy, as mentioned, the performative aspects, the aesthetics of the so called Western Tradition. Most of that goes back to the Victorian era studies of Quabalah and the Masonic heritage. In general, I love old books… the way they smell and have stories as items, as artefacts. I guess that's one of the main reasons why I became a cultural historian, even if my own research is on modern popular culture."

"
 

— Kimi Kärki, Doom Mantia

[3]
With a lineup established and a new bassist replacing Hunter in Jussi "Iron Hammer" Myllykoski (Iron Hammer, Earthbound Machine), Lord Vicar would release their debut EP The Demon of Freedom on 27 March 2008 via I Hate Records. This would build to the band's debut album entitled Fear No Pain on 6 November 2008, gaining positive reviews in the doom scene. Lord Vicar would perform their earliest shows that same month touring alongside The Deep Blue for a string of shows culminating in appearances at at Dawn of Doom and Day of Reckoning.[4]
Lord Vicar would tour further in support of Fear No Pain with two tours in 2009: An April 2009 with Revelation, Mirror of Deception and Lord of The Grave surrounding an appearance at Doom Shall Rise. The other tour would be in the fall alongside The Gates of Slumber with appearances at Dutch Doom Days and Metal Warning Festival. Further festival appearances going into 2010 would include Hammer of Doom Festival, Jalometalli, Doom Over Vienna, Dawn of Doom and a short UK tour with Alunah.
Work would begin on a second record in 2011, following a return to Hammer of Doom and a marquee show in Greece alongside Trouble, Candlemass, Ghost and Hell. The second album would be recorded in between 1st and 26th of August, 2011. Bass, drums, rhythm guitars and vocals were recorded in Red House, Turku, by Danil Venho and Henri Rouvari while engineered by Danil Venho. Acoustic guitars, guitar solos and Mellotron recorded by Kimi Kärki in Hyperborean Lighthouse. Finally it would be mixed by Danil Venho and Lord Vicar, mastered by Joona Lukala and ultimately produced by by the band. Signs of Osiris saw it's release on 31 October 2011 and see praise among the likes of Metal Kaoz (10/10),[5] The Sleeping Shaman,[6] Dr. Doom's Lair,[7] Soundi (5/5)[8] and Temple of Perdition among others.[9] Also of note is Peter Vicar, also known as Peter Inverted, chose to go by his real name of Kimi Kärki, as he felt he "didn't need a mask anymore".
Lord Vicar would go into 2012 touring with Orchid and Sigiriya, working in appearances at DesertFest London and Roadburn Festival, followed by an appearance at Heavy Days in Doomtown.[10] The next year would see a string of mini-tours and other festival appearances such as Stoned From The Underground.
Breaking The Circle: Gates of Flesh (2014 - 2017)
[
edit
|
edit source
]
Aside from occasional and sporadic shows, Lord Vicar would largely go dormant for a time, with Sami Albert Hynninen filling in the live bass role. The band would record at Noise for Fiction in Turku between October 2015 and January 2016, with Millsted and Kärki handling bass duties in the studio. Notably the band would make the album deliberately shorter than previous works, seeking to concentrate on shorter, punchier songs and fit the album on a single vinyl LP. The album itself was also stated to have a loose lyrical theme related to the pleasures and weaknesses of the flesh.[11]
Gates of Flesh would see release on 17 June 2016 via longtime label The Church Within Records. Ultimately Lord Vicar's third effort would see praise from several publications and online review sites such as The Sludgelord,[12] Metal Temple,[13] Outlaws of The Sun[14] and Metal Maniac[15] among several others. Upon attaining a new bassist in Rich Jones (The Consultancy), Lord Vicar would perform at several festivals in 2016 and 2017, including Tuska Open Air, Doom Over Karalis, Blowup Festival and Hammer of Doom among others.
World Encircled: The Black Powder (2018 - Present)
[
edit
|
edit source
]
Following sporadic shows, releasing a solo album and at one point even living in the United States,[16] Kärki would return to Finland and work at Noise For Fiction Studio between February and March 2019. In an interview with Uncivil Revolt, Christian Linderson details that the band lived at the studio quarters for the recording, bringing a genuine "here-and-now" feeling to the recording process.[17] According to drummer Gareth Milsted in an interview with Culture Eater that the original plan was to do another shorter album alongside an EP but was changed to returning to longer albums, with a portion of the material dating back to his and Kärki's early years.[18] Kärki would also confirm that a few riffs were old but the majority of the material was brand new and put together after the release of Gates of Flesh.[19]
In late April of 2019 Lord Vicar would announce their fourth studio album in The Black Powder, along with a tour of Europe supporting the album with Thronehammer as direct support, followed by appearances at Storm Crusher Festival and Hammer of Doom. A music video for the song "Impact" also saw release around the same time.[20] The Black Powder would see positive reception from several publications such as The Obelisk,[21] Kerrang![22] and Distorted Sound Magazine[23] among several others.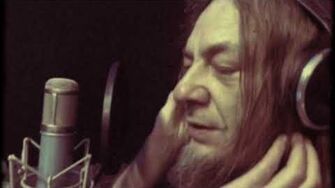 Community content is available under
CC-BY-SA
unless otherwise noted.