Live 1984 at The Stardust Ballroom

The full DVD layout.
Live album by Samhain
Released
2005
Genre
Horror Punk, Doom Rock, Deathrock, Gothic Rock
Length
48:55
Samhain chronology
Live '85 - '86
(2001)
Live 1984 at The Stardust Ballroom
(2005)
'Final Release'
(N/A)
Live 1984 at The Stardust Ballroom is the only live DVD by the New Jersey band Samhain, released in 2005 via Evilive and Music Video Distributors. This live performance would take place in November 1984 during the band's Season of The Dead tour, supporting Initium. Danzig mentions a single introducing one of the songs but ultimately this single never came to fruition. Along with featuring the majority of Initium, several songs from the 1985 EP Unholy Passion appear on here, along with a few re-imagined Misfits songs.
The DVD itself shows the entire performance shot on two cameras, with no extras on the DVD itself. Some copies also came with a Samhain sticker. This DVD, like all other Samhain releases, is out of print.
Tracklist
Edit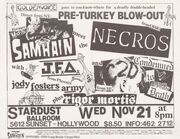 All songs written by Glenn Danzig.
1. Samhain
2. All Murder, All Guts, All Fun
3. Macabre
4. Die, Die My Darling
5. The Shift
6. The Howl
7. Black Dream
8. I Am Misery
9. Halloween II
10. The Hungry End
11. Unholy Passion
12. Horror Biz
13. He Who Cannot Be Named
14. Archangel
15. Moribund
Personnel
Edit
Glenn Danzig - Lead Vocals, Guitar on "Archangel".
Damien - Guitar
Eerie Von - Bass, Backing Vocals
Steve Zing - Drums, Backing Vocals
External Links
Edit
References
Edit
Community content is available under
CC-BY-SA
unless otherwise noted.