Les Lekin


Background information
Origin
Salzburg, Austria
Genres
Heavy Psych, Post-Rock, Doom Rock, Shoegaze, Space Rock
Years active
2011 - Present
Labels
Tonzonen
Website
Les Lekin Official
Les Lekin are an instrumental power trio based out of Salzburg, Austria. The band's sound evokes a mix of doom, heavy psych, shoegaze and post-rock for a robust and expansive sound or as the band describes it: "Dark and Heavy Psych/Doom/Post". When performing live the band is often complimented by psychedelic visuals to add to the experience.
To date the trio have released two studio albums, both of which attaining critical acclaim. The band has also toured various parts of Europe and has performed at several marquee festivals.
Les Lekin was founded in the fall of 2011[1] by the lineup of Kerstin Wolf, Peter Gallbauer and Stefan Willmann. Little is known of their early years though the band frequently gigged in Austria, often with touring acts like Been Obscene,[2] Dirt Deflector, Sungrazer[3] and Blues Pills[4] to name a few. Eventually the trio would begin work on a debut album, recording at Trade Park Studio live and without overdubs.
Les Lekin's debut album All Black Rainbow Moon to praise from the likes of Rock Times,[5] Mescaline Injection,[6] Echoes and Dust,[7] The Obelisk[8] and Doomed and Stoned[9] among others, the latter making it their "album of the week". The band would tour Germany that Fall in support of the record, including an appearance at the inaugural Red Smoke Fest.[10]
Les Lekin would follow up in 2015 with several gigs including an appearance at Lake on Fire Festival.[11] Les Lekin would later sign to Tonzonen Records the next year, leading to a vinyl edition of All Black Rainbow Moon that October. Les Lekin would announce a tour alongside Tuber in May 2016 along with a handful of supporting gigs in the Spring. On 16 March it would be announced that the band was searching for a new bassist.[12] A new bassist would be secured by April[13] in time for the May tour, followed by appearances at Dome of Rock, Stick & Stone Festival[14] & Seeknificance.
Work would begin on a second album, with a pre-release tour of Austria in the Spring of 2017. With new bassist Beat Baumgartner the band would once again record at Trade Park Studio, again live and with no overdubs. On 11 July 2017 the band's second album would be announced and set for an Autumn release.[15] Died With Fear would see release on 20 November 2017 to critical acclaim from the likes of Echoes and Dust,[16] Dark Entries,[17] Outlaws of The Sun[18] and Ave Noctum[19] to name a few. A release party would be held on 2 December at Rockhouse Bar in Salzburg.[20] Les Lekin would perform at several festivals the next year to support Died With Fear including Psyka Festival, Crystal Mountain Festival, Tauerngold Festival, Krach Am Bach and Dome of Rock. Les Lekin would also tour with Ceveo in the Spring of 2020.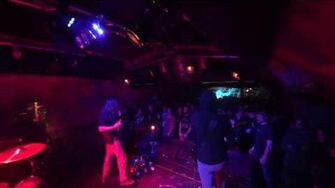 Peter Gallbauer - Guitar (2011 - Present)
Kerstin Wolf - Drums (2011 - Present)
Beat Baumgartner - Bass (2016 - Present)
Stefan Willmann - Bass (2011 - 2016)
All Black Rainbow Moon (Studio Album) (2014, Tonzonen)
Died With Fear (Studio Album) (2017, Tonzonen)
Community content is available under
CC-BY-SA
unless otherwise noted.