Last Patrol is the ninth studio album by the New Jersey stoner rock band Monster Magnet.[1] Along with being the first studio album to feature Garrett Sweeny it is the first recording since their 1991 debut album Spine of God not to feature long time member Ed Mundell who left the band shortly after their 2010 album Mastermind. Jim Baglino also notably left before the recording sessions had begun, with Chris Kosnik (The Atomic Bitchwax) joining not long after the album was recorded.
Last Patrol is perceived as a return to the band's roots in terms of recording and influence, as the band would record at Phil Caivano's Studio 13 and incorporate more of a psychedelic/space rock sound. Last Patrol would peak at #188 on the Billboard 200[2] and attain positive critical reception throughout.
Background
Edit
After a cycle of touring through 2012 work would begin on the next Monster Magnet album though bassist Jim Baglino would leave the band. Recording at Phil Caivano's Studio 13 along with Shorefire Recording Studios in Long Branch, the album would take more of a garage/psychedelic sound which influenced the band in their earliest years. In an interview via Blabbermouth, Wyndorf would speak in detail about Last Patrol:
"
"Last Patrol is a return to our roots in terms of vibe and recording style. It's full-on psychedelic space-rock with a '60s garage feel, recorded almost exclusively with vintage guitars, amps and effects in our hometown of Red Bank, New Jersey. The songs are a kind of space-noir, tales of cosmic revenge, peaking libidos, alienation and epic strangeness. It's a weird trip through the back alleys of a dark, retro-future, which not by coincidence very much resembles my own life. [laughs] The lyrics aren't fantasy really, rather a recounting of my musings on, observations of and general emotional reaction to my life and environment during a 1 week writing period in February of 2013. But I tend to use the vernacular and imagery of science fiction and surrealism to express myself and that's where these lyrics get trippy. There's also our cover version of DONOVAN's "Three Kingfishers", which I thought fit the mood of the album.

Last Patrol was produced by Phil Caivano and myself with an effort to bring a homegrown feel to the whole affair. We had been doing smaller projects out of Phil's Studio 13 recording space and I really felt comfortable there so it was the natural choice on where to record the next full-scale MONSTER MAGNET album. Phil and I grew up together and have a shared love of some very particular vintage music and styles. And everybody in the band played their asses off on this one."

"
 

— Dave Wyndorf, Blabbermouth

[3]
In an interview with Vice, Wyndorf would elaborate further on revisiting the psychedelic roots after touring Dopes To Infinity and Spine of God in their entirety:
"
"When I was overseas, I would psych up a lot of the songs so the shows were a real psychedelic experience. And we were playing the older albums in Europe, Spine of God and Dopes to Infinity in their entirety and that went over really well. So it all made sense to me. I went, "Oh, you dumb ass. Why don't you go write a psychedelic record?" So I went all-out and made a weird, little record. I kept it home grown and paid very close attention to the vibe and made sure it wasn't overproduced. It's something I can be really happy singing a million times over.

I wanted to avoid the fist-in-the-air anthems and just get back kind of to the stuff I used to listen to as a kid. It was great. And I figured, "Ah, I can bring this back to the States now." It's been long enough so I don't think there are any expectations for Magnet to follow up one thing or another."

"
 
Last Patrol would be released on 15 October 2013 via Napalm Records on CD and double LP. The band would appear on the Artie Lange show around the same time of the album's release, performing "Paradise" and "Powertrip" to promote the album.[5][6][7] With new bassist Chris Kosnik the band would tour North America for the first time in roughly a decade, performing the majority of the album.[8] The next year Monster Magnet would tour Europe performing Last Patrol in it's entirety. Last Patrol would sell around 2,300 copies in the United States in its first week of release, peaking at no. 188 on the Billboard Top 200.[9] Last Patrol would also chart in several other countries such as Belgium's Ultratop Charts (#100), The Austria Albums Chart (#50), The Finnish Albums Chart (#44) and The Swedish Albums Chart (#43).[10]
Last Patrol would attain critical praise upon it's release. Blabbermouth, awarding a 9/10 score, stating that the band would "dial back into what made the band counterculture legends in the first place. Vintage instruments beget a vintage sound carrying the enlightened view of a mid-fifties rocker. Together spelling one hell of a reinvention."[11] Classic Rock Magazine would also award a 9/10 score, stating that Last Patrol is "dark, desperate and full of great tunes" and "rock n' roll at it's black-hearted best."[12] The Quietus would also praise the album heavily with it's statement of "a sprawling celebration of fretboard psychotropics and spectral acoustic ballads that see the band subtly tipping the balance from chest-beating metal salvos to more nuanced, slow-burning fare like the spellbinding opener, 'I Live Behind The Clouds'.".[13] Lastly, The Obelisk would ponder if Last Patrol would be the final Monster Magnet record but nonetheless speak positively, referring to the album as "not a return to a past sound but a new interpretation and rebalancing of influences on the band's part" and "a coagulation of everything Wyndorf has brought to bear thus far into his career, and if it's to be a terminus point for one stage of that career, then the culmination stands as no less rewarding than the journey itself.".[14]
Tracklist
Edit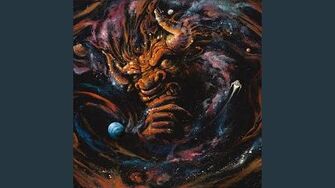 All songs written by Dave Wyndorf except where noted.
Tracks 10 and 11 are bonus tracks.
1. I Live Behind The Clouds (4:25)
2. Last Patrol (9:23)
3. Three Kingfishers (4:33) (Donovan Leitch)
4. Paradise (4:31)
5. Hallelujah (4:13)
6. Mindless Ones (5:30)
7. The Duke of Supernature (Wyndorf, Phil Caivano) (4:59)
8. End of Time (7:45)
9. Stay Tuned (5:54)
10. Strobe Light Beatdown (4:26)
11. One Dead Moon (5:19)
Personnel
Edit
Dave Wyndorf - Guitar, Vocals, Keyboards, Producer
Phil Caivano - Guitar, Bass, Engineer, Producer
Garrett Sweeny - Guitar, Sitar
Bob Pantella - Drums, Percussion
Tim Cronin - Hair Shirt, Mood Rings, Illuminations
Joe DeMaio - Assistant Engineer
Matt Hyde - Additional Production
Evil Joe Barresi - Mixing, Lacquer Cut
Jun Murakawa - Mixing Assistant
Ryan Smith - Mastering
MK - Lacquer Cut
John Sumrow - Cover Artwork, Additional Painting
Chris Ryall - Artwork Consultation
Ryan Clark - Design
External Links
Edit
References
Edit
Community content is available under
CC-BY-SA
unless otherwise noted.