Joe Preston (EP)

Album cover for the Joe Preston EP.
Extended play by Melvins
Released
1992
Recorded
1992
Genre
Jazz, Sludge Metal, Drone Doom
Length
27:36
Producer
Jeff Brangley
Melvins chronology
Dale Crover (EP)
(1991)
Joe Preston (EP)
(1992)
Lysol
(1992)
Joe Preston is one of three solo EP releases by The Melvins, released on Boner Records in 1992. Playing out as a minimalist drone/sludge release mainly in it's third track, this release could be observed as a precursor to the drone/doom solo project of Preston entitled Thrones.
Background
Edit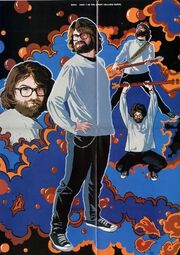 Joe Preston was recorded at the time the band decided to do solo EPs in a similar vein to the KISS solo albums. It is believed that he is the only performer on the record and the other two performers are a hoax; "Salty Green" and "Denial Fiend" are known pseudonyms of Preston. Also of note is Preston's credit on "vocals" despite the release being entirely instrumental.
The cover art for the album is a parody of the cover art from Ace Frehley's 1978 solo release while the poster included with it is a parody of the poster from Paul Stanley's solo album. The credit for Marina Sirtis as "Counselor" is a reference to the actress that played Counselor Dianna Troi on the television series Star Trek: The Next Generation. "Bricklebrit" and "Hands First Flower" both feature samples from the film Apocalypse Now. Due to the length of the release, the vinyl version's side A is played at 45RPM while side B is played at 33RPM.
Buzz Osborne has went on record to say this is one of his least favorite Melvins releases, according to a CMJ New Music article in 2005:
"
"Joe did his as a homework assignment. He wasn't into it at all. We couldn't believe that he wasn't interested in this. That was the beginning of the end for him. It's terrible. His heart wasn't in it and he was a dumbass for doing that. He did it in about an afternoon."
"
 

— Buzz Osborne, CMJ New Music Weekly

[1]
Tracklist
Edit
All songs written by Preston.
1. The Eagle Has Landed - 1:58
2. Bricklebrit - 2:36
3. Hands First Flower - 22:58
Personnel
Edit
Joe Preston - vocals, mixing
Denial Fiend - Hellish crossfire on wooden coffins
Salty Green - Chapman stick / Hands First Flower
Jeff Brangley - producer
Jonathan Burnside - engineer, mixing
Harvey Bennett Stafford - cover & inside painting
Marina Sirtis - counseling
External Links
Edit
References
Edit
↑ themelvins.net Sludge, Jury and Executioner, accessed 24 October 2016
Community content is available under
CC-BY-SA
unless otherwise noted.