III (also known as Acid King III), as the title implies, is the third full-length album by stoner metal band Acid King. It was released on CD in June 2005 through Small Stone Records. In 2006, Kreation Records would release the album on coloured and black vinyl. III was the second and last release to feature bassist Guy Pinhas (Beaver, The Obsessed, Goatsnake), who left shortly after its release and was replaced by Rafa Martinez (Black Cobra).
Background
Edit
In 2004 Acid King would write enough material for a third album, signing with Small Stone Records for the album's release. The trio of Lori S., Joey Osbourne and Guy Pinhas would work with producer Billy Anderson for the band's third album, with Pinhas leaving the band not long after it was finished. III would see release on CD circa 21 June 2005. While it received positive reception at the time[1] the album would attain further praise in retroactive reviews.[2][3][4]
In regards to a vinyl issue Kreation Records would handle the vinyl edition of III, swapping tracks 4 and 5. The first vinyl editions came in 2006 on Black Vinyl (500 copies), Clear Vinyl with Orange/Black Splatter (250 copies), Orange/White Swirl Vinyl (250 copies) and Orange Vinyl with Black/White Splatter (100 copies). Two vinyl reissues would follow with a Yellow Translucent And Orange Blend With Red And Black Splatter in 2012 (100 copies) and an Orange, Black and Bone blend in 2013 (500 copies).
Tracklist
Edit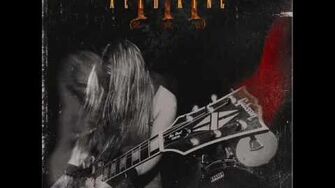 All songs written by Lori S.
1. 2 Wheel Nation (5:23)
2. Heavy Load (7:10)
3. Bad Vision (3:52)
4. War of The Mind (11:57)
5. Into The Ground (4:32)
6. On To Everafter (6:19)
7. Sunshine and Sorrow (7:19)
Personnel
Edit
Lori S. - Guitar, Vocals
Guy Pinhas - Bass
Joey Osbourne - Drums
Billy Anderson - Engineer, Mixing, Producer
Vadim Canby - Additional Engineering
Chris Gooseman - Mastering
Jim Thompson - Photography
Mike Saputo - Artwork
External Links
Edit
References
Edit
Template:Acid King
Community content is available under
CC-BY-SA
unless otherwise noted.