Guy Pinhas


Background information
Birth Name
Guy Pinhas
Alias
Pinhead, The Mighty Guy
Born
Late 1960s
Occupation
Musician
Genres
Doom Metal, Stoner Metal, Stoner Rock, Hard Rock, Punk Rock
Instrument(s)
Bass
Years active
1983 - Present
Labels
Hellhound Records, Southern Lord Records, Man's Ruin Records, Rise Above Records, Columbia
Associated acts
The Obsessed, Goatsnake, Beaver, Acid King, Thorr's Hammer, In-Graved, No Pigs
Guy Pinhas is a bassist born in Paris, France and currently residing in the Netherlands. Pinhas is known for being involved with several key bands in the stoner metal and doom metal scenes, such as The Obsessed, Goatsnake, Acid King, Fireball Ministry and Beaver among other projects. Beyond performing with several bands he is also known for his behind the scenes work with Man's Ruin Records, Southern Lord (Which he had a role in building up) and his current operations with Southern Lord Europe.
Biography
[
]
Early Bands
[
]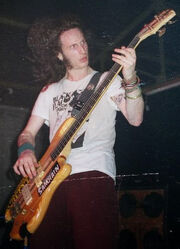 Guy was born in Paris, France would would relocate to the Netherlands in his teens. He would form a band called No Pigs in 1984, which had a sound similar to Black Flag.[1] The band would release their debut 7" circa 1984 on Nozem Records. A 12" EP known as Black Day would follow two years later, after the band became a regular in the Netherlands performing with hardcore acts.[2] The next year, No Pigs would release their only studio album In Her House via Destiny Records, and disband in 1989. He would also be briefly involved with the New York band B.A.L.L. among other groups.
Pinhas would join the stoner rock band Beaver from 1991 - 1992 but would leave the band when he would re-locate to the United States to join The Obsessed. Guy however would write a handful of songs for the band, which would later appear on two of their albums. Beaver would perform live in the USA on one occasion in 2000 with Pinhas on bass and Tos Nieuwenhuizen on guitar for this special performance, the latter joining the band full-time to help record the band's third album.
The Obsessed (1983 - 1995, 2012)
[
]
For more details, feel free to view the Riffipedia page on The Obsessed.
In 1990, Hellhound Records released The Obsessed, an album that The Obsessed had recorded in 1985, different from the intended Metal Blade album. This prompted Wino to leave Saint Vitus and reform The Obsessed with a new rhythm section consisting of Scott Reeder and Greg Rogers. The band was quickly signed to Hellhound Records and would record a studio album during a tour of Germany known as the Forever Midnight Tour, which Guy was part of the crew. Lunar Womb would be released on 23 September 1991 with a sporadic handful of shows to support it. Scott Reeder later left to join Kyuss, whereupon Pinhas would take over on bass The band would tour throughout Europe in 1992 and 1993 with this newfound lineup.
Columbia Records (With publishing from Hellhound) signed them for their third and final album, The Church Within. Despite receiving rave reviews, a large amount of promotion on behalf of Columbia Records (including a 25-minute documentary on the history of The Obsessed) and heavy touring throughout the USA and Europe to support The Church Within, the album did not sell as well as expected. Sometime in 1995 the Obsessed disbanded, with Wino eventually leaving Southern California and moving back to Maryland. Eventually, Wino would form Shine (Whom would become Spirit Caravan) with Wretched vocalist Dave Sherman and Unorthodox/Iron Man drummer Gary Isom while Greg Rogers and Guy Pinhas would become the rhythm section for Goatsnake a year later.
In September 2011, Roadburn announced that The Church Within lineup (Wino, Rogers and Pinhas) would be reuniting to perform at Roadburn Festival on 14 April 2012. Notably at the Roadburn Festival a double 10" edition reissue of The Church Within along with a live LP featuring a bonus 7" was released to honor their appearance at the festival. Alongside the Roadburn set, The Obsessed also performed at Hellfest that year surrounding a short European tour. Pinhas would only participate in the 2012 reunion dates, with Reid Raley (Rwake) taking over on bass the next year.
Goatsnake (1996 - 2001, 2010 - 2014)
[
]
For more details, feel free to view the Riffipedia page on Goatsnake.
Goatsnake formed in 1996 when Greg Anderson expressed an interest with jamming with Guy Pinhas and Greg Rogers, both of whom were in The Obsessed, a band that at the time recently disbanded. Anderson would travel to Los Angeles to jam with them and not long after recruited Pete Stahl (Earthlings?, Scream!) as their vocalist.
Around 6 - 8 months after forming, Goatsnake would start recording material in 1997. In 1998, the band would release a 7" single entitled IV via Prosthetic Records, limited to 1000 copies. Not long after a second 7" would see release as Man of Light via Warpburner. The band also performed live in the West Coast, sharing the stage with the likes of Queens of the Stone Age, Fatso Jetson and Fugazi. The next year the band would release their debut album I on Man's Ruin Records and tour Europe for the first time, notably an appearance at Dynamo Festival and a handful of shows with Electric Wizard. By the end of 1999, Guy Pinhas left the band due to personal differences and was replaced by G. Stuart Dahlquist (Sunn O))), Burning Witch).[3]
Goatsnake were announced to reunite in 2010 at Roadburn Festival as one of the headlining acts, personally selected by Thomas Gabriel Fischer as one of the curated acts. It would be the first time the original lineup had performed together in over ten years. Also leading up to the reunion show Flower of Disease was finally reissued on CD and vinyl (Along with a I + Dog Days 2LP set) on Southern Lord Records. Pinhas would participate with Goatsnake until 2014, when Scott Renner would take over on bass as the band would work on a third studio album.
Acid King (1999 - 2005)
[
]
For more details, feel free to view the Riffipedia page on Acid King.
Pinhas would join Acid King in 1999 following the band's North American tour supporting Busse Woods. He would record a handful of songs with the band, later released as a split with The Mystick Crewe of Clearlight in 2001. Acid King would also notably tour with High on Fire in 2000.[4][5]
2001 would see Acid King largely performing in the West Coast, sharing the stage with the likes of Electric Wizard, Spirit Caravan, Warhorse, Operator Generator and High on Fire among others. This would build up to an appearance in October at Stoner Hands of Doom Festival, that year being in Austin, TX. The next year would see largely weekender tours with the likes of Dixie Witch and Bongzilla as work on new material slowly began. The next year amid a host of shows the trio would venture to Ohio for an appearance at Emissions from the Monolith. Acid King would notably sign with Small Stone Records and after a March tour with Drunk Horse would release III on 21 June 2005, produced by Billy Anderson. III would attain praise across the board from various publications such as Sputnikmusic,[6] Your Last Rites,[7] and Exclaim![8] among others. What would follow would be the trio's first ever tour of Europe. However by the end of that tour Pinhas would leave and Black Cobra drummer Rafael Martinez would take over on bass.
Other Bands and Endeavors
[
]
Pinhas would be briefly involved with Tim Moss' experimental band known as Porn (The Men Of), though would not appear on any of the project's studio recordings.
Pinhas would perform with the hard rock band Fireball Ministry as a guest, performing on three songs on the band's 1999 debut

Où Est la Rock?

along with a cover of UFO's "Doctor Doctor" for the compilation Sucking The 70s.
Thorr's Hammer would reunite in 2009 at Supersonic Festival in Birmingham, England. A second reunion set curated by Tom G. Warrior happened at Roadburn Festival in 2010. Pinhas would fill in on bass for both performances.
On 17 April 2018 in lieu with Southern Lord's 20th Anniversary, a vinyl edition of the band's Roadburn performance would be released as part of the silver anniversary subscription series, under the name Live By Command of Tom G. Warrior.[9] This live album would be officially released on 24 June 2019.[10]
Pinhas has worked behind the scenes with several labels over the years. Notably, Pinhas would have a working relationship with Man's Ruin Records until it's closing in 2001 and with Southern Lord Records. In regards to the latter label he would fund some of the label's earliest releases.[11] Pinhas was also notably an employee for Amoeba Records for several years. Currently, Guy has relocated to Europe where he currently handles operations for Southern Lord Europe.
Bands
[
]
No Pigs - Bass (1984 - 1989)
Beaver - Bass (1991 - 1992, 2000)
The Obsessed - Bass (1992 - 1995, 2012)
Goatsnake - Bass (1996 - 2000, 2010 - 2011)
Acid King - Bass (1999 - 2005)

Porn (The Men Of)

- Bass (Unknown Time Period)
Thorr's Hammer - Bass (2009, 2010)
Discography
[
]
No Pigs - No Pigs (7" EP) (1984, Nozem Records)
No Pigs - Black Day (12" EP) (1987, Destiny Records)
No Pigs - In Her House (Studio Album) (1988, Destiny Records)
The Ravings - Deadlock (Compilation; Engineer on B3 - B5) (1991, Vitriol)
The Obsessed - Lunar Womb (Studio Album; credited as Crew) (1991, Hellhound Records)
The Obsessed - The Church Within (Studio Album) (1994, Hellhound Records)
The Obsessed - Incarnate (Compilation; Selected Tracks) (1999, Southern Lord Records)
Beaver -

13eaver

(Studio Album; Songwriting on "Decisions in Time") (1999, W•e•r•k Works)
Fireball Ministry -

Où Est la Rock?

(Studio Album; Bass on 1, 2, 6) (1999, Bong Load Records)
Goatsnake -

I

(Studio Album) (1999, Man's Ruin Records)
Goatsnake - Goatsnake / Burning Witch (Split with Burning Witch) (2000, Hydra Head Records)
Goatsnake - Dog Days (Extended Play) (2000, Southern Lord Records)
Beaver -

Lodge

(Studio Album; Songwriting on "Liberator") (2001, Man's Ruin Records)
Acid King - Free... / The Father, The Son and the Holy Smoke (Split with The Mystick Crewe of Clearlight) (2001, Man's Ruin Records)
Acid King - III (Studio Album) (2005, Small Stone Records)
The Obsessed - Live at the Melkweg November 28 1992 (Live Album) (2012, Obsessed Records)
The Obsessed - Live Music Hall Köln December 29th 1992 (Live Album) (2012, Roadburn Records)
Victor Griffin - Victor Griffin's In-Graved (Studio Album; Bass on "Thorn in the Flesh") (2013, Svart Records)
Thorr's Hammer - Live By Command of Tom G. Warrior (Live Album) (2018, Southern Lord Records)
External Links
[
]
References
[
]