Gossamer is the only studio album by the California punk/stoner rock band Solarfeast, released in 1995 via El Camino Records (The second and last release on producer Brant Bjork's first music label). Notably this album was recorded in 24 hours at Doubletime Studios by Jeff Forrest. Gossamer was dedicated to Jon Karden.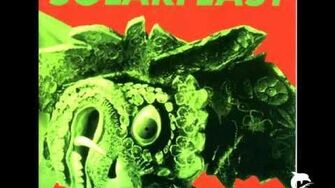 1. My Spotted Pony
2. ...
3. Apocalyptic Queen
4. Rats
5. Voodoo Spell
6. Bad Mitten
7. My Candle, My Grave
8. Helping Hands
9. Puppy Has Ludes
10. Exode
Mike Moracha aka Mike T.M. - Guitar, Audio Generator, Projector, Vocals
Nick Negative - Vibrations (Bass), Vocals
Tony Tornay - Drums, Bongos, Cigarette Breaks
Vic DuMonte - Guitar, Vocals, Grunts and Growls, Zippo
Brant Bjork - Producer, Tambourine, Chicken Shaker
Jeff Forrest aka The King of El Cajon - Vocals (6), Engineer
Erica Faber - Assistance
John Hell - Photography
Lori Toohey - Photography
Maritxu - Photography
Chryssa Brazil - Photography
Stacy Grolix - Photography
Community content is available under
CC-BY-SA
unless otherwise noted.