Gods & Goddesses

Cover for the CD version.
Cover for the LP is below.
Studio album by Brant Bjork
Released
March 30 2010
Recorded
November 2009 in Los Angeles, California
Genre
Stoner Rock, Desert Rock
Length
32:52
Label
Low Desert Punk
Producer
Ethan Allen & Brant Bjork
Brant Bjork chronology
Punk Rock Guilt
(2008)
Gods & Goddesses
(2010)
Black Flower Power
(2014)
Alternative Cover
Gods & Goddesses is the ninth solo album by Brant Bjork. Recorded in late 2009 in Los Angeles, it would be released that March via Low Desert Punk in what would be that label's final release. Notably, at just a little over thirty-two minutes this is Brant Bjork's shortest album to date.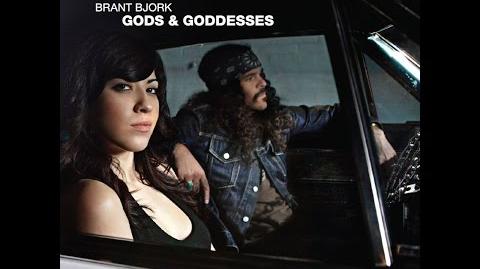 Sometime between the release of Somera Sól & Gods & Goddesses, Brant would move back to the United States after living in Barcelona for some time. However in time for recording a record and touring his lineup had changed, this time recruiting Brandon Henderson, Giampaolo Farnedi and Yawning Man bassist Billy Cordell. The band would record over the fall in time for release that Spring, followed by an extensive tour of Europe.[1]
Gods & Goddesses would be released on CD and Vinyl (With a repress that December) in the following editions:
Black Vinyl (Two Pressings)
Brown Marble Vinyl
Yellow Marble Vinyl (Two Pressings)
Red Marble Vinyl
Grey Marble Vinyl
Turquoise Marble Vinyl
Brown Marble Vinyl
Blue Vinyl (Repress)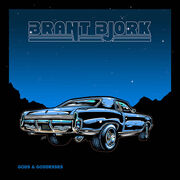 On 21 January 2020 it would be announced that Gods & Goddesses would see a reissue via Heavy Psych Sounds with new artwork and a full re-master on 24 April 2020. However this re-issue would be delayed due to the CO-VID19 pandemic then later delayed to a 29 May release date.[2]
Gods & Goddesses would be released in the following versions:
CD Digipak
Black Vinyl
Transparent Blue Vinyl (700 copies)
Yellow/Blue Mixed Vinyl (300 copies)
Test Pressing Vinyl (30 copies)
All songs written by Brant Bjork.
1. Dirty Bird (2:48)
2. The Future Rock (We Got It) (3:56)
3. Radio Mecca (3:54)
4. Little World (5:02)
5. Blowin' Up Shop (3:27)
6. Good Time Bonnie (3:49)
7. Porto (3:50)
8. Somewhere Some Woman (5:49)
Brant Bjork - Guitar, Vocals, Producer
Billy Cordell - Bass
Brandon Henderson - Guitar
Giampaolo Farnedi - Drums
Ethan Allen - Producer, Recording, Mixing
Jim Watts - Recording, Mixing
Bruce Barielle - Mastering
Cale Bunker - Art Direction, Design
Rich Sibbald - Photography
Eric Allward - Photo Assistant, Spiritual Advisor
Amanda Limon - Hot Chica
Scotty Diablo - Bad Ride
Dirty Donny Gillies - Artwork (Heavy Psych Sounds reissue)
Community content is available under
CC-BY-SA
unless otherwise noted.