GREENTHRONE

The Greenthrone demos available on bandcamp were recorded in Columbus, Ohio during 2010-2011. A new lineup is formed and working on an official follow up as of 2020.
Background information
Also known as
Greenthrone
Origin
Columbus, Ohio, USA
Genres
METAL / SLUDGE / DOOM / CRUST / STONER METAL
Years active
2010-CURRENT
Labels
NONE, ex-Hydro-Phonic Rx
Associated acts
EYE, Tank Destroyer, Watchfire, Deadsea, Cult Of Frost, Race Of Devils, Payback
Website
Facebook
Current members
Danny Bays - guitar/voice
Michael Sliclen - bass
Charlie Taylor - drums
Past members
Lisa Bella Donna - drums / production on demos recordings
Band Logo
Greenthrone
are a sludge/doom/crust band based out of Columbus, Ohio. The band cites influences among the likes of Celtic Frost, Crowbar, Black Cobra and High on Fire to name a few. Initially the band functioned as a power duo when they formed in 2010 and released a demo of five songs, attaining praise from the likes of
www.doom-metal.com
and Deathrattle Podcast. Beyond this release though little of this early era is known. Eventually in 2020 Greenthrone would reform as a trio with intent on composing new material.

Rising from the ashes of Cincinnati Ohio's Watchfire, founder and guitarist/vocalist Danny Bays - stepping in the direction of sludge, stoner metal and crust with elements of doom, and influenced by bands like Crowbar, Celtic Frost, Black Cobra and High On Fire - formed Greenthrone in 2010 as a two piece of guitar/voice and drums.
In reaching out to Columbus, Ohio musician of Deadsea and Eye, Lisa Bella Donna to play drums, the Greenthrone demos were recorded over a couple of sessions during 2010 and 2011. During that time another Columbus resident, Michael Sliclen, also of Eye and Tank Destroyer was brought in on bass for added sonic discomfort but work as a three-piece never materialized.
There it remained for eight years, growing underground and online. Flash forward to 2020 - and yet another Columbus dweller but Connecticut native, this time Drummer Charlie Taylor of Infernal Death and Cult Of Frost - approached Danny about resurrecting Greenthrone as a three-piece.
With Michael Sliclen still in the fold, and the addition of Charlie, the new and current lineup was formed and work begun on the follow up to these demos recorded 10 years ago.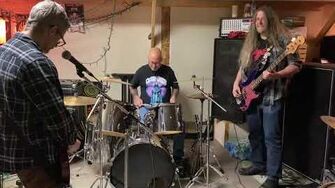 Danny Bays - Guitar, Vocals (2010 - Present)
Michael Sliclen - Bass (2012 - Present)
Charlie Taylor - Drums (2020 - Present)
Lisa Bella Donna - Drums (2010 - 2012)
Discography
Edit
External Links
Edit
References
Edit
sludge crust doom stoner metal metal Columbus ohio green throne greenthrone
Community content is available under
CC-BY-SA
unless otherwise noted.