Epicus Doomicus Metallicus - Live At Roadburn 2011 is a live album by the Swedish epic doom metal band Candlemass. Originally recorded on 16 April 2011 at Roadburn Festival,[1] this live album would be released via Svart Records on 12 July 2013. The band actually was intended to perform the album at the 2010 edition of Roadburn in light of the band's 25th anniversary but was forced to cancel due to the air travel disruption on Northern Europe due to the ash cloud from Iceland's Eyjafjallajokull volcano.
Upon it's release in July, Svart released this live album exclusively on double vinyl with an etched fourth side in the following versions:
White Vinyl (400 copies)
Black Vinyl (400 copies)
Silver Vinyl (100 copies)
White/Black Split Vinyl (100 copies)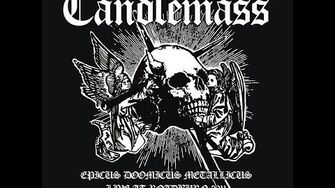 Tracklist
Edit
All songs written by Leif Edling.
A1. Solitude (6:36)
A2. Demon's Gate (9:20)
B1. Crystal Ball (6:24)
B2. Black Stone Wielder (7:22)
C1. Under The Oak (6:51)
C2. A Sorcerer's Pledge (10:43)
Personnel
Edit
Johan Längquist - Vocals
Leif Edling - Bass
Mats Björkman - Rhythm Guitar
Lars Johansson - Lead Guitar
Jan Lindh - Drums
Marcel Van De Vondervoort - Recording
Robert De Lorijn - Recording
Joona Lukala - Mixing, Mastering
Beatrice Csontos-Vidén - Photography, Graphic Design
Erik Rovanperä - Artwork
External Links
Edit
References
Edit
Community content is available under
CC-BY-SA
unless otherwise noted.