Ensemble Pearl

Album cover for Ensemble Pearl.
Studio album by Ensemble Pearl
Released
March 19 2013
Recorded
at Flash Studio
Genre
Drone, Ambient, Avant-garde, Art Rock, Shoegaze
Length
60:10
Producer
D.A.C.M., Gisèle Vienne, Stephen O'Malley
Ensemble Pearl chronology
Ensemble Pearl
(2013)
Ensemble Pearl was a studio album by the concept band of the same name. This quartet would feature the likes of Stephen O'Malley (Sunn O))), Khanate, KTL), Atsuo Mizuno (Boris), Bill Herzog (Earth, Jesse Sykes & The Sweet Hereafter) and Michio Kurihara (Ghost, Damon & Naomi).
Background
Edit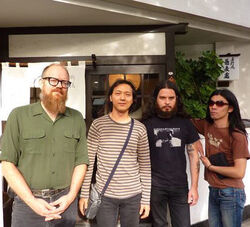 Ensemble Pearl was created as an audio art theater piece by D.A.C.M./Gisèle Vienne entitled "This Is How You Will Disappear".
The band, led by Sunn O)))'s Stephen O'Malley and featuring Boris drummer Atsuo and Ghost/Boris members Michio Kurihara and William Herzog, were joined by experimental composer Eyvind Kang and Secret Chiefs 3's Timba Harris for the six-song effort.
Ensemble Pearl would be released on vinyl and CD in 2013 with a 2CD available via Daymare Recordings with a second disc of alternate cuts.
Tracklist
Edit
All songs arranged by Ensemble Pearl.
1. Ghost Parade (5:45)
2. Painting on a Corpse (6:52)
3. Wray (4:42)
4. Island Epiphany (12:45)
5. Giant (10:16)
6. Sexy Angle (19:50)
Personnel
Edit
Stephen O'Malley - Performer, Writing, Producer
Michio Kurihara - Performer
Atsuo Mizuno - Performer
Bill Herzog - Performer
Michal Mozolewski - Artwork
Simon Fowler - Artwork
Eyvind Kang - Guest
Timba Harris - Guest
Bob Weston - Mastering
Randall Dunn - Mixing
Masato Suzuki - Recording
Gisèle Vienne - Associate Producer
D.A.C.M. - Associate Producer
External Links
Edit
References
Edit
Community content is available under
CC-BY-SA
unless otherwise noted.