Earth 2 - Special Low Frequency Version (Sometimes known simply as Earth 2) is the first full-length studio album by Washington drone band Earth. Released in 1993 via Sub Pop Records (SP185) it has been hailed as a seminal album in the development of drone metal and drone in general (Influencing acts such as Joe Preston, Sunn O))), Boris and Pelican among others.). Carlson referred to the music at the time as "ambient metal".
Background
Edit
In August 1992 Carlson and Harwell would load all of their gear in the studio to record this album, strictly as a duo as there was no drummer and Carlson had no desire to utilize a drum machine. Carlson's intent at the time was that he had a few ideas for long songs and the definitive intent of filling up the entire CD length, which was only 73 minutes at the time.[1] The band drawing influence from La Monte Young and The Melvins, with an intent to "Out-Melvins The Melvins" according to engineer Stuart Hallerman. Carlson noted a bit of advice Buzz Osborne had given him stuck through the recording and years later: "Doing music, you can go two ways: jump on the hot thing or do your thing and keep doing it well. If you choose the latter you won't have to compromise and eventually people will begin to notice."[2]
In an interview with The Stranger, Carlson would talk about the recording process for Earth 2 and it's lasting impact:
"
"There were a couple of ideas. We'd already done long songs. So we wanted to do one album-length piece. Unfortunately, this was before Pro Tools; you only get 30 minutes max per reel of tape, running at 15 ips [inches per second]. That's why there are three parts to [Earth 2]. At the time we were doing that, the CD was like 75 minutes long, and we wanted to fill the entire CD. Those were two of the parameters we were working with. The first stuff we had done at a little eight-track studio. This was our first time using two-inch tape, so we wanted to use every track. The idea was to try to make it as big as the live thing that we did. It's funny, because when I was working with Stuart [Hallerman of Avast! Recording Company] again on Angels of Darkness, we were talking about how if we had to do that album now, how differently we would have gone about it. We loaded all our gear in there that we used in the live show, then turned everything up and did a bunch of stuff that is technically incorrect [laughs]. We mic'd all the speakers individually and ran them to separate tracks. It turns out there's a bunch of fade cancellation and stuff like that that we didn't take into account. And then realizing later on that if you crank up a small amp in the studio and record it, it'll sound bigger than cranking up a big amp in the studio. So we basically set up and played live with that crazy mic'ing going on. Any tracks that weren't filled later, we went back and did some overdubs.

[On the idea of it being a concept record] That kind of came after we did it, when I was coming up with the cover. I had worked at a record store at the time [Peaches, then Beehive], over there on 45th. I grabbed a bunch of stuff when I worked there, and a series of meditational cassettes Atlantic Records did in the '70s caught my eye. It seemed to fit the mood. There was one that was sea sounds, one that was nature sounds. It went along with a series of Medical records that I had. Stuart mentioned that our songs seemed to be part of something else; they fade up and fade out, but sound like they keep going. I like that idea. It would be like this was a record that was part of a series. But I don't know where the series is; this is the only one that survived. It's funny when I listen to Earth 2—not that I listen to it that often or anything—we were trying to make this really huge record, but in a weird way it has this claustrophobic feel to me. Because of the way we did it, it has this weird murkiness. If I had to do it now, it would sound a lot more expansive.

[On the front cover] I had originally picked out some other photos from a book, but trying to get the licensing from the photographer was proving difficult. So I went through a book of stock photography with Art Aubrey. They weren't free, but there was just a flat fee. I tried to find photos that were close to the ones originally wanted, which were from this travel book about India. There was a picture of this castle in Rajasthan that has all these little mini towers hanging off the wall. The pill bottles had the same effect. Obviously at the time I had narcotic interests. [Laughs] The front photo is a picture of Mongolia.

Earth 2 went pretty easily. (A) The budget was small; (B) we didn't have a ton of studio time. The first two tracks we'd played live, so we had 'em pretty down. The hardest part was playing the first two without any rhythms, since we had a rhythm track to play it live. That was the most difficult aspect of it. And then trying to figure out the weird ways to get as many tracks as possible without... Nowadays, obviously, I would book studio time and do a lot of overdubbing, whereas back then we didn't have that luxury, so we have to get all these at once—especially trying to overdub on a 15- or 20-minute track. It's not like you can do a lot of punch-ins and stuff. It would get pretty messy and mind-warping. But it did go pretty smoothly. The fact that we were young and Stuart was young and willing to try crazy stuff that we'd probably know better about now helped. We were excited to be in the studio with someone paying for our record to be made rather than us paying for it."

"
 

— Dylan Carlson, The Stranger

[3]
Earth 2 saw it's release on 5 February 1993 and, according to Carlson, only sold about 2,000 copies in a three year span.[4] According to Sub Pop co-founder Bruce Pavitt he thought the album was one he was fond of and has since referred to it as "I do think that [Earth 2] is the most extreme recording ever put out by Sub Pop.".[5]
Retroactively it has seen critical praise. Ned Raggett of Allmusic gave the album a positive review, stating: "If Carlson and his bassist du jour, in this case Dave Harwell, weren't quite Sub Pop's answer to the ranges of UK guitar extremism from the likes of Godflesh, Main, and Skullflower, Earth still came pretty darn close to it, creating a record even the Melvins would find weird." He added: "Earth 2 dedicates itself to the proposition that there's no such thing as too loud, trudging, or doom-laden." while describing the closing track as "ambient music completely and totally suffused with threat and fuzz."
Alan Licht, in his third list of minimalist classics, wrote "Unlike a lot of more recent noise underground stuff, which (to me) is relatively factorable, this is technically boggling drone music--the sustain is achieved not just with distortion but through overdubbing, and there's clean guitars in there too--even on headphones it's hard to tell what the fuck they're really doing. On this album, Earth set up a drone and place a few choice metal riffs against it over the course of forty minutes, at which point they just let the drone chord ring for another half hour... Hard to remember how completely unfashionable this was in the heyday of grunge..."[6]
The initial pressing of Earth 2 only sold 2000 copies through a three-year span, specifically a double clear vinyl presented as a "collectors item" though Sub Pop knew people were either going to get it or not, with low expectations. In it's initial run the album was also pressed on CD and Cassette. On 1 November 2003 Autofact Records would release Earth 2: Special Low Quantity Version, a 3LP set sold exclusively on Earth's tour with Null in 2003.[7] Sub Pop would re-issue the album on vinyl in 2006 (Black Vinyl) and 2017 (Blue Vinyl, 300 copies, Newbury Comics Exclusive).
Tracklist
Edit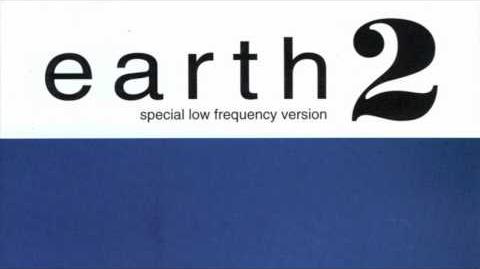 1. Seven Angels (15:38)
2. Teeth of Lions Rule the Divine (27:04)
3. Like Gold And Faceted (30:31)
Personnel
Edit
Dylan Carlson - Guitar
Dave Harwell - Bass
Joe Burns - Percussion (3)
Stuart Hallerman - Producer
Jane Higgins - Design
SST - Mastering (Vinyl)
External Links
Edit
References
Edit
Community content is available under
CC-BY-SA
unless otherwise noted.