Dinosaur Eyelids



Background information
Origin
New Brunswick, New Jersey, USA
Genres
Fuzz Rock, Stoner Rock, Alternative Rock
Years active
2009 - Present
Labels
Servis Road Records
Website
Dinosaur Eyelids Official
Dinosaur Eyelids are an American rock band formed in New Brunswick, New Jersey, USA in 2009. The band's lineup includes Evan Staats (vocals, guitar), Patrick McKnight (guitar), Mark Leone (bass), and Dan Fishtein (drums). The band's motto is "We may never be rich but we will always be loud.".
Dinosaur Eyelids started in early 2009 by the quartet of Staats, McKnight, Leone and Fishtein. The band's first show was at Fontana's in New York City on 9 June 2009, with the band's first home state shows following later that month. The band would release three studio albums through their early years with each gaining more critical praise: 2009's Winter Solstice, 2011's Down A River and 2012's Conflagration. Through the early years the band frequently performed in New York, Philadelphia, Maryland and New Jersey.
Dinosaur Eyelids would release a fourth album in Bypass To Nowhere on 12 December 2014, attaining press from the likes of Alternative Nation and Jersey Beat among others. Bypass To Nowhere debuted at #1 on WRSU Rutgers Radio and their material has been played on 180 college radio stations across North America. Although the band performed live on a less frequent basis the band would keep active with recording, releasing Left Turn on Red on 24 November 2017 to critical praise and landing at #50 on the North American College Radio charts. Dinosaur Eyelids would keep active as a studio act, eventually working up a sixth studio album in Sticker Famous, released 3 March 2020.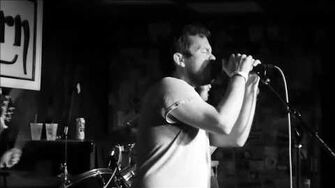 Discography
Edit
Winter Solstice (Studio Album) (2009)
Down A River (Studio Album) (2011)
Conflagration (Studio Album) (2012)
Bypass To Nowhere (Studio Album) (2014)
Left Turn On Red (Studio Album) (2017)
Sticker Famous (Studio Album) (2020)
Evan Staats - Guitar, Vocals
Patrick McKnight - Guitar
Mark Leone - Bass
Dan Fishtein - Drums
External Links
Edit
References
Edit
Community content is available under
CC-BY-SA
unless otherwise noted.