Debris Inc. were a doom metal / punk rock band from the United States, formed in 2001. Notably, it was a "doom supergroup" mainly featuring Dave Chandler (Saint Vitus and Ron Holzner (Trouble) with a rotating lineup of drummers.
History
[
]
Debris Inc. was formed in 2001 by Dave Chandler sometime after the demise of Saint Vitus alongside Ron Holzner of Trouble, recording a handful of songs immediately upon formation. Chandler agreed to form the group on the stipulation the band played punk rock (Though Chandler's signature doomy guitar tone and some doom metal songs were worked into the mix.) Notably along with original songs the band would perform covers of punk bands like X and Fear along with covering Saint Vitus tunes as well.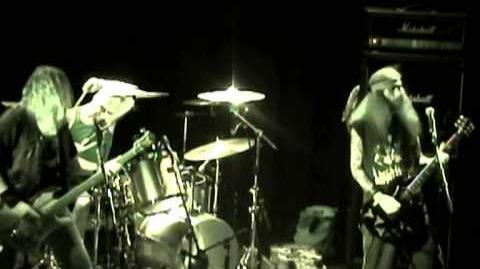 After some sporadic touring of the United States (Notably a 2004 US tour with Orange Goblin and Dixie Witch)[1] they would get an signed by Rise Above Records on December 21, 2004.[2] Their only album would released on April 4, 2005 via Rise Above in the UK and Candlelight Records in the USA. A tour of the U.S. in 2005 was intended but due to rising gas prices at the time the tour was ultimately postponed.[3]
After touring the U.S. and Europe in 2006[4] the bands dates would become more sporadic. Eventually it was announced by Dave Chandler in 2008 the band would be put to rest. Chandler would eventually reform Saint Vitus. Ron Holzner would form Earthen Grave before joining former Trouble bandmate Eric Wagner in The Skull in 2011.
Members
[
]
Dave Chandler - Guitar, Vocals (2001 - 2008)

Ron Holzner

- Bass, Vocals (2001 - 2008)

Jimmy Bower

- Drums (2005 - 2008)
Barry Stern - Drums (2001 - 2005) (Died 2006)

Tony Constanza

- Drums (Died 2020)
Joe Nunez - Drums
Greg Rogers - Drums

Henry Vasquez

- Drums (Live)
Discography
[
]
References
[
]