Daredevil is the second studio album by the California stoner rock band Fu Manchu, released in 1995 via Bong Load Records. Notably it features what some consider the classic lineup of Scott Hill, Brad Davis, Ruben Romano and Eddie Glass.
Background
Edit
Not long after working on and releasing their 1994 debut album No One Rides For Free, Fu Manchu would quickly be at work on a follow-up in 1994 with new bassist Brad Davis. Recording would take place at The Shop in Humboldt County. Daredevil's inaugural release on 1 January 1995 saw it on CD and LP, the initial pressings not even having barcodes.[1][2] Later pressings would feature a barcode and a vinyl edition in translucent blue. Cube Farm Records would notably reissue the album on CD in 2003 and then At The Dojo Records would compose a 20th anniversary reissue on CD and Vinyl, remastered from the original tapes.
Following the release of the album Fu Manchu would tour North America with Monster Magnet and then immediately start work on a follow-up that September. At the time the album did get praised by The Los Angeles Times[3] and later retroactively praised by The Obelisk.[4]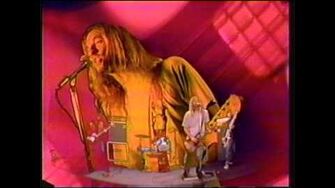 Tracklist
Edit
1. Trapeze Freak (4:18)
2. Tilt (3:00)
3. Gathering Speed (4:22)
4. Coyote Duster (2:51)
5. Travel Agent (4:12)
6. Sleestak (3:42)
7. Space Farm (5:30)
8. Lug (3:29)
9. Egor (3:36)
10. Wurkin' (3:37)
11. Push Button Magic (4:56)
Personnel
Edit
Scott Hill - Guitar, Vocals
Brad Davis - Bass
Eddie Glass - Guitar
Ruben Romano - Drums
Rob Schnapf - Producer, Engineer, Mixing
Tom Rothrock - Producer, Engineer, Mixing
Dennis Brower - Assistant Engineer, Mixing
Stephen Marcussen - Mastering
Lisa Johnson - Photography (Band Photos)
Gary Gladstone - Photography (Cover Photography)
Surfer Brad - Project Coordination
External Links
Edit
References
Edit
Community content is available under
CC-BY-SA
unless otherwise noted.