Chained Lace


Background information
Origin
Washington, D.C., USA
Genres
Heavy Metal, Doom Metal
Years active
1985 - 1986
Labels
Heaven and Hell Records
Associated acts
The Obsessed, Rat Salad, Bedemon, Hellion, Overlord, Bitch, The Factory
Chained Lace was a short lived heavy/doom metal band based out of Washington, D.C., USA. This band, while extremely obscure, could be known as one of the earliest female-fronted doom metal bands.
Chained Lace was formed in 1985 by Norman Lawson and Tim Carrubba after the band Hellion had broken up and their mutual project, The Factory, had turned out to be just a short endeavor. During their brief existence, they played numerous shows together with Pentagram (As vocalist Cheri Blade was in a relationship with Bobby Liebling at the time.) and other doom metal acts in the Maryland, D.C. and Virginia areas. However after releasing two demos in 1985 and 1986, the band would quietly fade. Cheri Blade also passed away from cancer in the early 2000s.
Heaven and Hell Records would re-master and release all of the band's recorded demos in January 2017, including a biography and lyrics, limited to 500 copies.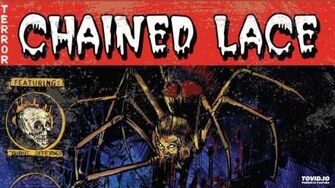 Discography
Edit
Morbid Fascination (Demo) (1985, Self-Released)
Chain Lace (Demo) (1986, Self-Released)
Morbid Fascination (Compilation) (2017, Heaven and Hell Records)
Cheri Blade - Vocals (1985 - 1986) (Deceased)
Norman Lawson - Guitars (1985 - 1986)
Tim Carrubba - Bass (1985 - 1986)
Roger Sampson - Drums (1985 - 1986)
Jerry Orr - Drums (1986)
External Links
Edit
References
Edit
Community content is available under
CC-BY-SA
unless otherwise noted.