Buzzov*en

Buzzov*en in the 1990s.
Background information
Origin

Wilmington

,

North Carolina

, USA
Genres
Thrash Metal, Crust Punk,

Sludge Metal

, Powerviolence
Years active
1990 -

1999

,

2010

-

2011

,

2016

- Present
Labels
Relapse, Roadrunner, Allied Recordings, Alternative Tentacles
Associated acts
Weedeater, Sourvein, Hail!Hornet, Acid King
Website
Facebook
Current members

Mike Floyd


Dave Collins


Ramzi Atayeh




Kirk Fisher
Buzzov*en are a sludge metal band from Wilimington, North Carolina. Initially active from 1990 - 1999 and reunited as of 2010, they are known for their viciously violent live performances and liberal use of samples in songs.
History
[
]
Initial Run (1990 - 1999)
[
]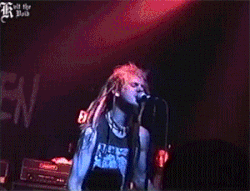 Buzzov*en was formed in 1990 by Scott Majors, Fred Hutch and Kirk Fisher. Not long after their formation two EPs, Hate Box and Wound, would be released in 1992. At some point the band would relocate to Richmond, Virginia as indicated in an interview with Exclaim:
"
"We decided to go to Richmond, from what I can remember, mainly because we were just tired of Charlotte. We were banned from every club but the Milestone. Richmond just seemed a little more crazy and geared around house parties, and there were a lot more people who were in bands that we thought were cool. It just seemed like a good place, and we would still be in a good position to go North or South for shows at anytime. We were going and playing up in NY a lot back then.

I had met Dave Brockie way back when he got arrested here in Charlotte for obscenity law or whatever. I was the third person they locked up outside of him and the club owner. I was charged with inciting a riot. Imagine that! I was telling everyone they were arresting Gwar 'cause I knew what Dave looked like outta costume. Touring with them was cool but also a challenge, 'cause we had to get to the clubs by like 5 p.m. each day, but it was fun to watch each night...whenever I opened my eyes, anyway."

"
 

— Kirk Fisher, Exclaim

[1]
The band in its early days toured heavily around the United States (Alongside bands like Acid Bath, Eyehategod, GWAR and Neurosis to name a few.) and built up a cult following leading up to the release of their debut album To a Frown in 1993. This release caught the attention of major label Roadrunner Records, who released the band's second album Sore in 1994. The band's drug abuse only got more vicious by being signed to a major label as indicated in an interview:
"
"Yes, when the money started flowing (and I'm only going to speak for myself here), I got more and more out of control with my using. My craziest story is not entertaining; it's sad, but I will bite since I just know y'all can't stand to not have something ― and personally, I've never really gave a fuck what the majority thought. When we got our initial advance from our Roadrunner deal, I said we should go cop like 3-4 bundles (which we did) and go back to their offices on Broadway and overdose on the steps. We would go down as the first band to sign a record deal and go directly to the end and just die on the steps of the label that just signed us. Instead we taped like over 1,000 bags to the top of our van and headed for Richmond. A habit was much more interesting and fun.

It was just a miserable way to live, and I don't think I realized how easily your tolerance can build up. You just can't afford to keep a habit like that up unless you're Nikki Sixx, and then if you are maintaining a habit of the capacity I got too quickly, it will kill you. When the money ran out after a tour and I was faced with other ways of acquiring the money is when I said, "This ain't gonna work," but shit, the damage was already done. It's 15 years later and I'm still dealing with it"

"
 

— Kirk Fisher, Exclaim

[2]
Eventually after being dropped from a European tour with Neurosis, the band was dropped by Roadrunner which would lead to numerous lineup changes andd Eventually Dixie Dave Collins would join the band as they would release their final official album named ...At a Loss in 1998 with another recorded album that for years remained unreleased (Revelation: Sick Again which was initially recorded in 1998 but would not see an official release until 2011). In an interview with Churches Burn, Dixie Dave recalls how he joined:
"
"I was with Weedeater and another band called After Forever at home, where we live in Cape Fear, North Carolina. My cousin T-Roy, Troy Medlin, who sings for a band called Sourvein from Cape Fear, North Carolina and from South Port, which is also Cape Fear. It's all the same area. The mouth of the Cape Fear River opens, and two different sides of the river is all the difference there is between South Port, Carolina Beach, and Wilmington. Sourvein was out with Buzzov-en, because they had moved to Charlotte and were doing some support shows with them. Troy started running samples for them and their bass player jumped off, I think it was in Mardi Gras or in Texas somewhere. So Kirk did it for a little while, a couple of shows, and didn't like it. A couple days later they came through North Carolina and Troy called me, asked if I would sit in and do it, and I did. I kept playing with them after that, from then on, because we played real well together. I guess that would be 1995 or something like that."
"
 

— Dave Collins, Churches Burn

[3]
The band would finally split up in 1999 sometime after "...At a Loss" was released. Dave Collins would go on to form Weedeater as his full time band while Kirk Fisher would start a solo career performing acoustic blues music. Former guitarist Buddy Apostolis would pass away in 2002. A compilation of EP and rare recordings known as Welcome To Violence would be released in 2005.
Reunion (2010 - 2011, 2016 - Present)
[
]
In early 2010 Buzzoven announced plans to reunite with the ...At a Loss core line-up for a five date U.S. tour.[4] An EP named Violence From The Vault would be released in support of the reunion. A second U.S. tour would follow in February 2011 with a tour of Europe and appearances at Maryland Deathfest and Roadburn Festival.[5] While their appearance at Maryland Deathfest that year did happen the entire European tour was canceled. The band would take time off for personal and logistical reasons.
Buzzov*en performed at Maryland Deathfest on May 26, 2016, five years after their last known performance. They performed on Ram's Head Live and shared the stage with Earth, Dopethrone, Bongripper, Weedeater, The Offering, Crypt Sermon and Claudio Simonelli's Goblin.[6]
On September 16, 2016, Buzzov*en announced a west coast tour leading up to Halloween.[7] Going into 2017 the band performed a short string of shows on the East Coast with the intent of appearing at Psycho Festival but ultimately canceling their appearance due to personal conflicts. On 26 February 2018 it would be announced the band's first new studio recordings in nearly twenty years would come in form of a split with Ohio sludge group Fistula.
Discography
[
]
Albums
[
]
To A Frown

(1993, Allied Recordings)

Sore

(1994, Roadrunner Records)

...At a Loss

(1998, Off The Records)

Revelation: Sick Again

(2011, Hydra Head Records) (Recorded 1998)
EPs
[
]
Hate Box

(1992, Kirbdog)

Wound

(1992, Allied Recordings)

Unwilling To Explain

(1994, Allied Recordings)

Useless / Never Again

(1997, Reptilian Records)
Splits
[
]
Stereonucleosis Comes To Your House (With Antischism, Tolerance and Unherd) (1991, Stereonucleosis)
God and Texas / Buzzov*en (With God and Texas) (1995, Kustom Kitchen)
Another Day In The Lost Lives Of... (With Sourvein) (1996, Mudflap)
Hot Rock Action Vol. 3! (With Haberdasher, Behind Closed Doors and The Spitters) (1997, Reptilian Records)
Buzzov*en & Fistula (With Fistula) (2018, Patac Records)
Compilations
[
]
Welcome To Violence

(2005, Alternative Tentacles)

Violence From The Vault

(2010, Relapse)
Members
[
]
Current Lineup
[
]
"Reverend"

Kirk Fisher

- Guitar, Vocals (1990 - 1999, 2010 - Present)
"Dixie" Dave Collins - Bass, Vocals (1997 - 1999, 2010-Present)
"Sleepy"

Mike Floyd

- Guitar (2011 - Present)

Ramzi Atayeh

- Drums (1996 - 1999, 2010 - Present)
Past Members
[
]
Fred Hutch - Bass (1990 - 1991)
Scott Majors - Drums (1990 - 1992)
Brian Hill - Bass (1991 - 1995)

Ashley Williamson

- Drums (1992 - 1995)
Buddy Apostolis - Guitar (1992 - 1994) (Deceased)
Dennis Woolard - Guitar (1992)
Mykull Davidson - Samples (1992 - 1996)
Johnny Brito - Guitar (1994 - 1996)
Craig Baker - Guitar (1996 - 1997)

Troy Medlin

- Samples, Vocals (1996 - 1998)
David Miranda - Guitar
Tours
[
]
NOTE: This is only select tours and still a work in progress.
1994 Tour (With GWAR on select dates)
2010 Reunion Tour
2011 Reunion Tour
2011 European Tour (Canceled)
2016 West Coast Tour
External Links
[
]
References
[
]
Template:Buzzoven