Brigand


Background information
Origin
Pančevo, Serbia
Belgrade, Serbia
Genres
Doom Metal, Alternative Rock, Shoegaze, Noise Rock
Years active
2011 - Present
Labels
Black Planet Records
Associated acts
Jewy Sabatay
Website
Brigand Facebook
Band Logo
Brigand
are a doom metal/alternative rock band from Serbia, specifically from Belgrade and Pančevo. Active since 2011, Brigand emphasize a mix of alternative rock with doom, noise and shoegaze, drawing from a wide range of influences from Alice in Chains, Swans, Soundgarden, My Dying Bride and My Bloody Valentine to scratch the surface. Since their formation Brigand have two studio albums to their name and are regular performers in the Serbian heavy rock scene.
Brigand was formed in February 2011 by Velibor Nikolić (ex-Jewy Sabatay). Two months after forming the band managed to perform live for the first time in Belgarde (The band's second show would be on 19 May at Klub Doma with Tearpalm.)[1] The band would release two singles in Malarme and Okovan. Building a name for themselves in the Serbian heavy rock scene the band would release their debut album Zaplešimo Grešnici on Black Planet Records in September 2013. Notably the album featured a guest spot from Jarboe (Swans, Neurosis).
In the meantime, besides club and joint concert performances, Brigand would in various festivals, including Arsenal fest, Belgrade Beer fest, Vračar Rock fest, and many more. After three years of promotion of the album mainly in Serbia, band performed in Bulgaria and Bosnia and Herzegovina, and Velibor performed independently in the Netherlands. In 2016 the band would begin work on a second album, leading to the release of Daleko Je Vavilon in February 2017 via Black Planet, accompanied by the video single Most Je Prešao Reku. Brigand regularly performed in support of the record(and having played in Macedonia and Montenegro for the first time) and currently have a third album in the works slated for a 2020 release. That third album would be Iza Crne Duge, released 14 February.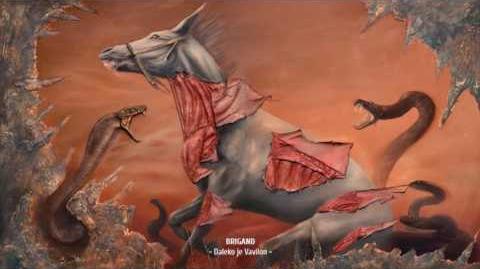 Discography
Edit
Zaplešimo Grešnici (Studio Album) (2013, Black Planet Records)
Daleko Je Vavilon (Studio Album) (2017, Black Planet Records)
Iza Crne Duge (Studio Album) (2020, Dallas Records)
Velibor Nikolić - Guitar, Vocals
Stefan Gaćeša - Bass, Vocals
Milan Sarić - Drums
"When you get used to the darkness and learn to look in the dark, it all becomes clearer. The bright spot is visible. The bright spot in this case is this band and this album. Band created something more than worth the attention and gave the local scene something different from what we used to. Something we've been waiting for and what we needed. They opened the door to the world, maybe not Babylon, but some we can identify with. The one we belong to. The world we are not alone in. The world in which we share both, good and bad, "- Hardwired Magazine.
"Although it is a record about which will be a lot of flicker and conflict of the opinions," Daleko Je Vavilon " has an undeniable quality and with it band has set the challenge for others, and so to itself, a challenge that hardly will be exceeded," - Balkanrock.
"Honest, humanly deep, filled with weird metaphors and intricate poetic images, some of them even abominable, accompanied by layered guitar parts, musical microphoney, complete artistic piece," - Pris.
"The album "Daleko Je Vavilon" contains 11 songs and each of them has enough meat in it to be viewed separately, and listened to as a whole, as an album, have the power to bring you into the world of Brigand, the world of a dark atmosphere, vicious sharp edges and constant danger. But the best on this album is that this world is close to you and allows you to live with it and experience something that is not close to you, "- Andrea Kane.
"The top of the record is "Centurion", controversial and evil, but one of the most powerful songs of the domestic scene in the 21st Century. Our generation needs Brigand ... To tell us who we are, what we are guilty for, how hard our skin is and how many crossroads we missed, "- Pobjeda.
External Links
Edit
References
Edit
Community content is available under
CC-BY-SA
unless otherwise noted.